Last Week The Fresh Market Announced The Company Will Be Acquired For $28.50 Per Share
When the Fresh Market (NASDAQGS: TFM) announced on Monday that the company will be acquired by Apollo Global Management for $1.36 billion, this marked the second acquisition among our top five takeover targets of 2016. ITC Holdings (NYSE: ITC), our highest conviction takeover target, announced on February 9th that it will be acquired by Fortis Inc. We still have three takeover candidates that we believe are in a position to enhance shareholder value through a sale of the company this year. The remaining candidates include Lexmark (NYSE: LXK), Edgewater Technology (NASDAQGM: EDGW) and United Online (NASDAQGS: UNTD). Among these candidates, we believe Lexmark is most likely to be acquired before year end and in our view. The company has the most upside in the event that a transaction is announced in the near term. Furthermore, at the current market valuation for Lexmark, we believe the downside for shareholders is limited.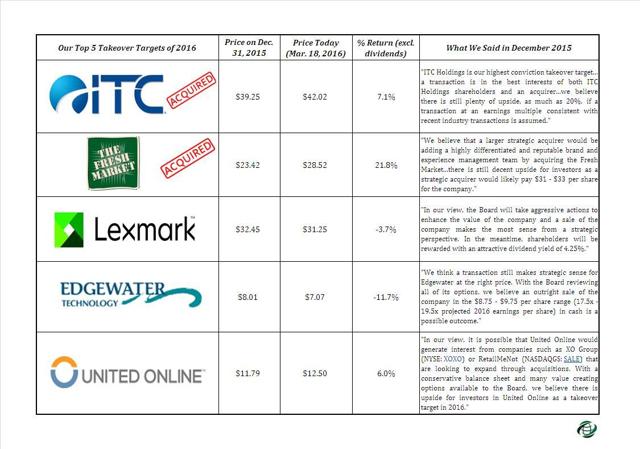 Click to enlarge
Lexmark Continues To Evaluate Strategic Alternatives But a Sale of Company Makes the Most Strategic Sense
In October 2015 Lexmark announced that it hired Goldman Sachs to pursue value enhancing options for the company and the process has created positive interest among potential buyers. We believe there are several strategic acquirers that are considering a deal with Lexmark and we believe there are private equity firms that have considerable interest in the enterprise software business. In our view, this bodes well for the likelihood of a transaction occurring before year-end. Lexmark's stock has traded up from its February low and now trades at $31.25 per share. With an enterprise value of $2.8 billion and TTM EBITDA of $520 million, the market price does not reflect a strong possibility of an acquisition. At 5.5X EBITDA, we see tremendous upside if: (1) management continues its transformation and grows EBITDA at a decent rate over the next 3 to 5 years or (2) the company enters into a merger agreement in the next 12 months.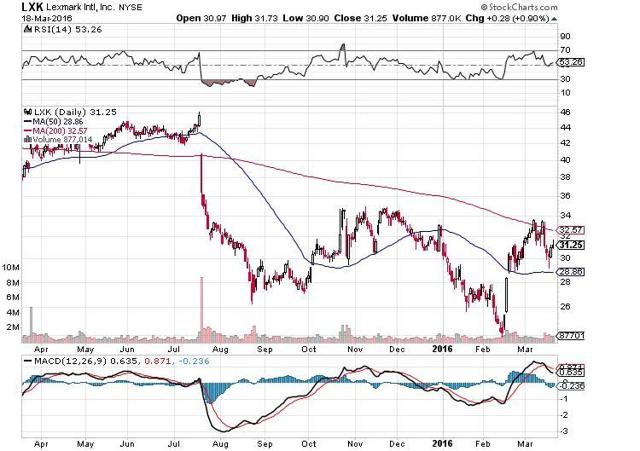 Click to enlarge
(Source: Stockcharts.com)
Lexmark has two main operating segments: ISS and Enterprise Software. ISS is a leading provider of laser printers and printing solutions for business customers. This segment has faced enormous challenges recently as the company sees softer demand for its laser printing hardware and supplies. Many customers are opting for internet-sourced laser cartridges and finding efficiencies in order to lower overall print spending. The overall intensity of competition has impacted the top line of ISS substantially. ISS revenue declined in 2015 by 12% from $3.4 billion in 2014 to $3.0 billion last year. As a result, operating income declined by 25% in 2015. ISS earned $483.5 million in 2015 compared to $645.4 million in 2014. We expect management to take aggressive action to lower the cost structure of this business segment and the recent announcement of a 4% reduction in the global workforce (550 jobs) appear to be the first steps. This action should result in annual savings of $100 million. We expect the operating profits in this segment to stabilize over time as the cost structure is right-sized.
In our view, the engine for long-term growth at Lexmark is the Enterprise Software segment. The top-line for Enterprise Software increased 81% in 2015 to $533.8 million as a result of the Kofax acquisition and a full-year impact of Readsoft (acquired in 2014). We expect organic revenue to continue to grow in this segment in the mid-single digits and we anticipate management will continue to look for bolt-on acquisitions in medical imaging, ECM and BPM to enhance enterprise software offerings. Furthermore, with operating margins in this segment at 16%, management has considerable work to do in order to reach their 2016 target of 25%. We believe this is achievable and management will be able to realize many of the cost-saving synergies (such as eliminating redundant positions and shifting work to lower cost venues) from the Kofax integration over the next 6-12 months.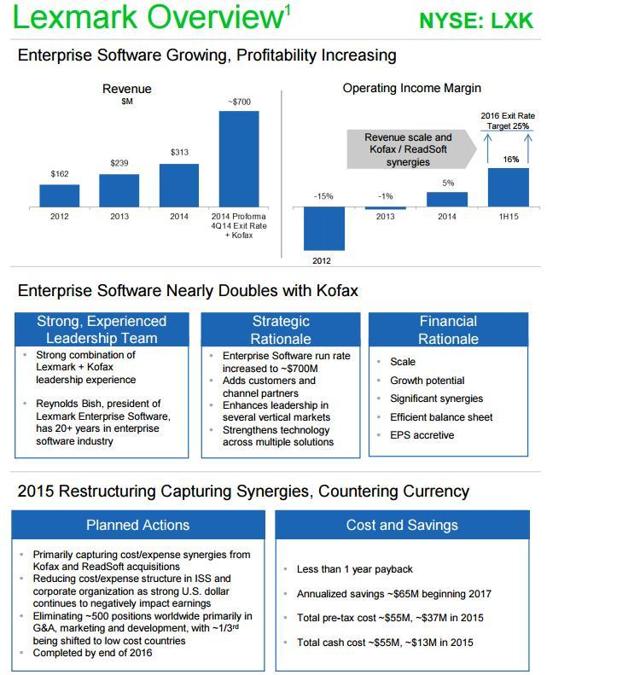 Click to enlarge
(Source: Lexmark Investor Presentation, Citi's Global Technology Conference, September 10, 2015)
Lexmark's Transformation Is Underway and An Opportunistic Acquirer May Be Interested in the Company's Leading Businesses at a Fair Price
Lexmark is in the middle of a corporate transformation in which the largest segment, ISS, needs to realign its cost structure and the high-growth Enterprise Software segment must expand its margins in 2016. With that being said, the market valuation does not currently reflect the strength of Lexmark's underlying businesses. In particular, we believe the company will generate EBITDA of $544.3 million in 2016 driven by expense reductions in software development, SG&A and integration costs. We are projecting modest annual growth of 4% in EBITDA in 2017. We believe this assumption is conservative and does not reflect the full potential of margin expansion.
By 2020 we anticipate the business generating EBITDA of $655.3 million. From a discount cash flow perspective, our estimate for fair value of Lexmark is $36.83 - $43.50 per share. Based on the current stock price of $31.25 per share, we believe Lexmark is currently undervalued by 18% to 39%. Chairman and CEO Paul Rooke appears to also believe the stock is trading at a significant discount to fair value. During the Q3 earnings conference call, he gave his rationale for exploring strategic options:
"The strategic options, fundamentally, we just believe our current value doesn't reflect the intrinsic value that we've created. When you look back at our company and what we've done with our transformation, we've got an imaging business that over the last 12 months creates over $500 million, $550 million of operating income. We've built in $800 million roughly Managed Print Services business. We've got an Enterprise Software business that's now running at a run rate of $700 million with an expanding margin. And then an annuity business that's roughly 70% of our revenue. So we believe that value is there, it's not being reflected in the marketplace and we think it's just the next logical step now to unlock that value."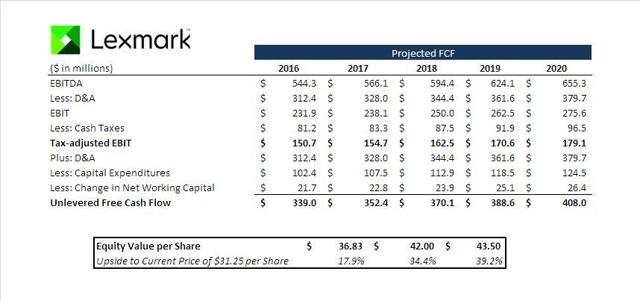 Click to enlarge
(Source: Author's estimates)
We believe the sale of the company is the most likely outcome for shareholders and the Board would be willing to accept consideration worth $38.00 - $42.00 per share. This price range is within our estimate of fair value for Lexmark and would represent a premium of 22% to 34% from the current trading price. It is possible that a potential buyer may wait until further progress on the transformation of ISS and integration of Kofax is achieved and this could push out a potential transaction until Q4 of 2016. This is a risk for shareholders. However we believe there is adequate downside protection at the current price and safe dividend.
Lexmark's currently pays a quarterly dividend of $0.36 per share ($1.44 per share annually) and has a dividend yield of 4.6%. We believe this attractive dividend yield will provide support in the stock price and income for shareholders and management has remained committed to the payout. For these reasons, we believe Lexmark is an attractive opportunity that is positioned to outperform in 2016.
Disclosure: I/we have no positions in any stocks mentioned, and no plans to initiate any positions within the next 72 hours.
I wrote this article myself, and it expresses my own opinions. I am not receiving compensation for it (other than from Seeking Alpha). I have no business relationship with any company whose stock is mentioned in this article.