The S&P 500 Index has posted a double-digit advance since bottoming on February 11. A primary driver behind this recent rally has been the transportation industry, which has suddenly surged back to life after seemingly being left for dead not only after the start of the New Year. The leadership of the transports behind the broader market rally has been a source of comfort for many investors since it often signals the improving underlying strength of the U.S. economy. But should we trust the transports this time around?
The bounce in the S&P 500 Index over the last six weeks has been notable. Since bottoming on February 11, the broad market benchmark has gained by more than +13%.
The recovery of the transports (NYSEARCA:IYT) has been even more impressive. The transports not only bottomed a few weeks earlier back on January 20, but they have also doubled the market in their recent bounce in climbing more than +26%.
The fact that the transports have led the market advance by a few weeks and have outperformed the broader market by such a wide margin is doubly good news to many investors in search of confirmation as to why stocks may be able to continue on to new all-time highs in the weeks and months ahead.
But can we trust the sustainability of the recent advance from the transportation sector? Are recent gains truly signaling a sudden revitalization of underlying economic growth and true fundamental improvement, or are they simply nothing more than a series of countertrend rallies from deeply oversold levels?
At first glance, one point of concern that stands out is the following. One of the key tests for the broader market during its recent decline was its ability to hold the lows from October 2014.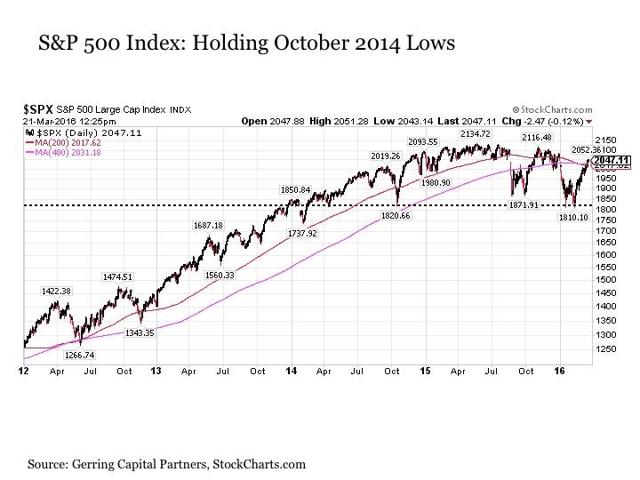 Click to enlarge
But the same could not be said for the transports. Not only had the transports previously violated their October 2014 lows, they broke this level decisively during the sharp correction at the start of the New Year. Instead, they ended up falling as far back as mid-2013 levels not long after the U.S. Federal Reserve starting administering QE3 into the global financial system.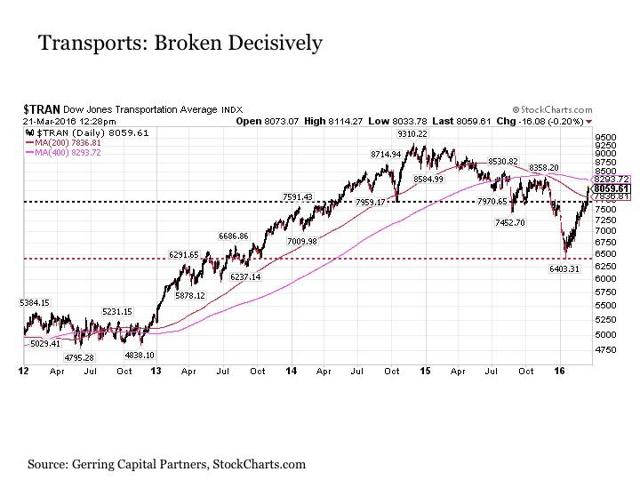 Click to enlarge
Of course, a good explanation exists for why transports suffered unduly during the recent market decline. Transports had started running well ahead of the broader market during the previous advance, so some give back should have been expected. But even with that said, transports ended up falling back more sharply to the downside. And given that the transports have the tendency to lead the broader market, how much can the recent breakdown also be ignored?
Breaking It Down
To answer all of these questions, it is worthwhile to dissect the transports into their component parts. For the purpose of this analysis, we will focus on the constituents of the iShares Transportation Average that is benchmarked to the Dow Jones Transportation Average Index.
The industry consists of five main categories, which are listed below along with their percentage weight in the index.
29.33% Air Freight & Logistics
22.60% Airlines
21.41% Railroads
18.60% Trucking
7.87% Marine
Airlines
We'll begin by jumping ahead to the airlines. Six out of the 20 stocks in the transport average are airlines including United Continental (NYSE:UAL), Alaska Air (NYSE:ALK), Delta Air Lines (NYSE:DAL), Southwest (NYSE:LUV), American Airlines (NASDAQ:AAL) and Jet Blue (NASDAQ:JBLU). Fundamentally, one should expect that all of these airlines should be performing well over the last couple of years and are serving as a buoy to the transportation average thanks to the significant drop in oil prices (NYSEARCA:OIL). But in fact, most of these airlines had already notched strong gains in 2013, more than six months in advance of the peak in oil prices and have been trading sideways ever since.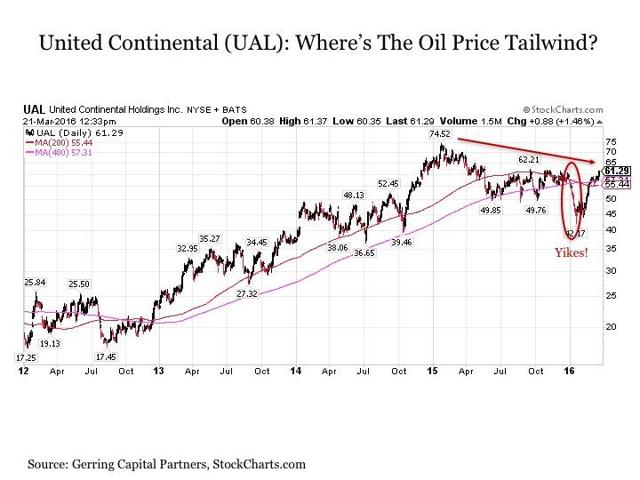 Click to enlarge
Perhaps airline investors simply anticipated this positive tailwind in advance, but such a conclusion would be doubtful given the fact that those invested directly in the oil patch were largely blindsided by the collapse in oil prices. Moreover, what has been more notable recently was the cascade lower in value among all of these names along with the broader market decline to start the New Year, as all of these names suddenly lost anywhere between -25% to -40% over the course of a few weeks in early 2016. The airlines have largely recovered these declines in the weeks since, but the short duration and deep magnitude of these drops raised an eyebrow if nothing else.
Air Freight & Logistics
The freight industry is also showing some signs of promise, but is also not without its cracks. Much like the airline industry, shipping companies also benefit from lower oil prices. Of course, if they have less boxes to ship, the cost savings can only go so far in boosting the bottom line.
Fedex (NYSE:FDX) is the largest company in the index at 12.5% and until recently had also been the primary laggard among the freight group of four that includes United Parcel Service (NYSE:UPS), CH Robinson (NASDAQ:CHRW) and Expeditors International (NASDAQ:EXPD). FDX looked like a broken stock until a fiscal third quarter report that was perceived by many to be strong sent the stock jumping to the upside.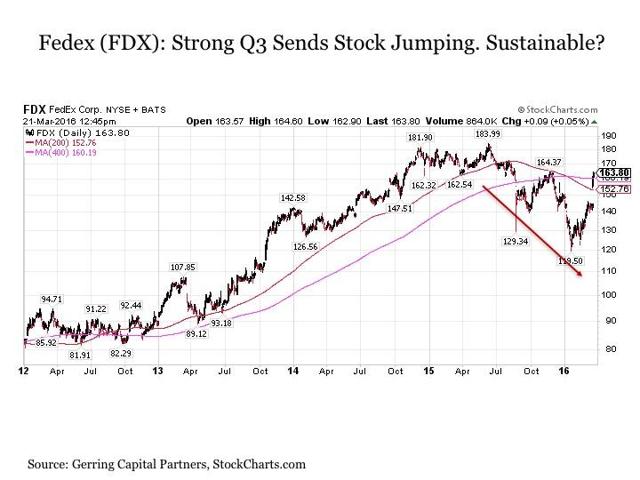 Click to enlarge
This brought FDX more back in line with its peers including UPS. But none of the freight companies can be considered to be fully out of the woods just yet. Each have recently set new lows dating back to 2013 prices, and while the recent bounces have all been impressive, this is not the first time we've seen such price volatility in either direction associated with these names.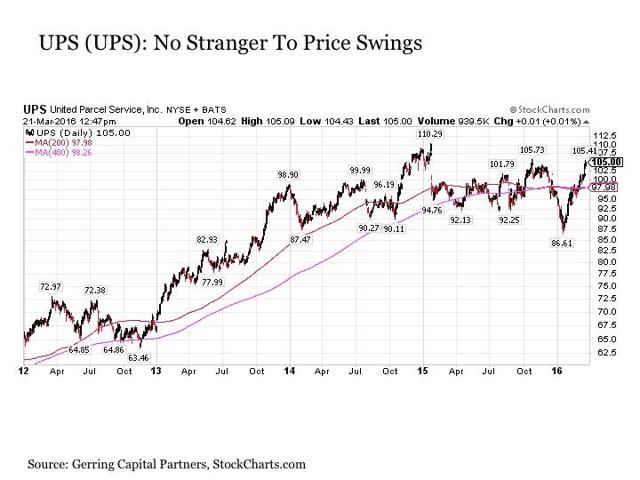 Click to enlarge
Trucking
The three trucking companies in the index signal a similar but more gloomy story than the freight companies. JB Hunt (NASDAQ:JBHT), Ryder (NYSE:R) and Landstar (NASDAQ:LSTR) all have bounced impressively, but not before having plunged by as much as -50% or more back to 2012 or 2013 before finding their footing. Indeed, a +45% advance is impressive, but less so when in comes after a -55% decline that requires a more than +100% bounce to recover.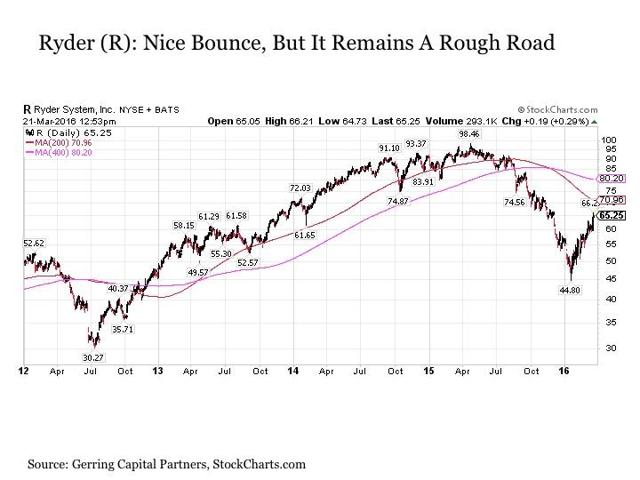 Click to enlarge
Railroads
The four railroads in the transport index look even more disconcerting. Indeed, Kansas City Southern (NYSE:KSU), Union Pacific (NYSE:UNP), Norfolk Southern (NYSE:NSC) and CSX (NASDAQ:CSX) has each registered impressive bounces from their recent lows. But the real story lies in those recent lows and the path that each stock took to get there. Being generous, the best looking chart of the group from Union Pacific is shown below.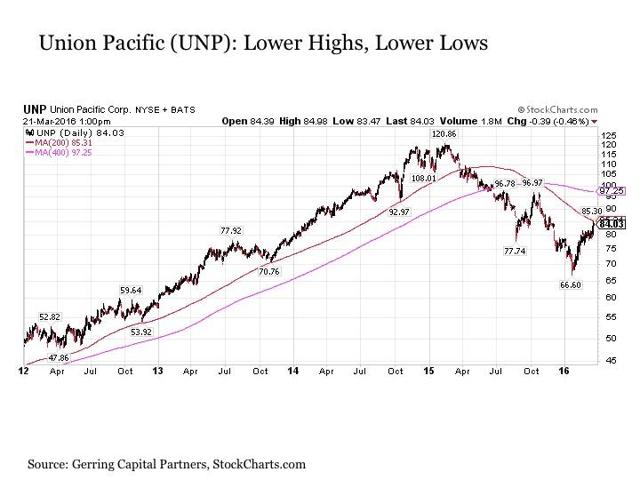 Click to enlarge
Of course, the railroad industry has been one of the industries most directly impacted in a negative way by the collapse in oil and gas prices, and the charts for these companies show as much. What we see with UNP is a stock that lost nearly -50% of its value over the course of a year from early 2015 to early 2016. And to date since its peak, it has set lower highs and lower lows in the process. So while the recent +26% advance has been notable, it pales in comparison to what has come before it. Once again, this is the best looking chart of the bunch, as the others plunged even further back to 2012 levels before recently bouncing. And it's going to take more than the recent jump in oil prices to sustainably lift these stocks out of the doldrums.
Maritime
As for the smaller maritime group that consists of oil shipment company Kirby (NYSE:KEX), the following chart below speaks for itself.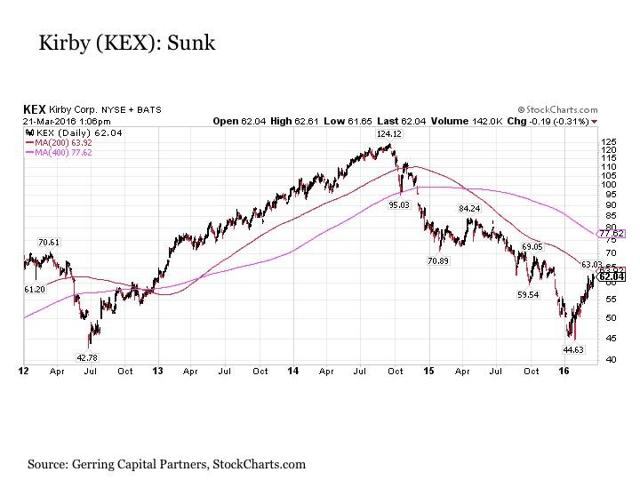 Click to enlarge
Bottom Line
The recent bounce in the transport index has been impressive. But when digging deeper under the surface, we see evidence of what looks like nothing more than strong countertrend rallies in the midst of staggering declines. As I regularly mention in articles on Seeking Alpha, unlike when they rise, stocks typically do not go down in a straight line. But for many of these stocks, particularly in the railroad, trucking and maritime industries, their declines from late 2014 and early 2015 have been as close to a straight move lower as one could reasonably expect to see. Thus, some sort of bounce does not come as a surprise. But the sustainability of these recent reversals still remains very much in question, particularly given the fact that economic fundamentals have changed little since these rebounds first got underway.
More broadly, many of these price charts highlight an important point about the folly of recent monetary policy from global central bankers including the U.S. Federal Reserve. The Fed engaged in quantitative easing and added more than $1 trillion to its balance sheet starting in 2013 with the implicit and sometimes even stated intent of lifting stock prices. But as many of these stock price charts show, if the substance of real economic fundamentals is lacking behind such artificial policy maneuvers, investors are often left with nothing more than the same value that they had before but at the cost of suffering through the pain of a staggering return trip back to reality. And in the process, the Fed is left with another $1 trillion plus on their balance sheet and with effectively nothing to show for it. Hopefully policy makers in Europe, Japan and China will eventually wake up to this same reality. More importantly, hopefully the Fed is now also keenly aware that perhaps another policy prescription other than outright asset purchases is finally needed to lift the U.S. economy out of its malaise. Only time will tell.
Disclosure: This article is for information purposes only. There are risks involved with investing including loss of principal. Gerring Capital Partners makes no explicit or implicit guarantee with respect to performance or the outcome of any investment or projections made. There is no guarantee that the goals of the strategies discussed by Gerring Capital Partners will be met.
Disclosure: I/we have no positions in any stocks mentioned, and no plans to initiate any positions within the next 72 hours.
I wrote this article myself, and it expresses my own opinions. I am not receiving compensation for it (other than from Seeking Alpha). I have no business relationship with any company whose stock is mentioned in this article.