For as long as I can remember, General Electric (NYSE:GE) has received negative press for being a company that was simply too complex to own. Additionally, investors have been turned off by the lack of clarity as it relates to management's long-term strategy for the company.
Management finally answered the call and released the Integrated Summary Report, which is a report that was created to give "investors a comprehensive and concise view of GE using the lens of the Board and management." The company further describes the report as a document that "links strategy, performance, board oversight, compensation and sustainability in a single document."
So, management finally provided investors with what they have been asking for but will it make a difference?
GE 2015 Integrated Summary Report
The lack of understanding General Electric's long-term strategy, and how to properly measure the company's progress towards achieving the strategy, has long steered investors away from investing in this large conglomerate, and rightfully so, as the company completely lost its way during (and after) the financial crisis. However, management announced plans in early 2015 to rid the company of the assets (i.e. GE Capital) that nearly brought General Electric down during the crisis. Furthermore, management has been focused on returning General Electric to its industrial roots, which has been taking shaping faster than even management imagined. The name given for the transition is fitting --"A simpler, more valuable GE".
Simply put, the Integrated Summary Report is another step in the right direction. In my mind, the most important topics included in the report are management's well-communicated long-term strategy and details on how the progress towards achieving the strategy can be measured (i.e. the impact to operations over the next one-to-five years).
The Long-Term Strategy, No Longer A Mystery
Not only is the management team focused on returning General Electric to its industrial roots, but they are also establishing this company as an industry leader in a high-growth area --the Industrial Internet of Things, or IIoT (see this article for further thoughts on GE and IIoT). The IIoT is anticipated to materially change the industrial landscape over the next decade, and it is an area that General Electric has been investing in for some time now. As such, the new Integrated Summary Report is filled with information about the industrial businesses and with management's insights into how these businesses will be impacted by the changing environment.
The slide below highlights how Predix, which is General Electric's industrial cloud-based operating system, is helping GE create value for its customers.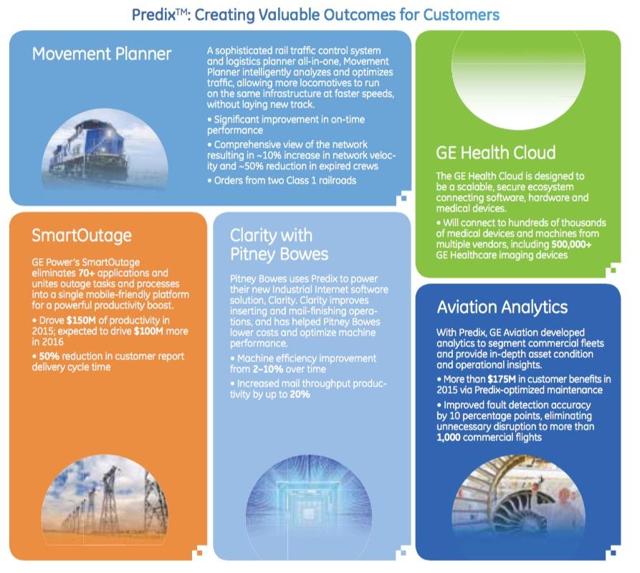 Click to enlarge
As shown, the digital transition is not going to impact just one operating segment, but instead, it is going to impact all of the industrial segments in a significant way.
There are numerous estimates within the report describing how beneficial the transition to utilizing digital capabilities will be for General Electric's operating results, but the one estimate that I wanted to highlight is the anticipated growth of GE Digital from $5b in revenue in 2015 to ~$15b in revenue by 2020.
In the report, management also provided insight into how capital will be allocated over the next few years, which will have a strong focus on returning capital to shareholders (i.e. you and me).

Click to enlarge
Management does an excellent job articulating the long-term strategy throughout the entire report and even describes in detail how management's pay will be aligned with performance (see pages 57-59).
At the end of the day, anything that helps investors better understand a company and its long-term strategy should be considered a positive development. The Integrated Summary Report is just that, and the report also does an excellent job highlighting the opportunity that GE has to create a great deal of shareholder value over the next few years. Now, we will have to wait and see if the report was enough information/detail for institutional investors to buy into the story.
Not There Yet, But Heading In The Right Direction
As I described in "GE: Widely Held By Retail Investors, But Institutional Ownership Is A Different Story", General Electric is lagging its peers in one important metric --institutional investor ownership. There are indeed pros and cons to having a large institutional investor base, but I believe that an uptick in the institutional ownership percentage will be a net positive in the long run.
Let's take a look at the most recent Ownership Summary table (from Fidelity.com) to review General Electric's institutional stock and mutual fund ownership percentages.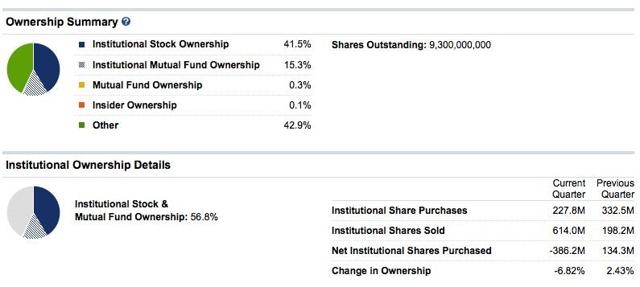 Click to enlarge
Below is a table created to analyze the change in the ownership percentages since the article linked above (published in March 2015) for GE, Honeywell (NYSE:HON), 3M (NYSE:MMM), and United Technologies (NYSE:UTX).
GE
HON
MMM
UTX
Mar-16
Mar-15
% Chg
Mar-16
Mar-15
% Chg
Mar-16
Mar-15
% Chg
Mar-16
Mar-15
% Chg
Institutional Stock Ownership
41.5%
35.2%
17.9%
57.6%
53.4%
7.9%
53.8%
47.9%
12.3%
63.9%
56.2%
13.7%
Institutional Mutual Fund Ownership
15.3%
19.8%
-22.7%
19.6%
31.5%
-37.8%
13.3%
21.6%
-38.4%
21.1%
29.3%
-28.0%
Total
56.8%
55.0%
3.3%
77.2%
84.9%
-9.1%
67.1%
69.5%
-3.5%
85.0%
85.5%
-0.6%
(Data per Fidelity.com and table created by W.G. Investment Research LLC)
General Electric's 56.8% total institutional stock and mutual fund ownership is still well-below the average percentage (~71%), but it is trending in the right direction.
The recently released report will help investors better understand the value that will potentially be unlocked through 2018 and beyond, which should contribute to an uptick in institutional ownership and allow for the company to establish a stronger investor base.
Bottom Line
The new Integrated Summary Report is a must read for current and prospective investors, because the report provides valuable insight into General Electric's operations and the metrics that can be used to measure the company's short-term and long-term progress towards achieving management's goals. I have heard over and over again that this large conglomerate is too complex to understand, but I believe that management is doing a commendable job trying to rectify this issue by providing information similar to the summary report to investors.
I am a firm believer that a strong institutional investor base is a net positive, especially for a company that size of General Electric, so I will be closely monitoring the institutional ownership over the next few quarters to determine if management's actions are bearing fruit. Stay tuned for the updates.
As I mentioned in a recent article, General Electric is fairly valued based on 2016E earnings, but there are several long-term catalysts in place that will lead to GE shares outperforming the market over the next three-to-five years.
If you found this article to be informative and would like to hear more about this company or any other company that I analyze, please consider hitting the "Follow" button above.
Disclaimer: This article is not a recommendation to buy or sell any stock mentioned. These are only my personal opinions. Every investor must do his/her own due diligence before making any investment decision.
Disclosure: I am/we are long GE.
I wrote this article myself, and it expresses my own opinions. I am not receiving compensation for it (other than from Seeking Alpha). I have no business relationship with any company whose stock is mentioned in this article.