After Spending Over $260 million for Approval of Proposed Merger Across Jurisdictions, It Appears that Exelon will Fall Short in Regulatory Approval
After months of hearings, public comments, filings from parties across the District of Columbia, intense lobbying efforts, it appears as though D.C. regulators have been successful in their aggressive effort to block Exelon's (NYSE: EXC) acquisition of Pepco Holdings (NYSE: POM). On February 26th, the D.C. Public Service Commission voted 2-1 to reject the proposed settlement with the District which would have provided $78 million to the community in the form of credits for residential ratepayers and a program for low income families.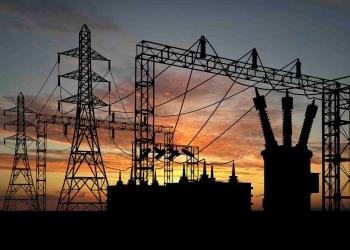 (Source: pepcoholdings.com)
We have provided commentary and analysis at various points during the lengthy regulatory review process within the District and highlighted the unusual stance taken by the Office of the People's Counsel of D.C. in opposition of the transaction as well as the highly lucrative proposed settlement package for the District. Our views during the process can be found here and here. After Exelon's recent last ditch proposals to salvage the transaction were rejected by influential groups in D.C. such as, the National Consumer Law Center and the National Housing Trust, it looks increasingly likely that Exelon will walk away from the deal.
Many Pepco shareholders are now looking for strategic direction from management and would like to determine whether the longer-term prospects of Pepco as a standalone are attractive. We believe Pepco Holdings' stock has suffered from the uncertainty of the transaction and the exceedingly lengthy regulatory review process. In our view, if Exelon walked away from the deal, there would be tremendous upside in Pepco's stock over the next 12 months as management regains focus, executes on its strategic initiatives and delivers a strong operating performance. These actions are all within the control of CEO Joseph Rigby and his management team and would significantly benefit shareholders who have endured two years of underperformance.
Pepco Holdings' Stock Has Underperformed Its Peers Over the Past Two Years By a Considerable Margin; Once Proposed Transaction Is Officially Terminated, We Believe Gap Will Close
Many utility stocks in the U.S. have performed exceptionally well in recent months given the defensive nature of the utilities sector and the stable flow of dividend income for conservative investors. As economic growth slows in the U.S. and the likelihood of a recession increases, the Fed will likely delay any future rate hikes further and this bolsters the case for owning well-managed utilities in the current environment.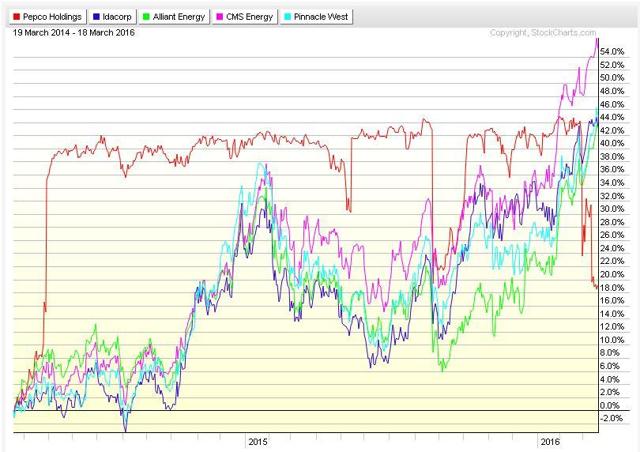 (Source: Stockcharts.com)
Companies such as Idacorp. (NYSE: IDA), Alliant Energy (NYSE: LNT), CMS Energy (NYSE: CMS), and Pinnacle West Capital Corp. (NYSE: PNW), that lagged behind Pepco following the announced acquisition of Pepco by Exelon in April 2014, have now surpassed Pepco in return over the past two years. The margin of outperformance has widened significantly over the past two months. CMS Energy, for example, is up +52%; Idacorp., Alliant Energy, and Pinnacle West are all up +40% over this time period.
Meanwhile, Pepco has returned a mere 18% for shareholders. We do not believe this outperformance is sustainable and we expect to see Pepco to trade up considerably (20-30%) in the near-term after Exelon abandons the acquisition. We believe that Pepco will benefit from investors' shift towards defensive stocks such as utilities with stable earnings from power delivery and investors will also re-appraise Pepco's market value based on the company's future operating performance.
In our view, the value of Pepco's stock has diverged greatly from the underlying operating performance of the company's utility assets and the stock has traded in reaction to developments in the District of Columbia by arbitrageurs. These wild swings in the stock price and the recent sharp decline is a significant overreaction by investors and arbitrageurs. Over the past two years, management has quietly executed at an exceptional level and has delivered strong top line and earnings growth in its key power delivery business segment. In 2015, Regulated Transmission and Distribution Electric revenue increased 7% to $2.43 billion and Default Electricity Supply revenue increased 4% to $2.15 billion. Overall, operating income increased to $673 million in 2015 from $604 million in 2014, an 11% increase. EPS also increased in 2015 by 34% to $1.29 per share. We expect management to continue this growth in 2016 and 2017.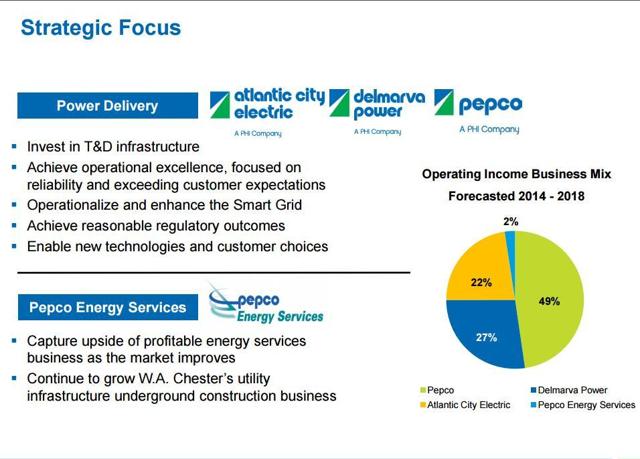 (Source: Pepco Holdings Investor Presentation, Williams Capital Group Midwest Utilities Seminar, April 10, 2014)
The consensus estimate for revenue in 2016 is $5.1 billion and in 2017 is $5.2 billion. We believe these estimates are overly conservative and do not reflect the robust infrastructure investment program management has implemented and the expected rate base growth in both electric distribution and transmission. Management is currently projecting $1.4 billion in capital expenditures in 2016, $1.44 billion in 2017 and $1.51 billion in 2017.
These facility expansions and upgrades will allow Pepco to meet its growing customer base and increase service reliability. For example, the massive D.C. Power Line Undergrounding Initiative is a $1 billion project that will place power lines that are most vulnerable for outages underground. Also, investments in energy efficiency and smart-grid initiatives are top priorities in the capital expenditure plan. Ultimately, we believe the increase in the overall rate base will drive top-line growth in 2016 to $5.25 billion. With a renewed focus on operational improvement and cost saving initiatives, in our view Pepco will be able to deliver strong earnings growth in 2016 and earn EPS of $1.40 for the full year.
Undervaluation by as Much as 30% and a Current Dividend Yield of 4.9% Creates a Unique Opportunity with an Asymmetric Risk-Reward Profile
With Pepco currently trading at $21.97 per share and paying a relatively conservative dividend of $1.08 per share, the stock has a dividend yield of 4.9%. We believe this attractive dividend yield will provide support and will provide downside protection for conservative investors. As Pepco's operating performance continues to improve, we would expect the Board to announce a modest dividend increase in the next 12 months of 5-7% to bring the annual dividend to $1.13 to $1.16 per share.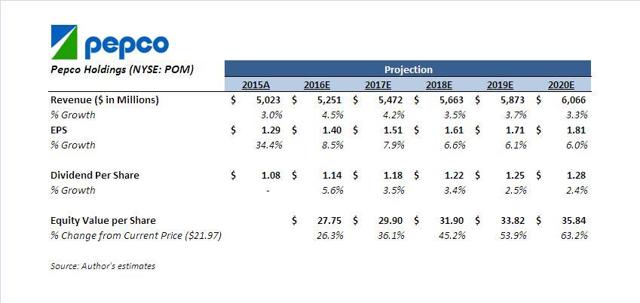 Based on our projections over the next five years, we believe Pepco is undervalued by as much as 30% and in our view the company is worth between $27.75 and $28.50 per share. This suggests that Pepco's stock has 26% to 30% appreciation potential in the next twelve months as the company currently has a forward P/E ratio of 15.7X and lags many of its peers in the utilities sector. Additionally, at our estimate of fair value of Pepco's stock of $27.50 to $28.25 per share, we believe the value of the consideration in Exelon's acquisition of Pepco is now inadequate.
If the acquisition is consummated by Exelon (an unlikely scenario), Pepco shareholders would receive $27.25 per share in cash as agreed upon in April 2014. In our view, this price no longer represents fair value for Pepco and a more reasonable valuation is closer to $28 per share and possibly more to reflect a control premium. While it appears the transaction is likely to be abandoned in the next few weeks following the rejection of the settlement by the D.C. Public Service Commission, we believe Pepco shareholders will be better off in the long-term as shareholders in a standalone Pepco. Furthermore, conservative investors who are looking for opportunities to outperform in the utilities sector, Pepco presents an interesting opportunity that we believe has a compelling upside in 2016.
Disclosure: I am/we are long POM.
I wrote this article myself, and it expresses my own opinions. I am not receiving compensation for it (other than from Seeking Alpha). I have no business relationship with any company whose stock is mentioned in this article.