LinkedIn (NYSE:LNKD) is still down substantially following lower guidance for its year-end earnings. Despite being the dominant player in the enormous market of online recruiting, we feel the company is subject to increasing competition in numerous of its core business lines and that growth in those areas is likely to be limited. Additionally, Linkedin is likely to continue diluting investors by issuing stock to obtain new employees and retain existing employees as well as pursue necessary growth-focused acquisitions. Because of this we advise investors to abstain from accepting a LinkedIn stock invitation at this time.
LinkedIn has a history of making acquisitions in order to better monetize its large professional user base. One of its larger recent acquisitions was its $1.5 billion purchase of Lynda.com. This acquisition, which the company classifies under its learning revenue stream, is only projected to generate $200 million of revenue for LinkedIn in 2016, and even that projection may be optimistic given the intense competition in the sector. For online learning, there are too many alternatives to count, including Khan Academy, Coursera and Udemy. Many of these alternatives also offer many, if not all, of their courses for free, making paying for your courses through lynda.com a much tougher sale.
The stock-based compensation of LinkedIn also is much higher than many of its peers, a trend we expect to increase given its stock price decline will likely require it to issue more shares to retain employees. As can be seen below, stock-based compensation relative to its size is much higher than at other high growth technology companies. We feel investors will continue to be diluted more than if they invested in other large capitalization technology businesses, which is a major concern.

Source: Author Analysis/10-K filings
Competition also is growing within LinkedIn's core revenue streams, namely its hiring solutions. Hiring solutions revenue included premium memberships, paid job postings, and advertising for businesses. Numerous companies are raising millions in funding to target specific areas of LinkedIn's revenue streams. Pathjump.com and Wayup.com are focused on creating a LinkedIn for millennials, companies like stackoverflow.com have become networking and exchange platforms for programmers and IT professionals, and Doximity is a networking platform for doctors and nurses. We expect more of these platforms to emerge in order to better serve niches which LinkedIn is not completely servicing. Additionally, the venture market is still very active and investors are still very open to investing within the rapidly growing recruiting market as can be seen from of the recent financings below.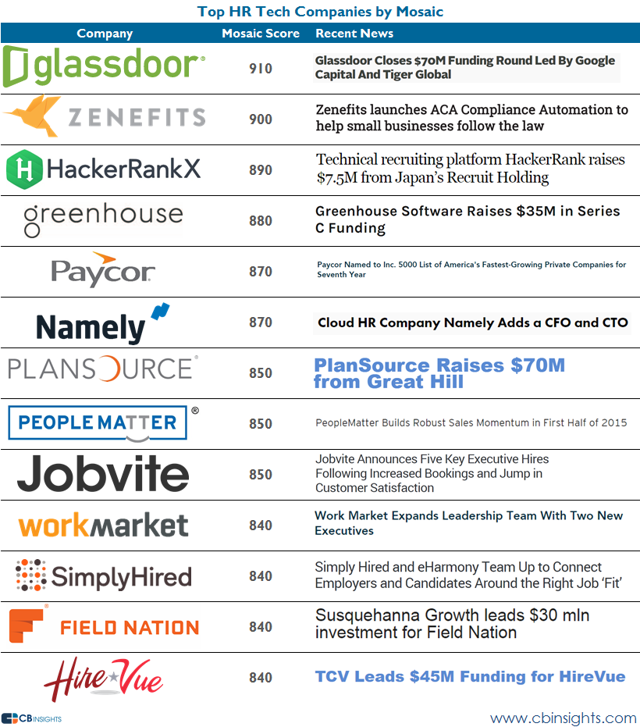 Click to enlarge
Source: CB Insights
Finally, LinkedIn is not likely to grow its revenue as fast as it has historically. Analysts are projecting below 20% revenue growth for LinkedIn's 2018 fiscal year. LinkedIn is not Facebook (NASDAQ:FB), with a majority of users only signing in to accept an invitation every so often or to update their profile once every six months. Thus, LinkedIn is more heavily dependent on its enterprise revenue than companies which can completely rely on advertising given its enormous traffic. The company also stated that online job postings decelerated in the fourth quarter; we expect this to continue as companies receive other marketing material for where to post their openings, many times at lower price points than LinkedIn.
In conclusion, LinkedIn has not demonstrated a road map to continue its previous high revenue growth and is likely to face competition within its existing revenue streams. As LinkedIn seeks to continue to show investors a high growth profile, it is likely to pursue dilutive acquisitions with the hope that it can monetize new categories over its existing users. Given the uncertainty around its platform's monetization currently, we do not see a reason to link up with LinkedIn.
Disclosure: I/we have no positions in any stocks mentioned, and no plans to initiate any positions within the next 72 hours.
I wrote this article myself, and it expresses my own opinions. I am not receiving compensation for it (other than from Seeking Alpha). I have no business relationship with any company whose stock is mentioned in this article.