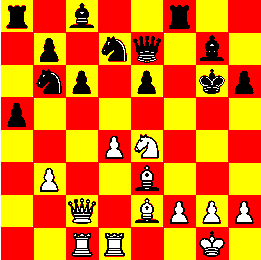 In my 3/7 article "The Valeant Endgame Has Begun" I wrote
Allow me to stay skeptical. The whole story looks like the black king is desperately maneuvering to gain some time and what is really going on behind the scenes remains untold. Why would the company otherwise avoid a public conference call? Why does it schedule a conference call only to cancel it a few days later with the promise to deliver unaudited earnings within very little time - and now it tells Jefferies that we will have to wait "a few weeks" for a call? Why can't King Pearson simply schedule a call for, say, 15/3? How much time does he need to get up to speed? Doesn't he know yet? Two weeks, one month? Was Howard Schiller's leadership not strong enough to produce reliable guidance?
While with Monday's announcement the black king has definitely lost his endgame, there are a few new ones that start lining up their pawns, knights and queens.
As anticipated in my 3/9 article "Sharks Are Circling Valeant" (NYSE:VRX), Bill Ackman is moving ahead with his plan for a new board of directors.
On the other hand, the same board appears to be caught in a stalemate, as board member and former CFO and interim CEO Howard Schiller is accused by his board colleagues of "improper conduct", while he has a different view of the facts.
All this makes the situation once again very foggy. Here is what we can understand:
The strange delays of the Q4 conference call (first announced, than quietly withdrawn, then announced again and withdrawn "due to Mike Pearson's return") might have found an explanation that perhaps also explains the delayed Philidor report and the, consequently, also delayed 10-K.
The endgame and stalemate between board members has probably been dragging on for a while. The first time I heard about a fight between board members was mid February, when one of my sources close to the company told me about it without being anymore specific.
It is pretty obvious that a former CFO and current interim CEO can't do a public call or sign a 10-K as long as his interpretation of the facts differs materially from the board's view. This stalemate might have prompted the company to ask Mike Pearson to return as soon as possible, as he would have represented the only chance to bring the stalemate to a (hopefully positive) solution. But it did not work, so the board ousted him and asked Schiller to step down. Yet Schiller declined. Stalemate again.
So, while Schiller and Pearson have been ousted, they could still represent an obstacle. This obstacle could hamper the company's ability to file a 10-K, as the CEO must sign it personally, along with the majority of the board members. However, with today's press release Mike Pearson appears to have distanced himself from his friend Howard Schiller, so it seems likely that he will sign off on a 10-K containing interpretations which Schiller doesn't agree with.
Bill Ackman's move to become a Valeant director must be interpreted in this very context: It is intended to shift the board further towards a new balance. Ackman will try to make sure that the former courtesans can't rule anymore. He is actively isolating the former king and looking for a new one. Certainly his hope is to find the new CEO very quickly, so that even if Mike Pearson blocked the 10-K the company could still move forward.
That's why I think investors can trust the 10-K delivery date Valeant committed to in its press release. With a very high probability it will be respected.
However, all this will come at a still unknown price. Whether the new CEO comes in before or after the 10-K was delivered doesn't have any importance in this respect: He/She will want to take over a clean house. So expect one or more kitchen sink quarters.
In addition, it is not clear whether goodwill impairments will be necessary, whether the company's future earning power is impaired and whether all this will put at risk debt covenants. So Valeant is definitely not out of the woods yet.
The endgames will drag on for a few weeks (at best) or months (likely). One loser is already certain: common shareholders. Valeant will probably never return to its previous highs. Whether it will be worth more or less than its current market price after the clean-up remains to be seen.
As I explained in Sharks Are Circling Valeant, the company will probably become a pure financial asset and will be sold in several pieces. What its parts are worth is almost impossible to guess at this point.
Disclosure: I/we have no positions in any stocks mentioned, and no plans to initiate any positions within the next 72 hours.
I wrote this article myself, and it expresses my own opinions. I am not receiving compensation for it (other than from Seeking Alpha). I have no business relationship with any company whose stock is mentioned in this article.