We believe it is pretty clear at this point that Twitter (NYSE:TWTR) has fallen out of favor of not only Wall Street investors, but also Main Street users as well. The stock is 70% off its 52-week high, resembling a user base that has stagnated at 320 million for two straight quarters against Facebook's (NASDAQ:FB) user base which grew 46 million (or more than 14% of Twitter's total user base) last quarter. Twitter already is largely out of favor with both the mass market of social media users and advertisers, and we believe as the Facebook growth machine continues to ramp and consolidate functionality, it is only a matter of time before Twitter users see little purpose in having a Twitter account and start leaving the platform. From this standpoint, we expect significant customer churn at Twitter over the next several years.
Our bear thesis is predicated mostly upon the following belief: the social media space is getting crowded. Facebook continues to be the dominant and consistent player in the space, but then there is LinkedIn (NYSE:LNKD) for professional networking, Snapchat for instant picture/video messaging, Instagram for picture sharing, Pinterest for picture sharing/browsing, Tumblr for blogging, Match/Tinder/OkCupid for dating, Vine for creating video loops, and Messenger/WhatsApp/WeChat for messaging, among several other applications for several other purposes. There are a lot of social media apps - for a lot of different purposes - and that means there is going to be significant overlap of users and purposes.
We think the biggest loser of this over-crowding is Twitter, the out-of-favor social media app whose 140-character appeal is somewhat of a bygone in a new era where you can get everything you want on other platforms.
Investors need to look no further than the recent success of Instagram to understand part of the secular story underpinning Twitter's decline: a picture paints a thousand words.
Instagram already boasts 200,000 advertisers for its 400 million user base (one advertiser for every 2,000 users) in just a few months while it has taken Twitter four years to get to 130,000 advertisers for its 320 million user base (one advertiser for every 2,460 users). This is all part of a secular shift in mobile as users ditch the characters jammed in a box and adopt pictures with captions. Why? Because pictures with filters and captions attached engage consumers significantly more than 140 characters. An astounding 75% of Instagram users say they take action after being inspired by an Instagram post. Instagram is and will continue to take advertising revenue from Twitter.
Another part of the secular story here is that Twitter is playing catch-up in a space that normally undercuts the laggards. Twitter's Moments failed because Snapchat already had "Discover" and Facebook already had "Trending." These are the two precedents for news discovery in the social media space that users have grown exceptionally fond of. Likely because it didn't "fit" with what the normative user experience was as defined by Facebook and Snapchat, Moments was a dud. Falling behind in the quick-moving, popularity-driven social media space is a tall task to overcome. Just ask the likes of MySpace.
The final, and maybe most important, part of the secular story underpinning Twitter's decline is that the platform really isn't necessary. Users can jam quirky thoughts into a Facebook or Instagram post. Because those two have synergies (a user can post simultaneously on Facebook and Instagram), the user gets much more exposure through Facebook/Instagram than through Twitter. Moments is the David to the Goliath of Facebook Trending and Snapchat Discover (David won't win here though). The mobile interface is not more-so leveraged to mobile than any other social media platform. It really is difficult to label anything differentiating about Twitter besides its 140-character limit.
At the end of the day, other platforms have their defining quality. Snapchat is ephemeral. Facebook has more than one-sixth of the world on its platform. Instagram is the picture hub. LinkedIn is the resume builder. Twitter, though, really isn't anything noteworthy.
This explains the following matrix, wherein we see Twitter's lack of a distinguishing quality result in significant user overlap with platforms, particularly Facebook. Around 91% of Twitter users also use Facebook. On the other hand, only 29% of Facebook users also use Twitter.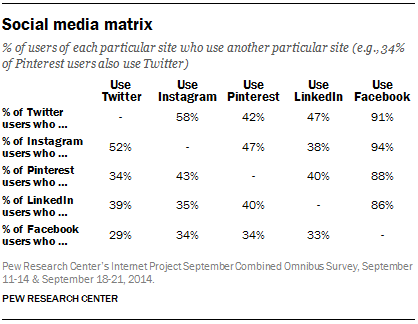 A lack of engagement, functionality and distinguishing quality means Twitter isn't that cool of an application anymore. The whole social media space, though, is growing, so losing popularity isn't a total losing situation for Twitter if the whole social media pie is growing, right?
Wrong, and this is where the overcrowding issue comes into play. Chris Messina, independent product designer and former user experience designer at Google (NASDAQ:GOOG) (NASDAQ:GOOGL), says that one of the truisms in the smartphone industry is that a lot of people buy smartphones but don't download that many apps. He says app engagement is a very difficult thing to achieve and, more importantly, retain. This is why applications flood users with push notifications, constantly reminding the user to engage with the application. The problem therein is that users view the overt usage of push notifications as intrusive and end up deleting the app.
This is more commonly known as the app enigma. People love smartphone applications, but don't download new ones. Around 65% of smartphone users do not download a new app every month. Data suggests that consumers load up on a few favorite apps when they first get their smartphone and then just stick to those apps. According to Julie Ask, principal analyst at Forrester, an average smartphone user spends 84% of his or her time in just five apps. Those five apps are most normally dominated by social media and messaging apps. Last year, it appeared as if Twitter was one of those five apps.
Today? It's unclear. With Instagram and Snapchat rising in popularity and Facebook attempting to shrink the app world even more (see our articles on Facebook's consolidation plans here, here and here), Twitter is at significant risk of not being one of those five apps. The stalling Twitter user base versus significant growing user bases at Facebook, Instagram, and Snapchat suggests Twitter may already have lost its place as one of those five apps.
Major firms seem to echo this. According to Morgan Stanley, TWTR has ceded significant market share. A June survey pegged Twitter as the third leading social media application behind Facebook and Instagram but ahead of LinkedIn and Pinterest. The same survey in November showed Twitter had fallen in popularity behind both LinkedIn and Pinterest. More poignantly, the survey showed that the number of people who have no intention of creating a Twitter account increased by 5% from 44% in June to 49% in November. Morgan Stanley also noted that Twitter app downloads fell 3% Y/Y in 4Q15 and mobile time spent on Twitter fell over 20% Y/Y, marking the fifth straight quarter of 20%-plus mobile time decline.
Evercore mirrors this sentiment, noting that Twitter continues to cede market share to faster growing competitors like Snapchat and Instagram. Similar to Morgan Stanley's finding, Evercore found that total time spent on the platform continues to fall while other social media platforms like Instagram and Snapchat demonstrate double-digit growth off of larger bases.
Most recently, RBC Capital Markets found in a survey of online marketers that Twitter was the only major social media platform to see a significant falloff in its relative ROI versus the prior survey. Roughly 62% of Facebook advertisers plan to up their ad spend on Facebook over the next year while that number stands at a mere 32% for Twitter advertisers. Moreover, 9% of Facebook advertisers plan to cut ad spend while a much higher 23% of Twitter advertisers plan to cut ad spend. The survey found that Twitter "generally had the weakest results with respect to advertiser budget allocation, expected future spend, and general satisfaction."
Advertisers are already running from the platform, following a year that saw investors run from the stock. Users are the next group that will run from the platform as the app world shrinks and consumers ditch their Twitter accounts to become fully immersed in other more distinguishing social media apps like Snapchat, Instagram and Facebook. We think the unfortunate truth for TWTR shareholders is that, barring a buyout from a company seeking a social media platform like Google, the platform will continue to go belly-up.
Disclosure: I/we have no positions in any stocks mentioned, and no plans to initiate any positions within the next 72 hours.
I wrote this article myself, and it expresses my own opinions. I am not receiving compensation for it (other than from Seeking Alpha). I have no business relationship with any company whose stock is mentioned in this article.