Peyto Exploration & Development Corp (OTCPK:PEYUF) is a profit machine. An oil & natural gas company that is able to consistently turn profits in the current low-price commodity environment is a rarity, and Peyto's ability to consistently produce earnings for shareholders, as well as our long-term outlook for the company moving forward have led us to calculate a target price of $30.62 for the stock. We highly value Peyto's commitment to returning capital to shareholders via dividends, with a current monthly dividend of $0.11 providing a yield of nearly 5% being a key consideration for us in our long-term position in the stock. We believe the 35% drop in stock price Peyto has experienced since 2014 is an overreaction to the current market conditions, and we expect to see both dividend stability and capital appreciation over the medium to long term.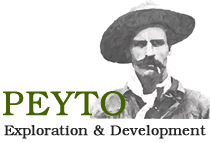 Consistent Profit Generation
Peyto has consistently produced impressive positive profits in the current low-price commodity environment. While earnings have taken a substantial hit (47% YOY), the company is still producing earnings at a rate of 19.2% of revenues, and is one of the most profitable oil & gas companies in the sector. Efficiency gains arising primarily from reductions in both PDP FD&A by 27% and reduced cash costs to the tune of 25% have allowed Peyto to continue to garner significant funds from operations, only seeing a drop of 15% in funds from operations YOY.

Click to enlarge
(Source: Peyto Exploration 2015 Annual Report)
Dividends
Peyto is one of the few oil & gas companies that have consistently issued growing dividends, with the current dividend yield sitting at approximately 4.76%. We expect stable dividends to continue into 2016 and 2017, agreeing with the analyst consensus of a $1.32 per annual share dividend distribution continuing into the medium term. While dividends have increased substantially year over year, and now account for approximately 150% of earnings, we anticipate a continued rebound in commodity prices leading to increased earnings strength in 2016 and 2017, mitigating the risk of a potential dividend rate cut.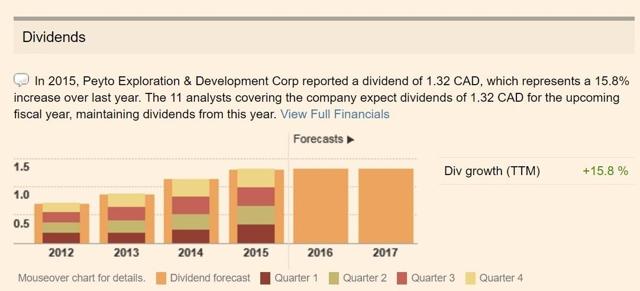 Click to enlarge
(Source: FT Markets Data Research Analyst Recommendations)
Production and Reserves
Peyto has experienced headwinds relating to the oil sector, as well as company-specific production restrictions on annual production arising from Trans Canada's intra-Alberta pipeline system, which has reduced annual production by over 4,500 barrels per day. The company has overcome these production challenges through the increased yields at many of Peyto's core assets. Production at the Wilrich property in the Brazeau River area has yielded impressive well results, helping to propel total exit production to more than 102,000 barrels of oil per day.
A total of 140 wells were drilled, with 171 new locations added in 2015. Infrastructure owned and operated by Peyto also grew in 2015, with additions of over 100 MMcf/d of total processing capacity at the company's gas plants. The gains provided by these asset additions and the subsequent reductions in production costs have provided solid returns on investment.
Analyst Recommendations, Our Target Price
Peyto analysts generally have the stock as an "outperform," with an overall rating of "outperform" listed by 14 analysts, a "buy" rating held by three analysts, and with one analyst listing Peyto as a "hold" and another calling it an "underperform." No "sell" ratings have been given to Peyto by other analysts.

Click to enlarge
(Source: FT Markets Data Research Analyst Recommendations)
Risks
By and large, the biggest risk to Peyto in the short to medium term is managing commodity price risk. The company has made a commitment to managing this risk through a mandated hedging program utilizing forward contracts. Forward contracts entered into subsequent to December 31, 2015 are shown below:

Click to enlarge
(Source: Peyto Exploration 2015 Annual Report)
Conclusion
Our analysis of Peyto Exploration based on the results of our DCF model from the financials provided by the company leads us to put forward our target price of $30.62. We think this stock is fairly valued in today's marketplace, and provides investors with both a margin of safety in the short term, along with long-term dividend yield and capital appreciation upside. Again, tailwinds from increasing oil prices likely continuing into 2017 will provide the impetus for the short-term growth we see as one of the primary driving factors behind our DCF target price analysis.
Disclosure: I am/we are long PEYUF.
I wrote this article myself, and it expresses my own opinions. I am not receiving compensation for it (other than from Seeking Alpha). I have no business relationship with any company whose stock is mentioned in this article.
Editor's Note: This article discusses one or more securities that do not trade on a major U.S. exchange. Please be aware of the risks associated with these stocks.