A tale of two dividend policies
"Now, I am dying beyond my means." - Oscar Wilde.
From an investor's point of view, in deflationary times (or close to it, as the graph below shows), investing in relentlessly dividend paying stocks is as close to holding cash as one can imagine. But what about from the company's point of view? Why would it be better not to sit on cash for the time being rather than pay dividends?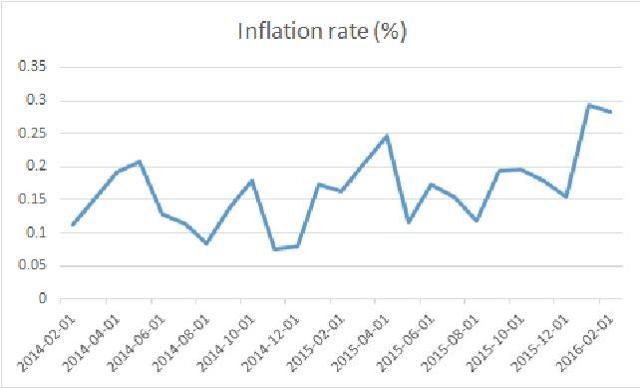 Click to enlarge
Source: Federal Reserve Bank of St.Louis
Or alternatively, given record low interest rates, it might be better to leverage and reinvest earnings. However, according to Dividend Quarterly, 2015 was a banner year for dividends. The average per share dividend payment overall was $42.36 per share, representing a 10.9% increase over 2014. Financials and healthcare dominated the dividend paying companies. However, paradoxically, although dividend paying stocks posted a return spread among the highest since 1999, dividend paying companies underperformed, non-dividend paying companies posted a return of 88% relative to the benchmark, while the equivalent for dividend paying companies was -53%.
This kind of information is enough to have an investor scratching his head. What gives? Why would companies pay dividends when it doesn't seem to benefit shareholders? Why would companies pay dividends at all during deflation instead of sitting on cash? To answer that question, we look at two companies at the opposite end of the dividend-paying spectrum.
Exxon Mobil (NYSE:XOM) was at the head of the list, with a 75% payout ratio in 2015. This should be compared to a payout ratio of 35% in 2014. The dramatic increase in the payout ratio was mostly due to the decline in EPS for Exxon from $7.60 in 2014 to $3.85 in 2015, while the level of dividends per share increased only slightly from $2.70 in 2014 to $2.88 in 2015.
On the other end of the spectrum is Freeport-McMoRan (NYSE:FCX), the world's second largest copper mining company, with a market capitalization of $13 billion. It paid out 0.26 dividends per share while its EPS declined to a loss of $11.31 per share from its 2014 value of $1.25 dividends per share and a net loss of $1.26 per share.
It's understandable why Freeport-McMoRan would decrease its dividends (although its position in 2015 is not as fragile as one might think - more on that below). But how could Exxon increase its dividend payout by such a substantial amount while oil prices have been declining?
Why is Exxon paying so much dividends with so little cash?
It would seem a priori that Exxon would be able to afford its substantial dividend payouts last year, despite declining oil prices. Over the last two years, the price of oil has declined by approximately 70%. Yet one would think Exxon would be one company capable of dealing with the situation.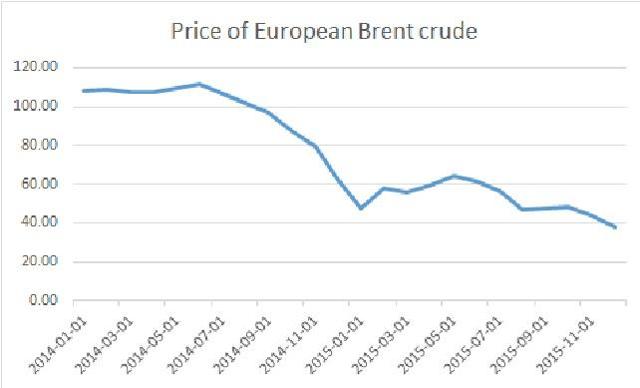 Click to enlarge
Source: Federal Reserve Bank of St. Louis
As can be seen from the following table, any growth in Exxon's revenues resulted from its downstream operations. Lower crude oil prices and higher refinery utilization and margins led to a 115% increase in downstream revenues. However, this was dramatically offset by the 74% decline in upstream revenues which the company acknowledges was in the doldrums because of declining natural gas and crude oil prices. Notwithstanding the growth in downstream revenues, upstream revenues in 2015 constituted 39% of total revenues. Other troubling indicators from the table are the 25% decline in cash per share, a slight yet significant decline in exploration expenses from 2014 (-8.7%) and minimal growth in R&D expenditures (growth of 3.8%). Finally, given the above comments on the possibility of leveraging in a deflationary environment, it should be noted that the 38% growth in the net debt to capital ratio would be anodyne if it were not for the fact that the fixed charge to coverage ratio declined by 62%.
| | | | | | | | |
| --- | --- | --- | --- | --- | --- | --- | --- |
| | Change in cash per share ratio | Change in net debt/capital ratio | Change in fixed charge coverage ratio | Change in exploration expenses | Change in R%D expenses | Change in upstream revenues | Change in downstream revenues |
| Change in relevant statistics Exxon statistics between 2014 and 2015 | -25% | 38% | -62% | -8.7% | 3.8% | -74% | 115% |
Source: 2015 Exxon annual report.
Freeport-McMoRan benefits from deflationary environment despite its dire fundamentals
As noted above, on the other side of the dividend spectrum is copper miner Freeport-McMoRan. The company eked out a dividend payment of 26 cents per share, despite posting an EPS loss of $11.31/share.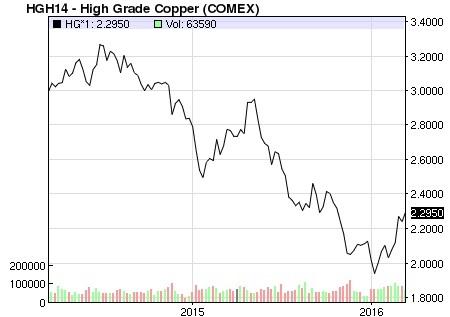 Source: nasdaq.com
The company claimed that its 2015 results were driven downwards because of significant impairment charges. There were also significant production curtailments of both its copper and molybdenum in its North American operations. A dividend was declared in March 2015, and none in December. So presumably the company is attempting to reorient itself strategically towards oil, but if it is relying on its oil and natural gas reserves to reboot (it claims 252 million barrels of oil equivalents December 2015), it probably won't be able to pay any dividends in 2016, if current trends continue.
However, as the table below shows, the company has other problems outside of declining copper prices. In particular, its long-term debt to equity ratio has almost doubled, and its cash reserves declined. The only bright note for this company is that its debt financing costs declined by 54%. In a low interest environment, it is a significant indicator that the company has taken advantage of lower financing costs, despite the adverse effects deflation will have on the company's debt holdings.
| | | | | |
| --- | --- | --- | --- | --- |
| | Change in cash reserves | Change in total current assets | Change in long-term debt to equity ratio | Change in debt-financing costs |
| Changes in relevant statistics for Freeport-McMoRan | -52% | -17.5% | 250% | -54% |
Source: 2015 annual report Freeport-McMoRan.
Deflation, dividends and debt
In summary, it seems that paying dividends in a deflationary environment can be counterbalanced with lower debt financing costs, even in the face of an adverse macroeconomic situation such as declining commodity prices. Of the two companies, though, it would seem that Exxon is in a worse position, since the high dividend payout ratio seems untenable in the future. Freeport-McMoRan has already come to terms with its situation, to some extent, although absent a significant change in its strategic situation, it will continue to be a non dividend-payer, low interest rates notwithstanding.
Disclosure: I/we have no positions in any stocks mentioned, and no plans to initiate any positions within the next 72 hours.
I wrote this article myself, and it expresses my own opinions. I am not receiving compensation for it (other than from Seeking Alpha). I have no business relationship with any company whose stock is mentioned in this article.