Introduction
Back in December, I had to admit I kind of liked Painted Pony Petroleum (OTCPK:PDPYF), a gas producer in Canada. Of course, writing about an idea in the gas sector wasn't really popular during those days, but I'm glad to see the share price is currently trading 35% higher. The company has now released its full-year financial results as well as an update on the status of its gas reserves, so I was dying to know if Painted Pony was able to continue to improve its position in the natural gas market.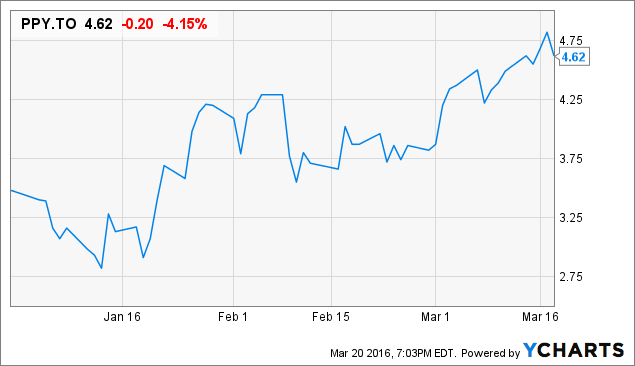 PPY data by YCharts
The company's main listing is on the Toronto Stock Exchange where it's listed with PPY as its ticker symbol. With an average daily volume of approximately 700,000 shares, you should definitely try to trade in the company's securities on the Toronto Stock Exchange.
2015 was as good as it gets for a Canadian gas producer
The low gas price has been killing quite a few Canadian gas producers and Painted Pony most definitely also encountered the negative effects as it saw its revenue fall by 50% to C$81.6M ($61M). Fortunately, the company's hedge book did its job and added almost $17M worth of revenue, which allowed Painted Pony to keep the total revenue slide 'limited' to 40%. This wasn't really unexpected and the market was pretty much expecting the results to be in line with this.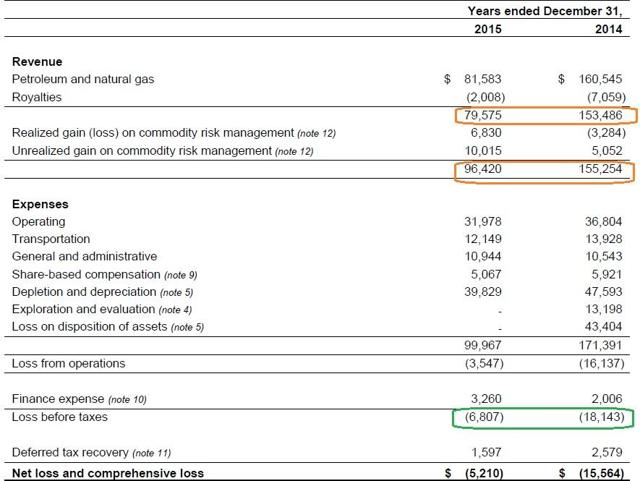 Click to enlarge
Source: financial statements
However, the operating loss was even better than last year, as the C$3.5M ($2.6M) operating loss was US$9M better than the C$16M ($12M) negative operating income last year. Keep in mind this did include a special C$56M ($42M) charge for exploration and evaluation as well as the loss on disposing of an asset, so both results might not be entirely comparable. That being said, a small net loss of C$5.2M ($3.9M) really was the very best a shareholder could be hoping for.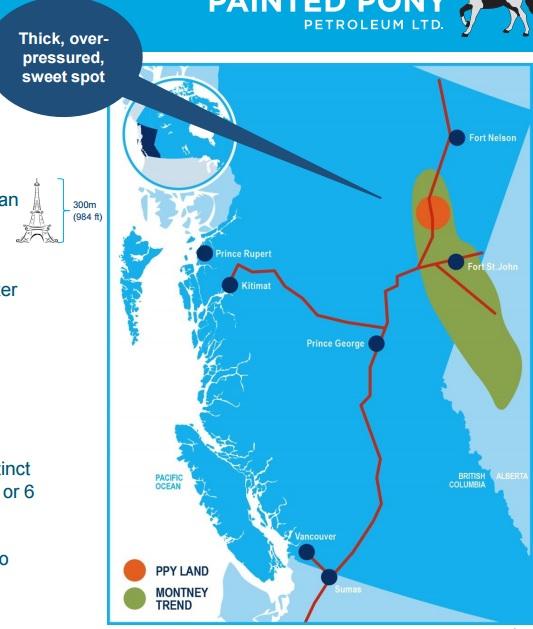 Source: company presentation
But as I explained in my previous article, I don't care too much about a gas company's net income, but I really want to dig deeper in those companies' cash flow statements. And that's especially the case for Painted Pony, as this company has been spending quite a bit of cash to continue to expand its production rate. Just to give you an idea of how aggressive Painted Pony has been; in just 7 years time, its production exit rate will have 25-folded!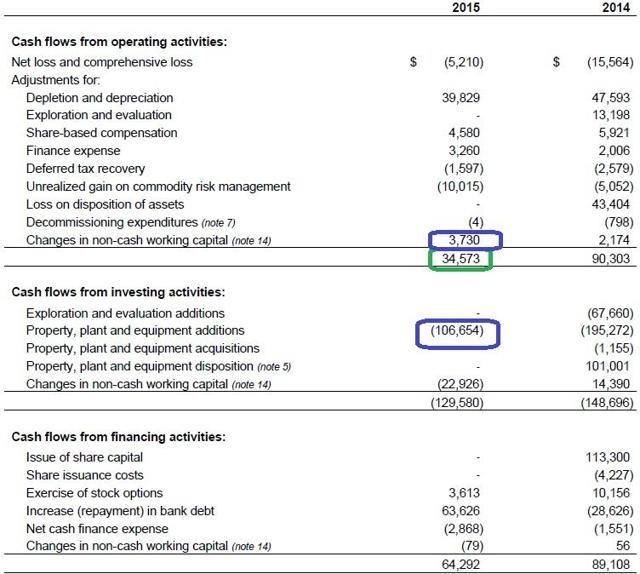 Click to enlarge
Source: financial statements
Painted Pony's operating cash flow was C$34.6M ($26M), of which C$3.7M ($2.8M) was caused by a positive change in the company's working capital position, resulting in an operating cash flow of C$31M ($23M) on an adjusted basis. That wasn't sufficient to cover the C$107M ($80M) capital expenditures which were spent by Painted Pony to continue to expand its production rate. And the company will benefit from this in 2016!
Despite reducing the 2016 capex program, Painted Pony will see its production rate increase by 80%!
Whereas Painted Pony produced an average of 15,000 boe/day, and whereas it expects to increase the average production rate to 23,000 boe/day, the positive surprise will be found at the end of the current financial year. Painted Pony has a lot of gas 'ready to go', but it's waiting for the new Townsend plant to become operational in H2 2016 (see later) in order to 'open the valves' and let the gas hit the market. Just to give you an idea of how aggressive Painted Pony plans to be: The average production rate in Q4 2015 was 15,043 boe/day, but PPY plans to end 2016 with a production rate of 40,000 boe/day (!!!). That's an increase of 167% in just one year.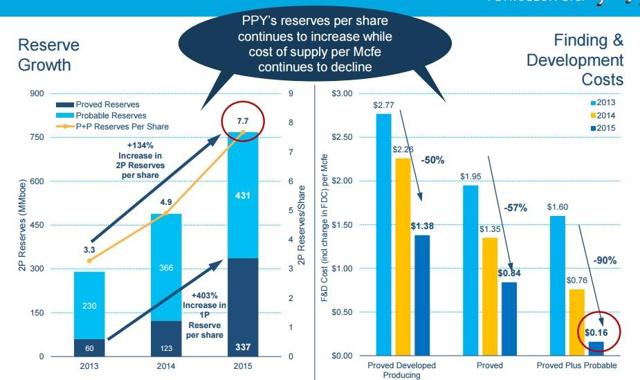 Click to enlarge
Source: company presentation
Where will all the gas go?
Well, this is where Painted Pony's relationship with AltaGas (OTCPK:ATGFF) comes in. A large part of the additional gas production will be routed through the Townsend facility operated by AltaGas. This gas plant is currently being constructed just 60 miles NW of Fort St John, and Painted Pony has reserved the entire capacity. As of this moment, the plant has reached a completion factor of 75% and is now on track to open in the middle of this year, which is earlier than expected.
But there's more! AltaGas is currently also thinking about building a propane export terminal at Prince Rupert. As Painted Pony has an excellent strategic relationship with AltaGas, it's quite normal to assume the company will be able to secure the confirmation of delivering a large chunk of the gas that will be run through the plant. Keep in mind this is still several years out (as AltaGas still needs to take a construction decision), but I think this does emphasize the importance of Painted Pony's relationship with AltaGas, as it will unlock several additional possibilities to generate revenue and cash flow.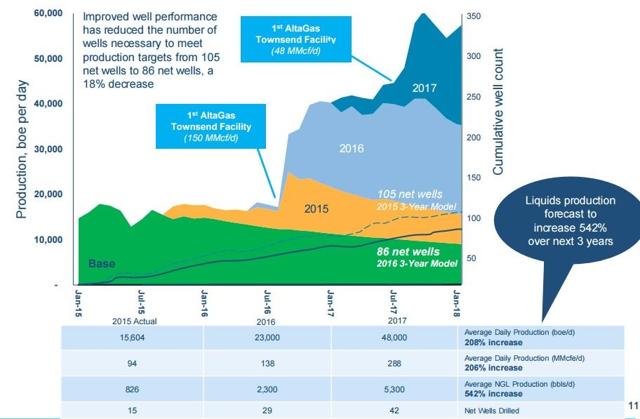 Click to enlarge
Source: company presentation
Unfortunately, Painted Pony still plans to spend quite a bit of cash this year, and even though the company has reduced the capex program to C$197M ($146M) this year, it will clearly remain free cash flow negative. Even in 2017, Painted Pony will have to tap into its credit lines as the C$298M ($226M) capex expectation might not be covered by the operating cash flow, despite being a 48,000 boe/day producer by then!
Investment thesis
Painted Pony is betting big on a recovery of the gas price. Whereas most gas producers are reducing their capital expenditures to protect their balance sheets, Painted Pony is going all in on its expansion plans. The FY 2017 production rate will be more than 3 times higher than the 2015 production rate. So if the gas price is trading higher by 2017 (which isn't unlikely), the PPY management team will look like geniuses.
And if it doesn't work out? Hmm, then investors will have to lick their wounds and Painted Pony will have to aggressively reduce its capex commitments and use the operating cash flow to reduce its net debt.
Disclosure: I am/we are long PDPYF.
I wrote this article myself, and it expresses my own opinions. I am not receiving compensation for it (other than from Seeking Alpha). I have no business relationship with any company whose stock is mentioned in this article.
Editor's Note: This article discusses one or more securities that do not trade on a major U.S. exchange. Please be aware of the risks associated with these stocks.