Give credit where credit is due, the Bursa Malaysia wins "Best Emerging Exchange of the Year" at the Futures & Options (FOW) Awards in September 2015. This award follows the recognition granted by the US Commodity Futures Trading Commission (CFTC). What does this mean for the curious investor? The Bursa Malaysia exchange is the real deal, and cares about market integrity and investor protection. Knowing this, let's dig into the charts and what we're seeing on our screens, which is being driven by financial services, consumer cyclicals and utilities.
Dictated by the simple fact that emerging markets are outperforming U.S. equities since January, we're continuing our world tour with this research. We don't dismiss that U.S. equities have been on quite a rally since their early February low. However, as impressive as that's been, emerging markets have been even more so. Today, we're taking a look at Malaysia using an ETF that seeks to track the investment results of an index composed of Malaysia equities. With exposure to approximately 85% of the country's stock market, the exchange-traded fund we're using is the iShares MSCI Malaysia ETF (EWM).
Here's the weekly chart of EWM.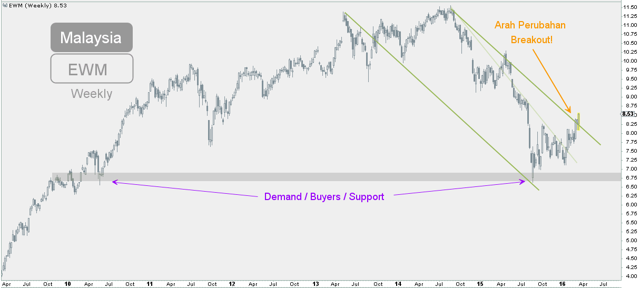 Click to enlarge
We quickly notice that Malaysian equities have been in a downtrend since mid-2014. The 42% depreciation was fast and fierce until summer 2015, when price met demand at the 6.75 level. This level has historical significance dating back to 2010. Looks like buyers/sellers have a good memory. Since finding buyers near 6.75, Malaysian stocks have continued to attract more buyers, driving price into a new potential uptrend.
This recent breakout (annotated on chart) is significant, and one we can use to our advantage. Nothing is guaranteed, but this setup has potential. Looking at the daily chart, we can see that EWM has been outperforming the S&P 500 (upper pane).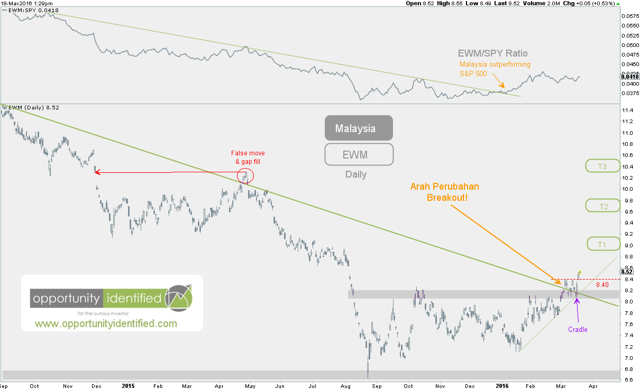 Click to enlarge
We can also see well-defined risk and potential reward. It is skewed in our favor. 8.40 is an important support level based on the principle of polarity (former supply becomes demand). Below 8.40, we don't need to own EWM. Above 8.40, we like the reward potential. Malaysian stocks are worth owning until the price tells us otherwise.
Disclosure: I am/we are long EWM.
I wrote this article myself, and it expresses my own opinions. I am not receiving compensation for it. I have no business relationship with any company whose stock is mentioned in this article.
Additional disclosure: Disclaimer: Nothing in this article should be construed as investment advice or a solicitation to buy or sell a security. You invest based on your own decisions.