A lot of good dividend stocks have gone up and are no longer very cheap. One of my favorite recommendations over the last couple of years has been AT&T (NYSE:T). Unfortunately, for those accumulating, AT&T was up as much as 13.5% since the new year. That's a pretty big jump for a steady telecom.
Many similar names followed suit, but what about AT&T's biggest competitor and qualitative equal, Verizon Communications (NYSE:VZ)? Verizon is up, too, but by not nearly as much. Have a look.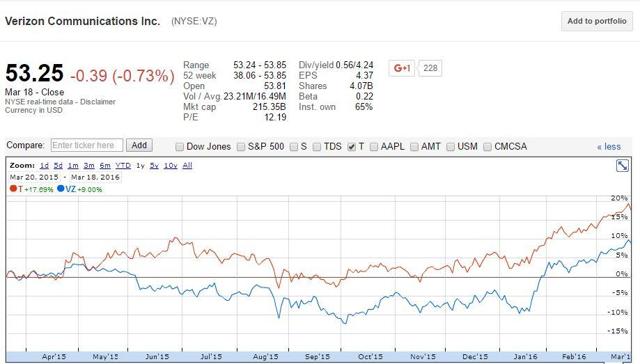 Click to enlarge
AT&T vs. Verizon. Courtesy of Google Finance.
This chart says a lot. AT&T has outperformed Verizon over the last twelve months. AT&T is up almost 18% and Verizon is up just 9%.
Why is that? Well, I believe there are a couple of reasons. This article looks at whether Verizon is still worth buying. In particular, this article looks at why Verizon might be underperforming AT&T, and whether this valuation is justified.
A year of consolidation
2015 was a rather eventful year for Verizon. After acquiring full ownership of its wireless business in 2014, in 2015, Verizon acquired AOL, Inc. in an effort to improve its platform technology as the lines between entertainment and communication really have been blurring.
This acquisition substantially increased Verizon's debt load, and as a result, Verizon has decided to sell off some of its non-core business assets, and that is going to dampen any growth in 2016. Verizon has opted to sell its landline enterprise business to Frontier Communications (NYSE:FTR). The enterprise landline business is shrinking, but it is still a high margin, cash generator, and selling the business may cancel out any earnings growth coming from the wireless division this year.
The lack of earnings growth in 2016 could be one reason why Verizon is underperforming AT&T. For its part, AT&T expects to grow earnings per share by 'mid-single digits or better' in 2015. Growth there will be propelled by DirecTV and the emerging synergies from there. Like Verizon, AT&T has a strong wireless business anchored by very strong demand for wireless data. AT&T's higher growth may be the reason for its outperformance.
Even still, I think we should give Verizon a look because there's still a strong organic business behind it. For example, last quarter, Verizon's revenue increased 2.6%, excluding AOL (which grew even faster). Of that, revenue from wireless services grew 4.6%, with a churn rate of just below 1%, which is quite good. Verizon is generally regarded to have the best 4G network in the US, and there should be a healthy level of revenue and earnings growth ahead so long as America's appetite for mobile data continues to grow.
Verizon understands very well that consumers will allocate only a certain 'wallet share' to communications expenses. Verizon acquired AOL, Inc. in part to develop non-subscription ways to grow revenue through AOL's platform technology and information through multiple devices. Although Verizon's growth could be muted in 2016, this is largely due to asset sales as it gets its house in order.
Valuation
Despite the hike in share prices, Verizon still trades at a nice discount. The company now sits at 13.4 times earnings. That's not expensive at all, especially when one considers the average ten-year P/E of 15.3 times, according to FAST Graphs. That's a discount of nearly 15%. I do believe there's a lot of upside remaining in this stock.
As for dividend investors, which include myself, Verizon offers a yield of 4.2% with modest but long-lived growth prospects. Since 2006, Verizon has averaged 3.3% annual dividend growth, which is a good bit above indexed inflation. If anything, I believe dividends could accelerate as either capital spending needs decline or as AOL's platform technology accelerates earnings growth.
Overall, I consider Verizon to still be cheap. If investors are looking for a solid income name right now, Verizon should be on the short list.
Disclosure: I am/we are long VZ, T.
I wrote this article myself, and it expresses my own opinions. I am not receiving compensation for it (other than from Seeking Alpha). I have no business relationship with any company whose stock is mentioned in this article.