Philip Morris (NYSE:PM) has been performing very well over the last year, despite currency issues which hurt the company's top and bottom line. The company's business model is great, but the company's shares are getting expensive.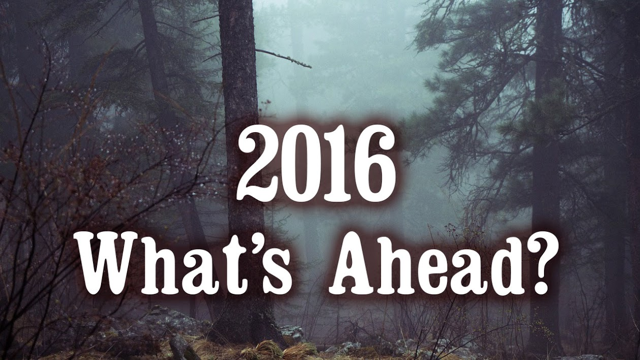 Click to enlarge
Over the last years Philip Morris' business model has been very simple: Price increases for the company's products help offset lower smoking rates in existing markets, geographic expansion adds new customers. The higher price per cigarette also leads to higher margins, which means that the company's bottom line grows unproportionally fast. In the past Philip Morris has added share repurchases (partially financed via debt) which lead to additional earnings per share growth, share repurchases have been very small in the last year though.
This business model works for Philip Morris (as well as for other cigarette manufacturers), but Philip Morris faces unfavourable currency rates in the last quarters: These lead to substantial hits to the company's top and bottom line, despite the company's operations running well (i.e. currency adjusted results are good). These adverse effects to the company's top and bottom line limit the amount the company can return to shareholders, and thus it is not surprising that the most recent dividend increase has been smaller than the long term average: In 2015 Philip Morris has increased its dividend by just 2.0%, versus a five year average of 9.8% -- the dividend growth rate has dropped to just one fifth of the historic average. Due to rather low reported (i.e. GAAP) earnings per share and an already high payout ratio investors have to accept this fact, the company can not really be blamed though, since adverse currency movements are not under Philip Morris' control.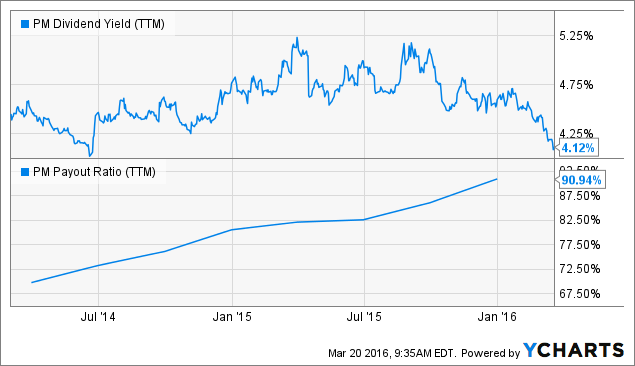 Philip Morris' payout ratio has reached 91% for the trailing twelve months period, up more than 20 percentage points from two years ago. At the same time Philip Morris dividend yield has dropped to 4.1 percent, which is the low over the last two years. During 2015 the company's shares could be purchased at a yield of more than 5% several times. The reason for the low initial yield is that Philip Morris' shares have rallied substantially over the last month, whereas the dividend was only increased by a small amount: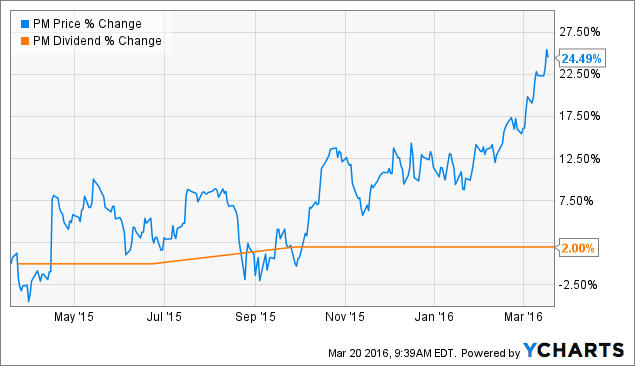 Over the last year Philip Morris' price appreciated more than 24%, or twelve times as fast as the company's dividend (which grew 2% over the last year). I believe this development is not sustainable for a longer period of time, as it would mean the company's dividend yield would drop further continually.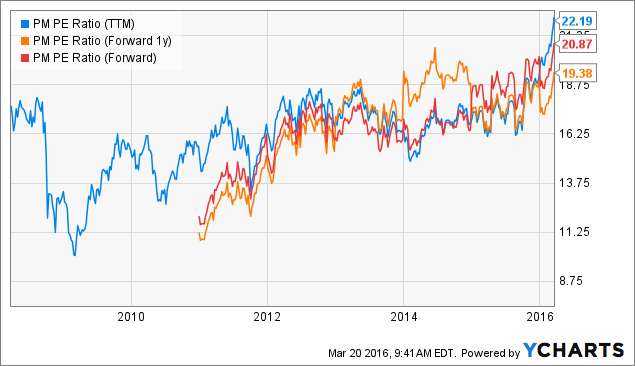 Philip Morris also is a lot more expensive than it was one year ago, and in fact, the most expensive it has ever been: Philip Morris' shares trade at 22.2 times trailing earnings, 20.9 times forward earnings and 19.4 times forward (one year) earnings. When the company went public shares traded at 17 times earnings, thus the company's valuation has expanded by 30% since. During the financial crisis Philip Morris' shares could be bought at ten times earnings, which is less than half of the company's current valuation. With Philip Morris' forward earnings multiple at all time high as well, we have to conclude that Philip Morris' shares are by no means cheap any more, the company's shares have gotten rather expensive (versus the company's historic valuation).
I don't believe this is a reason to sell (and definitely not a reason to short, that would be suicidal with the company's still high dividend yield), but it doesn't look like a good time to buy either.
If an investor bought five years ago at $60, he sits on capital gains of more than sixty percent -- selling would trigger long term capital gains taxes of up to 20% (depending on the tax bracket), i.e. up to $8 per share or 13% of the initial invested amount. This would be a rather large hit to an investors holding, thus selling and waiting for a lower reentry point may not be a good idea (Philip Morris would have to drop about ten percent just to break even with your reentry).
Since future upside seems rather limited, you could use another strategy though: Sell covered call options against your position. By doing that you get additional money right now, with the only constraint being that you would be forced to sell your position if the company's share price increases further by a certain amount. If the company's share price indeed increases by a certain amount, Philip Morris would be even more expensive relative to its historic valuation, thus selling would make sense in that case anyway.
If, for example, you decided to sell the call options with a strike price of $105 and an expiry date in September, you would receive $0.90 per share. If Philip Morris' shares increase by seven percent in the next six months, your shares would get called away, and you would have to sell at $105 (you would thus receive a total of $105.90 per share, when we add the option premium you get right now). This means your maximum gain would be capped at ten percent (105.90 / 98.2 + two dividend payments) for six months, or more than 20 percent annualized.
If the share price does not increase above $105 you have lost nothing, but get to keep the option premium, which is roughly equal to one quarter's dividend. In six months, after these options expire, you could repeat the process (if your shares are not called away).
By using this strategy you can create additional income, whilst not being forced to sell at today's price (thus not creating a tax event), with the only downside that your potential gain is capped around ten percent for the next six months. If you agree that Philip Morris is a little overvalued right now, you probably would agree that Philip Morris would be a sell at $105.90, so utilizing this strategy could make sense for you. Obviously it is possible to use other option contracts (i.e. with different expiry dates or different strike prices) if you wish to do so.
Takeaway
Philip Morris' business model works, the company's operations are running fine. Currency headwinds hurt the company though, and take a toll on Philip Morris' dividend growth rate.
Philip Morris is trading at a high valuation right now, relative to how the company was valued in the past. Investors may not want to sell at today's price, but selling call options with a higher strike price could make sense: Either you get to sell at an even higher price (when Philip Morris' valuation is even higher as well), or you get to keep the option premium, thus locking in additional income from your investment.
Disclosure: I/we have no positions in any stocks mentioned, and no plans to initiate any positions within the next 72 hours.
I wrote this article myself, and it expresses my own opinions. I am not receiving compensation for it (other than from Seeking Alpha). I have no business relationship with any company whose stock is mentioned in this article.