By Jeffrey P. Snider
According to Discern Investment Analytics, the number of retail store closings in the first two months of 2016 was about a third more than the closings in the same two months last year. That's bad news just in terms of the raw increase, but more so given that there was a wave of shutting retailer outlets last year, too. Store closings in 2015 were 29% more than 2014. It's not a precise estimate of total retailer capacity being drawn down since it doesn't include absolute square footage or really the sales per square foot in those stores, but it is perhaps more relevant this year since the roster of retailers include some of the biggest like Wal-Mart (NYSE:WMT) and Macy's (NYSE:M).
Last week, Men's Wearhouse said it will close a whopping 250 stores, while Sports Authority filed for bankruptcy and announced plans to close 140 stores earlier this month.

In February, Kohl's said it will close 18 underperforming stores. Others such as teen retailer Aeropostale, with more than 900 stores, are teetering on the brink of insolvency…

While most retailers typically trim their ranks at the beginning of a new year - up to 50 percent of store closures happen around now - some industry experts say this year could be the beginning of a big shakeout.

"We are hitting a tipping point," said Richard Church, managing director of Discern Investment Analytics. "We are in a weak demand environment that could meaningfully accelerate next year."
Inevitably, when discussing the fortunes of retailers, the structural trend toward online shopping is offered as a counterexample of what might be a truly positive trend. If consumers are still shopping but now using smartphones instead of their feet, then that is bad news for Macy's but terrific news for Amazon (NASDAQ:AMZN) and the rest of the economy (productivity). The problem is, of course, finding the "net" shopper who is doing just that.
When analyzing the shift in consumer preferences it is usually presented as "all or nothing", meaning that shoppers leaving bricks and mortar stores are bestowed with a convenience option that they are exercising. Instead, the shift toward online may not be separable from the "weak demand environment" at all. In other words, if consumers have become fickle about bargains and finding the lowest price, that may be just as much macro-economic as micro-economic. It may be that online retailers are best positioned in a downward economic transition because they can offer better prices without having the burden of the huge sales distribution costs that come with operating physical stores.
That seems to be the judgment of the world's producers as this "manufacturing recession" continues on and on. When the Commerce Department reported earlier this month another contraction in wholesale sales (for January) they also included the thirteenth consecutive decline in manufacturing sales. That meant, like other indications, these contractions are now starting to "stack." Reported sales attributed to the manufacturing level of the domestic supply chain were in January 2016 4% below January 2015, which already showed sales 4.1% below January 2014.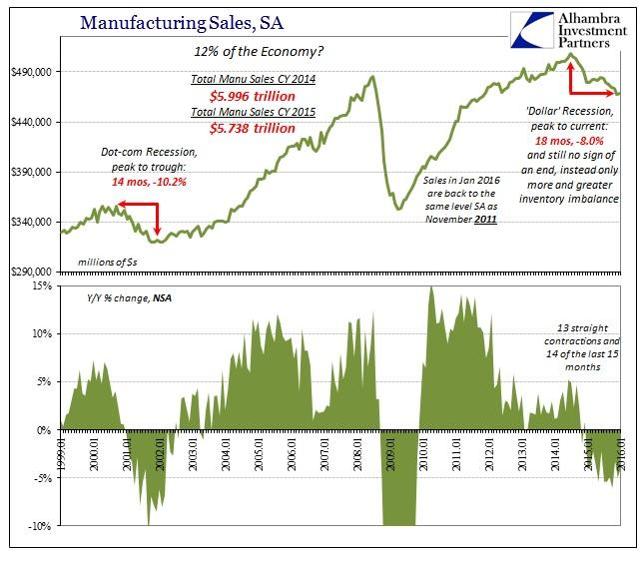 These estimates certainly seem very much in line with reports of retailers scaling back - as if there were a consumer recession, rather than purely manufacturing. It is an interpretation that Chinese manufacturers have been living out for some time, too. The Commerce Department also reported for January 2016 the fourth consecutive month of contraction in US imports from China. The last time that had occurred was August through November 2009 (Great Recession), and prior to that June through September 2001 (Dot-com Recession).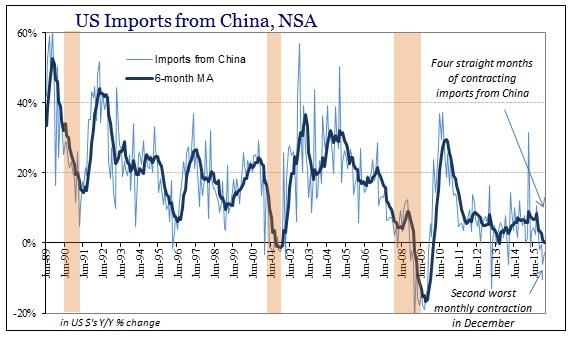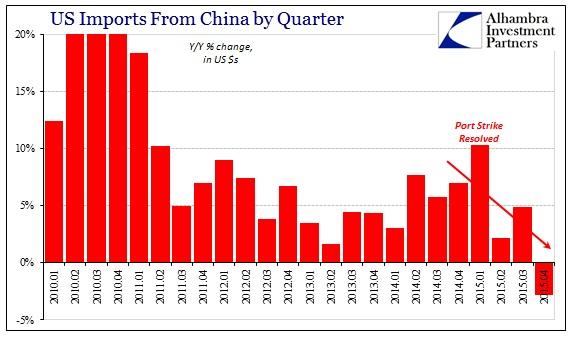 If Chinese estimates of their exports are any indication (and sometimes they are not, given data disparity and questionability) for February, the reflection of US consumer "demand" is as bad as the retailer store closing estimates. In short, there seems to be a lot of agreement on the account of a distinct lack of US demand and consumer spending. Domestic and foreign manufacturers are seeing only a persistent drop in sales which suggests that if consumers are shifting online it is not a dollar for dollar transition. Those that find their bargains on their mobile devices are pocketing the savings, buying less overall. Physical retailers may be the hardest hit, with wired retailers absorbing some of the blow, but that is still overall quite negative commentary on US consumers.
And it only serves to further highlight the growing discrepancy with the employment figures. As I noted two weeks ago, the BLS estimates that there is an epic hiring binge (not layoffs) in the US retail segment. Given the information about store closings, that would have to mean Amazon and its peers hiring away all the employees from shuttered Wal-Marts and Macy's, and then still a lot more beyond that; all the while the sales of reported goods being sold by manufacturers here and especially China continue to shrink.
The BLS is also suggesting that US manufacturers, despite more than a year in contraction, are still hiring if only slightly. Through January 2016 (the BLS actually estimates a 16k decline in manufacturing employment in February), the BLS shows that manufacturing employment is up by about 154k jobs since sales peaked in July 2014. During the similar decline of the dot-com recession, manufacturing employment fell by more than 1.4 million. This does not immediately suggest that US manufacturing employment would be similarly decimated, only that perhaps the BLS has at least the sign wrong.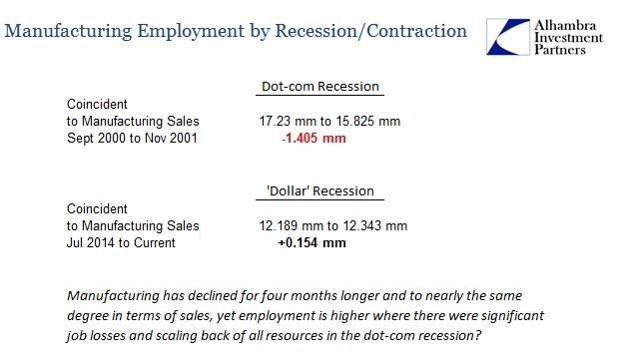 It is difficult to come to any other conclusion except that the BLS is overstating employment in general fashion across all industries. The "goods economy" is nothing like what the employment numbers suggest in macro terms, meaning that if there were truly a full boom in the labor market right now a manufacturing recession, complete with so many retailers cutting back, would be impossible. Spending is traced more than anything to employment and more so perceptions about the stability and permanence of employment (Friedman). Nervous consumers using online tools to cut back in spending (not to mention "savings" on gasoline) does not sketch backward to a robust jobs market; quite the opposite.
That point is emphasized in these individual economic segments where consumer doubt is directly impacting - retailers and manufacturers (foreign and domestic). Given what we interpret about a "manufacturing recession," it is not at all surprising to find so many retailers struggling to the point of bankruptcy and downsizing. If it looks like recession across so many different points of view, especially those closest to the real world rather than stochastic models, chances are very good there isn't the slightest hint of "overheating."