Shares of Kinder Morgan (NYSE:KMI) have partially recovered from the sharp losses suffered in late 2015 and early 2016, though the stock is still down 50%+ over the past year. With the worst of the MLP panic now seemingly over, this is a good time to sit back and review the investment thesis behind owning this pipeline giant.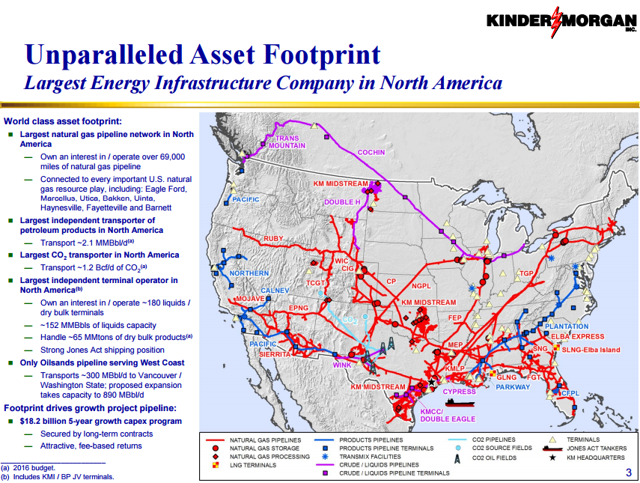 Click to enlarge
Dividends, capex and cash flow-- all interconnected
Due to the chaos resulting from lower oil prices, Kinder Morgan was forced to fundamentally change the way it funds its expansion projects. Gone are the days it could sell equity at an attractive cost of capital and distribute most of its cash out via the dividend. This method, which I call the MLP model, basically broke down in late 2015 for a variety of reasons too complicated to discuss here.
Now, Kinder Morgan must use its internal cash flow (distributable cash flow, "DCF") for both paying dividends and funding its growth. Luckily, despite its share price action, Kinder Morgan's cash flows have not fallen -- they grew 13% in 2015. Indeed, given the recent rally in crude oil prices, cash flow may even grow slightly year over year.
For 2016, Kinder Morgan expects to generate DCF of ~$2.13 per share, which is flat from 2015 levels. Backing out the reduced $0.50 per share dividend, Kinder Morgan is left with $3.6 billion in DCF after dividends, which is more than enough for its $3.3 billion capital budget.
While I would have preferred Kinder Morgan to do like many of its pipeline peers and slash capital spending rather than the dividend, the company is undoubtedly stronger as a result. An internally fully funded capital budget is better than relying on the fickle equity markets for capital for growth.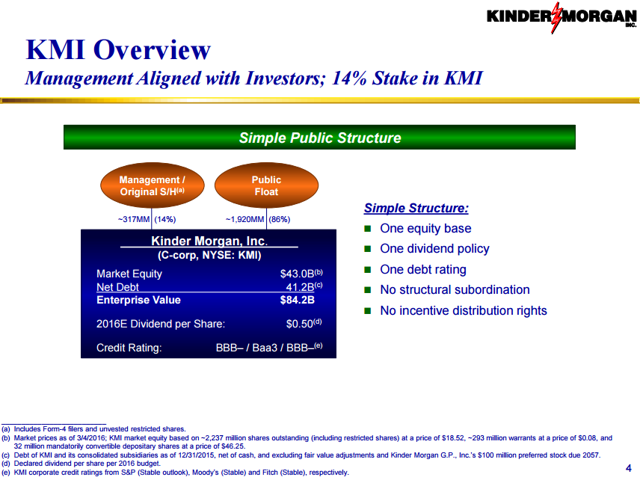 Click to enlarge
Where will growth come from?
Speaking of growth, Kinder Morgan value suggests that the market is pricing in some growth. The dividend yield of 2.7% is not high enough for dividend or income investors. Indeed, with 70% of DCF is going towards growth and only 23% for the dividend, the dividend is no longer the main concern for the company,
As the largest pipeline company in North America, Kinder Morgan has plenty of areas of growth. Though, its focus is clear -- Kinder Morgan is making a big bet on safer, fee-based projects. 90% of its 5-year backlog is on pipelines, terminals, and associated facilities. In total, Kinder Morgan plans to spend $18.2 billion on these projects, boosting its EBITDA by $2.2 billion (not including CO2).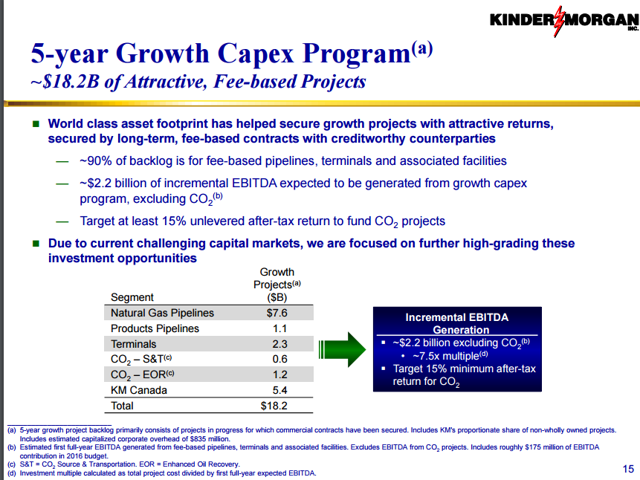 Click to enlarge
Given Kinder Morgan generated $7.4 billion in EBITDA in 2015, this suggests EBITDA 30% growth over the next 5 years to $9.8 billion. Backing out 2016, which is flat year over year due to the impact of lower oil prices, this suggests a 7.5% annualized EBITDA growth rate.
As for debt, assuming Kinder Morgan hits its growth targets and no incremental debt is added, the debt-to-EBITDA ratio should also improve to 4.3x versus the current 5.6x.
As for DCF, it should follow EBITDA higher by a similar percentage, so up 30% to $6.1 billion. Though, the per share amount could vary considerably depending on if Kinder Morgan were to buy back or issue stock and debt levels.
Keep in mind that I am likely understating Kinder Morgan's growth prospects given that it does have some free cash flow left over after dividends and capex. This excess could be used for dividend growth, as discussed below.
Is the current dividend policy set in stone?
Assuming Kinder Morgan hits its growth targets, I can easily see the company growing its dividend, though at a slower pace than some may hope for.
Let's say Kinder Morgan keeps its dividend payout ratio at ~23% of DCF. Using the growth targets above, I come to the following numbers rounded to the whole cent:
2016: Dividend of $0.50 (excess DCF of $0.13 per share)
2017: Dividend of $0.54 (excess DCF of $0.13 per share)
2018: Dividend of $0.58 (excess DCF of $0.25 per share)
2019: Dividend of $0.62 (excess DCF of $0.44 per share)
2020: Dividend of $0.67 (excess DCF of $0.55 per share)
These are rough numbers, but they suggest a dividend growth rate of ~8% after 2016. Disappointing, but I am being overly cautious. As shown, the excess DCF numbers (after dividends and capex) is also growing, even faster the dividend, as capex becomes a smaller piece of the pie, reaching over $1.2 billion by 2020.
Kinder Morgan will likely want to use this excess cash either for accelerated dividend growth or share buybacks, depending on the share prices, or more capex.
Conclusion
I believe Kinder Morgan remains a compelling investment. The fundamentals remain sound and the growth platform not overly ambitious. This is a company with a ton of cash flow and a solid asset base. I plan to follow up this article with another looking at how to value the post-dividend cut Kinder Morgan.
Disclaimer: The opinions in this article are for informational purposes only and should not be construed as a recommendation to buy or sell the stocks mentioned. Please do your own due diligence before making any investment decision.
Disclosure: I am/we are long KMI.
I wrote this article myself, and it expresses my own opinions. I am not receiving compensation for it (other than from Seeking Alpha). I have no business relationship with any company whose stock is mentioned in this article.