I have been closely tracking First Solar (NASDAQ:FSLR) over the last one year. The company has excelled on all fronts such as solar panel efficiency, revenue growth, bookings, etc. In 2015, the company reported record revenues of $3.6 billion with EPS of more than $5. First Solar has installed solar projects with more than 10 GW of solar capacity. The company's solar panels are considered as highly bankable and it is one of the top utility installers in the USA. The company is lowering the LCOE of solar projects through consistent improvement in efficiency and cost. The only major concerns for me are its Cd-Te technology which is still not very popular globally and the falling prices for utility projects. The stock performance has been quite good with FSLR stock returning more than 49% in the last year itself (Jan-Dec 2015). The market capitalization has increased to $7.3 billion. I think that the stock may be a good buy on dips, given its strong operational performance and the high growth of solar demand over the long term.
"We exit 2015 with record annual revenues, record new bookings and earnings per share of over five dollars," said Jim Hughes, CEO of First Solar. "As we look back to the 2015 targets first provided to investors at our Analyst Day nearly three years ago, we recognize that we have achieved the efficiency, cost per watt and earnings targets outlined at that time. We enter 2016 with tremendous technology, a strong pipeline and an ongoing commitment to achieve the long-term objectives we have communicated to our investors."

Source: First Solar
Why Is First Solar a good investment
1) Technology improvements have enabled First Solar to become the most valued solar company
First Solar has shown the sharpest improvement in solar panel efficiency over the last three years. Q4'15 average solar panel efficiency improved to 16.1%, which means that its solar panels are now at par with multicrystalline solar panel. First solar recently announced 22.1% efficiency for its solar cells. The company has single-handedly made Cd-Te technology reach parity with the mainstream silicon panel technology. Increasing efficiency has not only decreased costs but also increased production capacity by 36% as compared to the last year. The company has a roadmap to further increase its solar panel efficiency leading to more cost declines in the future.
2) Large Order Book gives revenue visibility
The module shipment balance as of February'16 was 4.4 GW. These bookings have potential value of ~$7 billion. The company has also been diversifying in regions other than the USA and won large module sales contracts in Turkey, India, Japan, Africa and Australia. One of the key risks for First Solar was its over dependence on the USA market. But with the company now diversifying to other growing markets, this risk has been mitigated. Potential booking opportunities have also increased to 20.3 GW from 13.5 GW last year mainly driven by the ITC extension in the USA and geographical diversification. The pipeline continues to grow with record bookings of 3.4 gigawatts in 2015.
3) Strong Operational Execution
For 2015, operating profit was $517 million which beat the high end of the guidance range of $490 million. There were cost reductions across both its system and product divisions due to operational improvements. Gross margin also improved to 26% for the full year because of reduction in module and balance of system costs. Cash flow from operations improved to $53 million compared to $21 million in the third quarter. The company is managing to run its factories at 100% capacity and is increasing production through efficiency improvements without spending too much on capex. The company has managed to continuously improve both financial and operation metrics over the last couple of years.

Click to enlarge
Risks
a) PPA prices for utility scale projects in the USA are coming down
Solar PPA prices have fallen almost 70% since 2009. Solar energy prices have reached very low levels with the average price in the USA reducing to just ~5 cents/kWh. The falling prices of solar components and increasing efficiencies have been a major cause for this decline in prices. Last year in June, Austin Energy in Texas received a bid at less than 4 cents for 1.2 GW of solar power. Recently, India too is witnessing very low prices for solar projects. Companies like Rising Sun, Fortum and Yarrow Infrastructure in India won Rajasthan solar projects at just ~6 cents/kWh.
Though prices have fallen, costs too are declining, making solar energy more competitive each day. First Solar has shown a great performance in terms of cost reduction and improving efficiencies, which has provided it an edge in these times of declining prices. Being a bankable Tier 1 company, First Solar has successfully raised ~$11 billion in debt and equity financing for its power plants till date.
b) Thin Film Technology is still not very popular
First Solar's Cadmium Tellurium (Cd-Te) solar thin film technology has faced questions with regards to safety. The company has been questioned numerous times for using Cadmium which is highly toxic. However, First Solar has managed to defend the safety record of its technology each time. High polysilicon prices in 2007-2011 made silicon solar panels much more expensive as compared to Cd-Te solar panels giving First Solar a huge advantage. However, with polysilicon prices falling, thin film technology started losing its charm.
TSMC, the largest Taiwanese semiconductor company, closed down its CIGS solar thin film technology development last year. Solar Frontier and Hanergy (OTC:HNGSF) are the other major thin film players in the industry today. In 2014, the market share of all thin film technologies amounted to just ~9% of the total annual production. Solarbuzz has estimated that thin film market share will fall to 7% in 2017.
According to Fraunhofer ISE: Photovoltaics Report released November last year, the record lab cell efficiency is 25.6% for monocrystalline and 20.8% for multi-crystalline silicon wafer-based technology. For thin film technology, it is 21% for CdTe and 20.5% for CIGS solar cells. In the last 10 years, the efficiency of average commercial wafer-based silicon modules has increased from about 12% to 16%. At the same time, CdTe module efficiency increased from 9% to 16%.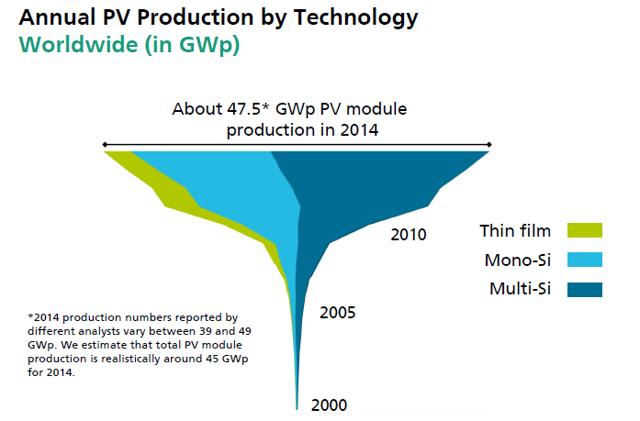 Click to enlarge
Fraunhofer ISE: Photovoltaics Report
Stock Performance & Valuation
The stock is not expensive with a P/E of around 13x. The market capitalization has increased to $7.29 billion currently. Other Chinese peers like Trina Solar (NYSE:TSL) and JinkoSolar (NYSE:JKS) have a much lower market capitalization of $993 million and $714 million, respectively. The stock is trading at more than $72, almost near its 52-week high.
Conclusion
I think First Solar has performed extremely well compared to competition, in terms of improving its solar panel efficiency, reducing costs and expanding geographically. The stock has also performed well, returning more than 49% in the last year (when NASDAQ was up only 4%). The ITC extension has further improved the growth prospects of the company. The company is looking good and I would advise investors to buy on dips.
Disclosure: I/we have no positions in any stocks mentioned, and no plans to initiate any positions within the next 72 hours.
I wrote this article myself, and it expresses my own opinions. I am not receiving compensation for it (other than from Seeking Alpha). I have no business relationship with any company whose stock is mentioned in this article.