Last month, I published a piece regarding oil production in the Eagle Ford, one of the seven largest oil and natural gas producing regions within the U.S. In it, I concluded that there's a high probability that oil production in the Eagle Ford will have materially this year if current trends persist, something that should be bullish for long-term oil investors in the United States Oil ETF (NYSEARCA:USO), as well as in other oil ETFs and oil-related companies. Now that fresh data is out, courtesy of the EIA (Energy Information Administration), I've decided to dig in and update my analysis to determine what the future of production should look like throughout the rest of 2016.
A look back and a revision
In my last piece on the issue, I had to rely on three core assumptions for the Eagle Ford. These involved rig count changes, improvements in rig productivity, and monthly decline rates. In my article, I looked at this historical change in rig counts to determine that, if trends don't change, investors should expect the total operational rig count in the area to fall by 7 units per month (starting in March) and that we would see 53 units in operation during February. I was off on the number of units we would see, with the actual number hitting just 59 units but the historical drop in rig count over time still supports, in my mind, a drop of 7 units each month.
On top of that, I had to look at changes in rig productivity over time. Last month, I figured that we would see the month-to-month rig productivity numbers improve by about 1% moving forward, down from a previous forecast of 2% a month before that. However, in the revised data provided by the EIA, which you can see in the graph below, I believe this calls for a further revision. For now, I'm making the assumption that the actual increase in rig productivity each month should be about 1.5% each month but this may change if new data warrants it.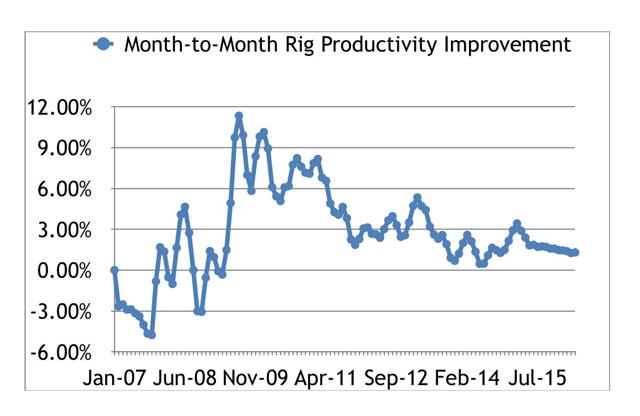 Click to enlarge
*Source: Created by author with data from the EIA's Drilling Productivity Report
Finally, I had to figure out what makes sense from a decline rate perspective. In my last article, I used historical data dating back to January of 2007 to figure out that the monthly decline rate in the Eagle Ford for oil production should be split into three separate categories; conservative, moderate, and liberal. Under the conservative model, I assumed monthly decline rates of 7.5% while moderate decline rates (the most realistic in my opinion) came out to 9%. Meanwhile, the liberal forecast called for a rate of 10.5% each month. In the graph below, you can see that this picture is still showing around 9% for decline rates each month so I've elected to stick with this prior setup for the time being.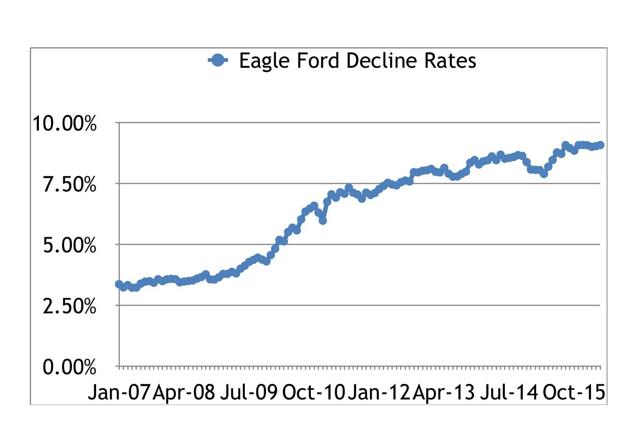 Click to enlarge
*Source: Created by author with data from the EIA's Drilling Productivity Report
After plugging in my older assumptions, I was able to create the table below, which shows that production should fall hard this year. Under the conservative forecast, investors should expect output in the Eagle Ford to drop to 729,502 barrels per day while the moderate forecast calls for output of around 636,096 barrels per day. The liberal forecast (the least likely in my opinion) should see production plummet to just 553,783 barrels per day. All of these are a massive improvement over the revised December 2015 output data for the region of 1.39 million barrels each day and are extremely bullish in nature.

Click to enlarge
*Source: Created by author with data from the EIA's Drilling Productivity Report
Things are a bit less bullish
After incorporating the new EIA data into my model, I created the following table below. What you can see is that the initially higher rig count in February, combined with the higher rig productivity data, makes things look a bit less favorable. Under the conservative scenario, we should now see oil production come out to about 764,319 barrels per day. This moves down to 677,567 barrels per day for the moderate scenario and drops even further to just 599,888 barrels per day under the liberal one.

Click to enlarge
*Source: Created by author with data from the EIA's Drilling Productivity Report
Ultimately, these drops are very significant in nature because they peg a year-over-year decline at between 622,833 barrels per day and 787,264 barrels per day. By itself, this would be enough to more or less absorb Iran's projected increase in production (500,000 barrels per day during the first half of this year and another 500,000 barrels per day in the second half) if it were even across the entire year (which is, sadly, not the case). However, while this data is very positive in nature, it's not as positive as I previously hoped it would be. Because of the changes I had to make to my model, namely the increase in productivity, oil production should now be between 34,817 barrels per day and 46,105 barrels per day above what I thought it would be last month.

Click to enlarge
*Source: Created by author with data from the EIA's Drilling Productivity Report
Takeaway
Based on the data provided, the picture in the Eagle Ford is look extremely bullish for long-term investors but isn't as bullish as I previously expected it to be. This is, for the most part, bittersweet in nature because I had been hoping to see the opposite situation play out, but there's still no denying that, despite the less-bullish outlook, things are still very much looking up. Of course, this could change based on a number of factors (a big increase in rig count would harm my forecast tremendously) but, absent new data, the overall picture is still quite positive.
Disclosure: I/we have no positions in any stocks mentioned, and no plans to initiate any positions within the next 72 hours.
I wrote this article myself, and it expresses my own opinions. I am not receiving compensation for it (other than from Seeking Alpha). I have no business relationship with any company whose stock is mentioned in this article.