Illinois Tools Work (NYSE:ITW) has posted massive gains recently. Over the last thirty trading sessions, the company's stock price soared, gaining nearly 6% in the last month alone. It has grown by more than 9% since the start of the year. In addition, ITW's share price has remained resilient against headwinds that have brought similar companies to their knees, leading them to slash dividends amid a liquidity crisis.
ITW is immune from such headwinds. It carries minimal exposure to the volatile energy sector. The company is a manufacturer of industrial products and equipment; its business segments include Test and Measurement, Automotive OEM, Electronics, Polymers and Fluids, Welding, Construction Products, and Specialty Products. Above all, the company has a very attractive 80/20 business model.
Based on the 80/20 business model, the company has been concentrating on - and spending heavily to further develop - the 20% of its businesses and products that have the potential to generate 80% of its revenue. This sort of business model easily identifies unnecessary costs as well as products that are not in line with a company's growth portfolio. At the moment, ITW is targeting markets such as welding, fluids, electronics, food equipment and construction products.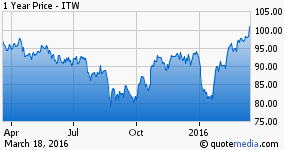 Its share price remained strong in the final two quarters of fiscal 2015, when the market as a whole witnessed historically high volatility. The market saw oil prices fall by more than 70% and iron ore and other commodities dip to decade lows. The 12-month movement of ITW's share price in the above chart shows its potential for making a sharp recovery, even following the shortfall it experienced in early 2016, due to the plunge in equities and the Chinese markets.
At the moment, ITW's share price is trading at a 52-week high, above $101 per share, having experienced a price appreciation of almost $20 since Feb 25. Many analysts advise buying on dips while selling the stock at high prices. Is ITW now presenting a selling opportunity at its 52-week high price? This is the question running through the minds of many shareholders.
It is certain that short-term investors can capitalize on the gains generated in the last couple of days. However, holding this stock is not at all a bad idea. Its share price offers further upside potential for the coming days, given the current bullish overall market sentiments and the company's own business fundamentals. ITW's dividends are also safe, with a quarterly dividend of $0.55 per share, yielding growth of around 2.17%.
In the final quarter of fiscal 2015, the company posted margin growth of 110 basis points, in spite of the unstable macroeconomic environment. This strong margin expansion exemplifies the success of its cost-cutting measures and its strategy of concentrating on high-margin products.
The company has generated a positive earnings growth of 10%, despite negative sales growth due to currency translations. ITW is operating in an industry that does not require heavy investments toward future needs. In 2015, ITW posted operating cash flows of $2.2B, while its capital investments were only around $284 million. This allowed it to generate a massive free cash flow of $2B.
Final Thoughts
Although ITW has reached its highest level in the past 52 weeks, its stock is still presenting strong upside potential. The company's business fundamentals remain strong, with an expectation of more than 1% organic growth and nearly double-digit growth in earnings. Market sentiments are also improving, amid a 53% rally in oil prices. Other commodities, including gold and iron, are also extending their gains, while economic reports signal their steady growth. Each of these positive contributors could well provide strong support to ITW's stock price throughout 2016.
Disclosure: I/we have no positions in any stocks mentioned, but may initiate a long position in ITW over the next 72 hours.
I wrote this article myself, and it expresses my own opinions. I am not receiving compensation for it (other than from Seeking Alpha). I have no business relationship with any company whose stock is mentioned in this article.