Introduction
Fresnillo (OTCPK:FNLPF) is one of the world's largest silver and gold producers with a silver production of almost 50 million ounces of silver as well as almost 800,000 ounces of gold. Indeed, this producer is larger than a Coeur Mining (NYSE:CDE), Pan American Silver (NASDAQ:PAAS) and Silver Standard Resources (NASDAQ:SSRI). I have been keeping an eye on the company since my previous article in August, and the company's share price is now trading 54% higher, so I'd call that a success!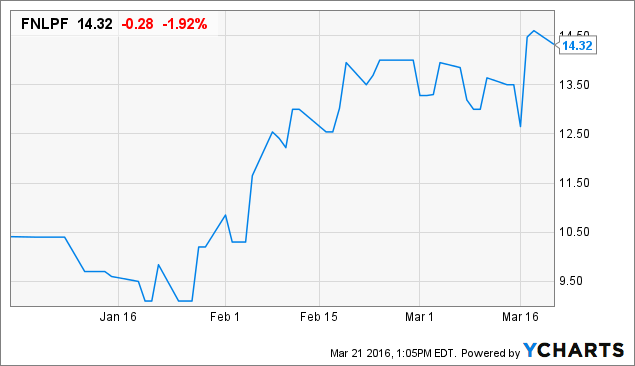 Fresnillo should be traded through the facilities of the London Stock Exchange where the company is trading with FRES as its ticker symbol. The average daily volume is 1.75 million shares which means the average daily dollar volume is approximately $25M.
Fresnillo is a major player in the silver space, and remains cash flowing
In 2015, Fresnillo's silver production rate reached the higher end of the company's guidance as Fresnillo produced almost 47 million ounces of silver as well as 762,000 ounces of gold. That's a 4.4% increase in the total silver production rate as well as a 27.8% increase in the gold output. Unfortunately the gold and silver prices decreased compared to the previous financial year, so the total adjusted revenue increased by just 2.5% to $1.58B. The non-adjusted revenue was $1.44B.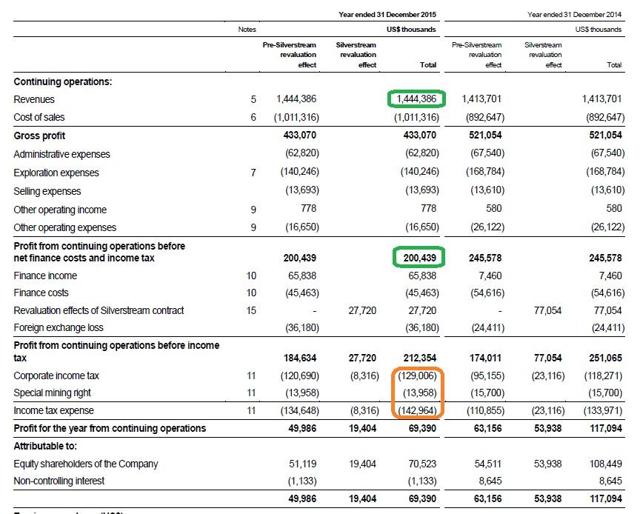 Click to enlarge
Source: financial statements
Despite the lower silver price and the higher operating expenses, the gross profit remained very decent at $433M whilst the operating income fell by less than 20% to $200.4M. This means the operating margin remained pretty good at approximately 14%. Not a bad result considering the low silver and gold price in 2015! The total tax pressure was quite high at approximately 65% of the pre-tax income, so that's probably the main reason why the net income was little bit disappointing at $70.5M.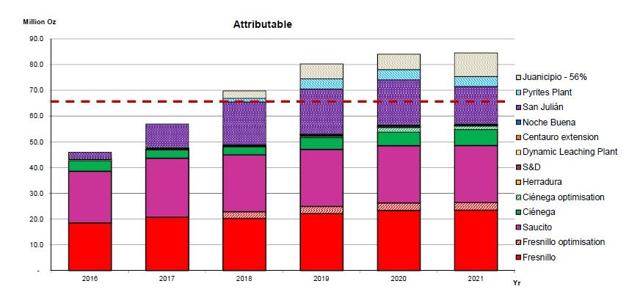 Click to enlarge
Source: company presentation
But hey, a net income (or net loss) in the mining sector doesn't really mean anything. The cash flows are much more important as they don't take the 'sunk costs' into account. After all, a mining company will have to depreciate the value of an asset, but this won't have an impact on the cash flows.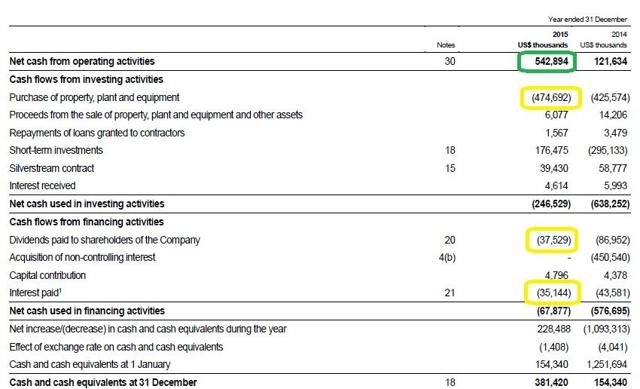 Click to enlarge
Source: financial statements
That's also the case for Fresnillo, as the operating cash flow was approximately $543M. After deducting the $474M in capital expenditures, Fresnillo was free cash flow positive and generated a positive free cash flow of $70M ($35M after taking interest payments into consideration).
2016 will be capital intensive, but it will be worth it
That's an excellent achievement, especially when you realize the $474M capex does include a substantial amount of growth capex. Fresnillo is currently building the $500M+ San Julian mine which should be commissioned this summer. This required a hefty investment from Fresnillo as the $515M capex represents a full year of operating cash flow. But it might be worth it, if the silver price continues to increase. San Julian will produce approximately 10.3 million ounces of silver per year at an AISC of $9.33/oz, so at $16 silver the additional net cash flow will be approximately $70M per year (a 15% increase compared to the 2015 numbers).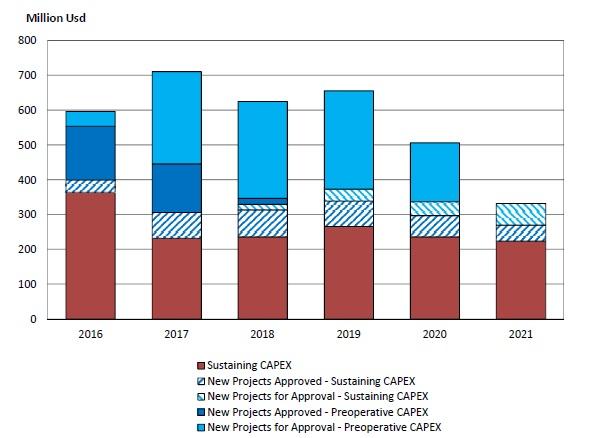 Source: company presentation
Fresnillo will spend a total of $600M on capital expenditures this year, and even if you'd add the contribution from San Julian, it's unlikely Fresnillo will be free cash flow positive this year if you'd use last year's commodity prices. But there's one thing that might work in Fresnillo's advantage, and that's the gold price. Fresnillo received an average gold price of $1125 in 2015, and as gold is now trading in the $1200's, it's not unrealistic to hope for a $100/oz increase in the received gold price for this year. Based on a gold production of 780,000 ounces of gold, this could add $78M to the company's cash flow profile and be the tipping point between being free cash flow neutral and free cash flow positive.
Fresnillo's huge capital expenditures (as well as its plan to spend an additional $135-140M on exploration activities) are important for the company's plans to reach a total silver production rate of in excess of 80 million ounces of silver per year from 2019 on after the expansion of San Julian and the production startup of the Juanicipio silver project (in a joint venture with MAG Silver (NYSEMKT:MVG) ).
Investment thesis
Fresnillo will be at least breaking even this year, despite spending $300M on growth capex. This should enable the company to generate an operating cash flow of $670M in 2017 based on $1225 gold and $15.5 silver. As the total sustaining capex level is just $300M, Fresnillo's sustaining free cash flow will be $370M (and this will increase when San Julian II and Juanicipio will start to ramp up their production rates).
Additionally, every additional dollar price increase in the price of silver will increase the 2017 cash flows by approximately $50-55M, so at $20 silver the operating cash flow will increase by $200M, and the free cash flow will reach the $500M+ level.
Fresnillo isn't very cheap anymore, but it might be one of the very best bets on the silver and gold price as this company combines a robust balance sheet with a working capital position of $1B with low-cost production. And oh, yes, I think it should buy the remaining 44% of Juanicipio it doesn't own yet from MAG Silver before it gets too expensive.
Disclosure: I am/we are long FNLPF.
I wrote this article myself, and it expresses my own opinions. I am not receiving compensation for it (other than from Seeking Alpha). I have no business relationship with any company whose stock is mentioned in this article.
Editor's Note: This article discusses one or more securities that do not trade on a major U.S. exchange. Please be aware of the risks associated with these stocks.