We woke up to another merger Monday. This time, Cleveland based, Sherwin Williams (NYSE:SHW) offered to buy U.S. competitor Valspar (NYSE:VAL) for $11.3 billion. The deal consists of an all cash offer for the equity at $113 per share or $9.3 billion and $2 billion in debt.
Per the Wall Street Journal, SHW carved out specific language to protect itself from anticipated regulatory pushback. Enclosed below are two quotes from the WSJ.
The deal includes an unusual cut to the purchase price should antitrust regulators demand aggressive divestitures. If Sherwin is forced to sell businesses representing more than $650 million of Valspar's 2015 revenue, the price drops by $8 a share. Sherwin could walk away entirely if divestitures climb to $1.5 billion of revenue, a provision that is more common.
The companies said they believe there is minimal risk of antitrust pushback and that the provisions "provide Sherwin-Williams and Valspar with greater closing certainty."
Given this specific protective language, I decided to take a closer look at Valspar and the U.S. coating and paints industry to evaluate where the merger could dangerously tip the pro-forma combined market share to levels that would negatively impact consumers. Moreover, the optics of industry consolidation in the consumer sphere draws increased public press as well as scrutiny. Given the size of the paints and coating markets, I expect this to be a closely watched case even though the industry isn't as sexy as cable or office supplies.
As prior to today, I have spent precisely zero time and energy evaluating this space, let's see what I came up with while synthesizing the concerns that could impact a Department of Justice rejection/concession judgment.
As we can see from Valspar's 10-K, its FY15 sales were $4.4 billion.

Valspar FY15 10-K
Next we see Valspar segments its sales into Coatings and Paints. This is different from how Sherwin Williams and PPG Industries, Inc. (NYSE:PPG) present their business segments.

Valspar FY15 10-K
Please note that Valspar's coating business has the highest EBIT margins and generated 2.78 times as much absolute EBIT as its Paints business.

Valspar FY15 10-K
For better context, here is how Valspar breaks out its business segments.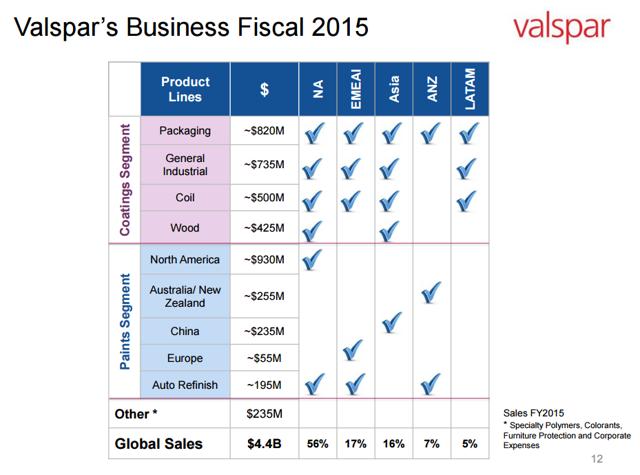 Please note, Valspar has a strong foothold and market share in the packaging, coil, and wood segments.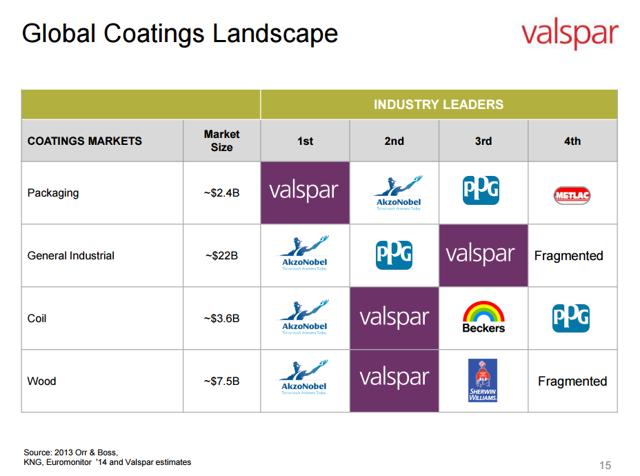 So the coating business is clearly the more lucrative side of business, and besides the wood segment there aren't any obvious or pressing antitrust concerns when isolating coatings only. Clearly, the enterprising and capable investment bankers were well aware of this during their gathering and discovery phases. So besides the enticing juicy synergies, golden parachutes, and coveted anticipated future pricing power lift, the defense teams will push the lack of coatings overlap to the Department of Justice.
Moving along, let's look at the paints segment. Here is where antitrust concerns, at least, in the U.S. could arise. With roughly $1.7 billion in paints sales and North America representing 56% or $952 million, this is precisely why the bankers carved out this $8 dollar per share reduction for a forced spin out of $650 million and a walk away clause at $1.5 billion in required deal concessions for a regulatory blessing.
Let's face it, SHW wants Valspar for its lucrative coatings businesses, and overseas presence, notably China, so reducing the pro-forma Paints segment wouldn't be the end of the world from Sherwin Williams' perspective.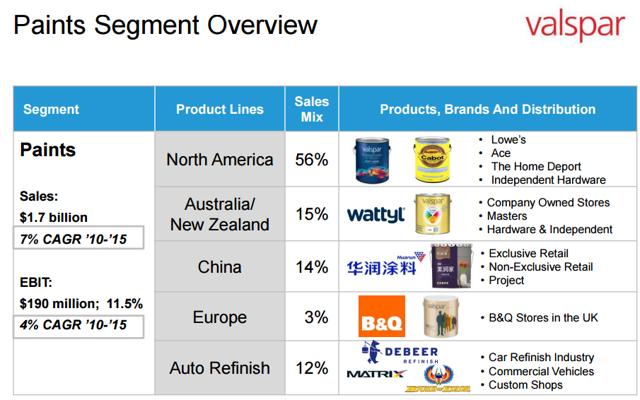 Enclosed below we can see, in the paints segment, a deal with SHW and VAL would create a strong North American market share leader. I'm sure Warren Buffett (owner of Benjamin Moore) and PPG will lobby hard against this.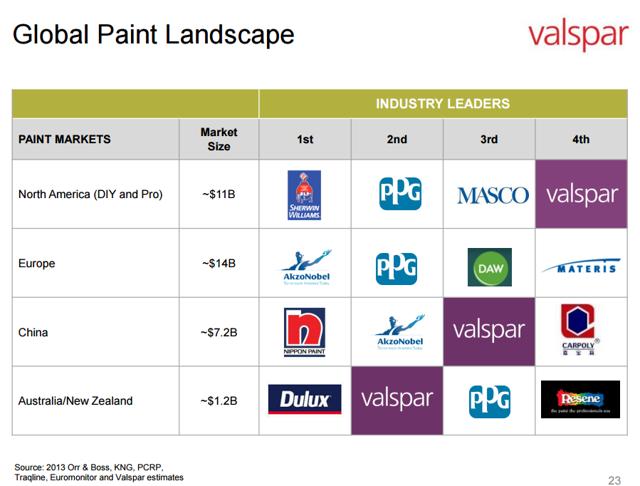 Enclosed below are PPG slides, as I wanted to examine the market from their vantage point.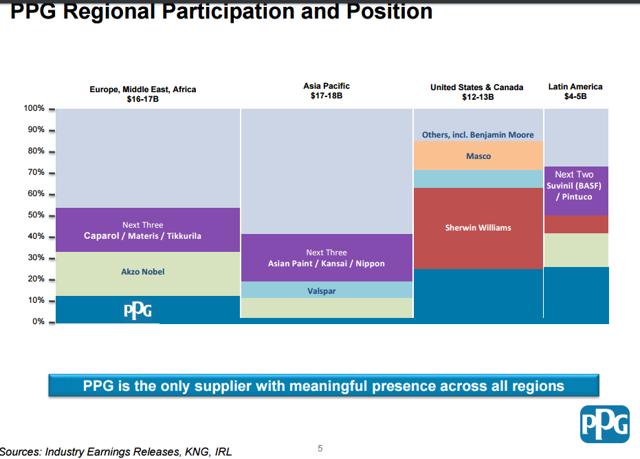 Next I looked at recent Sherwin Williams' slide decks.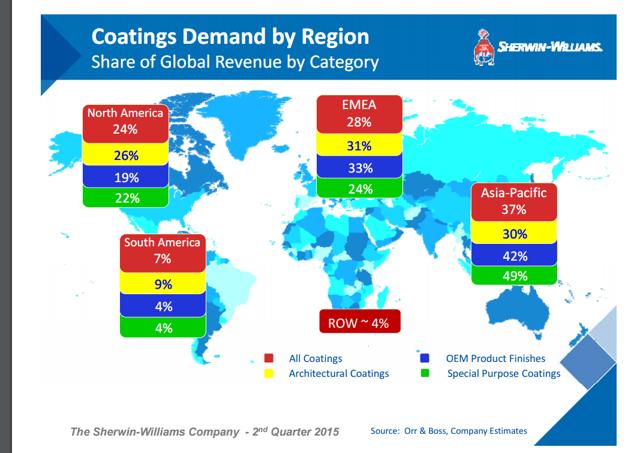 As we can see, Sherwin Williams classifies its painting segment differently. What Valspar calls Paints is classified as "Architectural" by both PPG and SHW.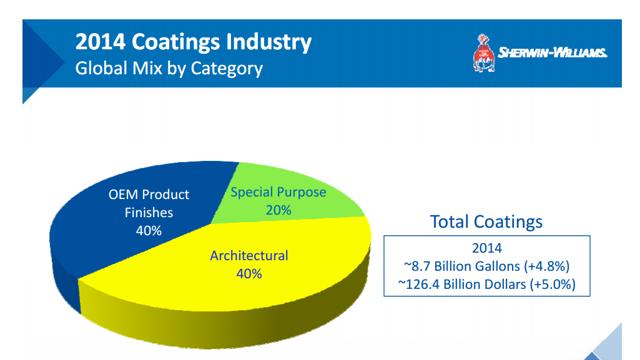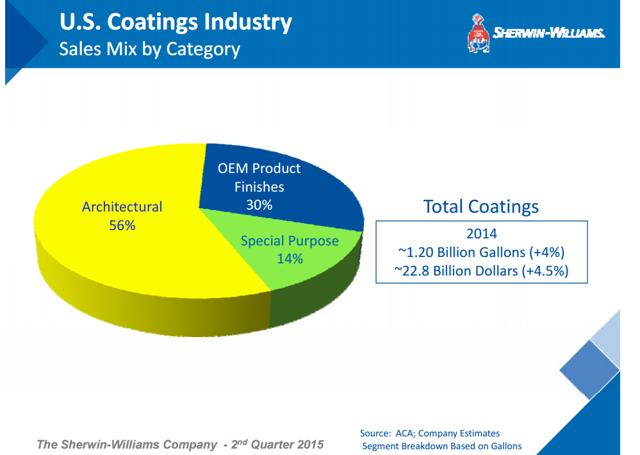 Here are different ways Valspar classifies the Global market place.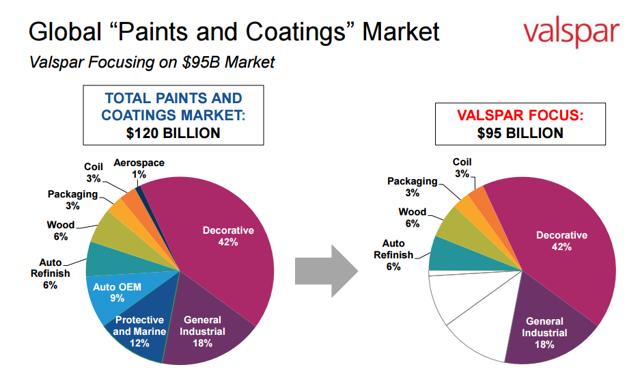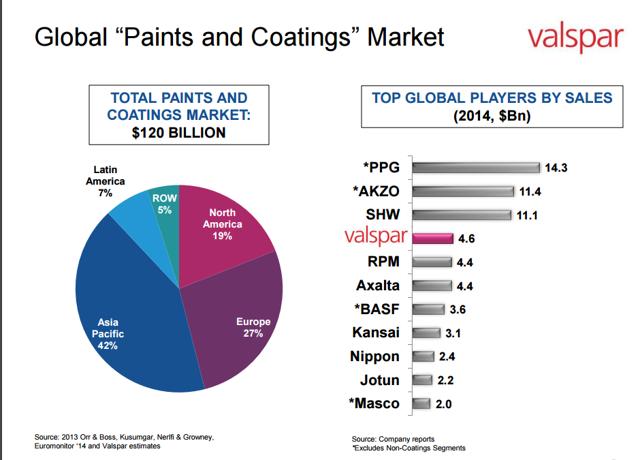 Here is how PPG classifies the market.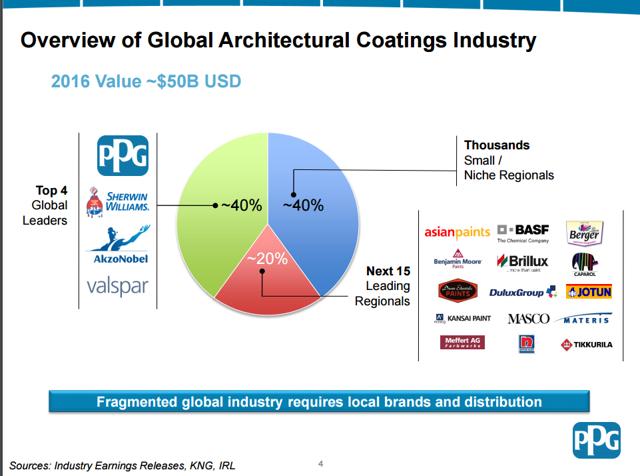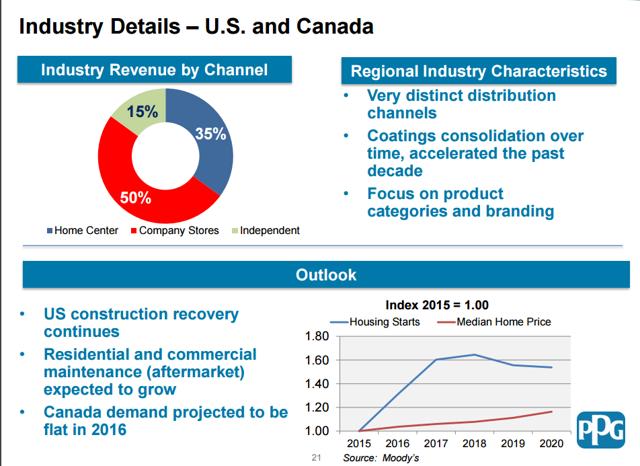 Concluding thoughts: My goal was to help the reader synthesize lots of information so they could get up to speed on why Sherwin-Williams made this bid for Valspar.
From an investment perspective, I think there is a good chance the DOJ asks for specific concessions and a spins off(s) in the North American Painting/ Architecture segment in exchange for ultimately offering regulatory approval. Hence why Sherwin Williams' investment banking team carved out this $8 per share reduction clause. Besides the lucrative coatings market, VAL's access to different channels with its strong presence in Lowe's (NYSE:LOW), and its position in China are major attractions to Sherwin Williams.
So as an investor, I wouldn't try to risk arbitrage this deal as I expect the purchase price to be $105, not $113. So I wouldn't risk my capital for a $1 spread.

For more adventures investors willing to dig deep into weeds, perhaps buying $100 or $105 puts would make sense if you were to discover the regulatory risk is more elevated than the investment banking teams concluded.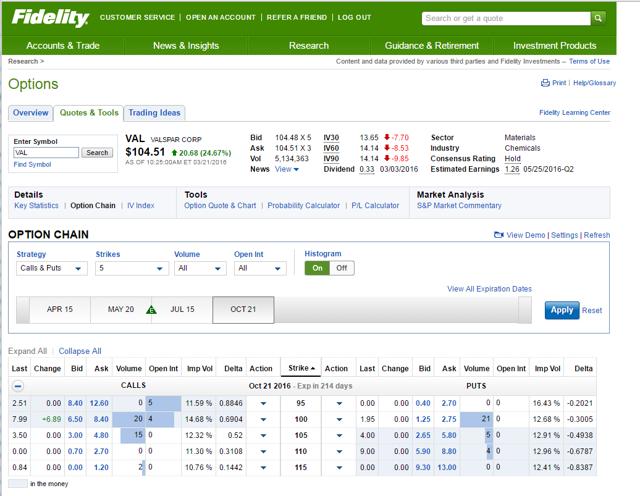 Disclosure: I/we have no positions in any stocks mentioned, and no plans to initiate any positions within the next 72 hours.
I wrote this article myself, and it expresses my own opinions. I am not receiving compensation for it (other than from Seeking Alpha). I have no business relationship with any company whose stock is mentioned in this article.