Monday's markets were extremely quiet. Perhaps many traders have already gone on holiday. Stocks were little changed, and not much was happening in other markets such as oil (NYSEARCA:USO) either. As far as market outlook, you can reread Monday's Briefing, nothing has changed in my mind. So with that preamble out of the way, onto today's topics.
Apple (NASDAQ:AAPL) Adrift
My three most controversial/unpopular market calls over the past year here at Seeking Alpha have all been fading conventional wisdom on popular stocks. My call that Kinder Morgan (NYSE:KMI) was a dividend bubble was the most obviously correct. It turns out that even toll roads suffer if the passengers run into inclement economic conditions.
My Gilead (NASDAQ:GILD) call - sell at $120 - was similarly unpopular. The stock appeared optically cheap. But once you dug in further, there was much less certainty to the growth upside than the bulls were hoping, and the Hep C sales picture has indeed remained muddy going forward. New political pressure subsequent to my call has provided additional downside push to the stock.
Like Gilead, Apple looks similar on a fundamental basis. Massive cash generation, huge dividend hikes, and a relatively stable market for a high profit margin product. That was and still is all true.
However, Apple's one massively-important product is near or perhaps already has peaked. Just look at the sorts of warnings we've been getting from some of Apple's suppliers lately.
The company is out of new ideas, as Monday's dreadfully bland product announcement event showed. Since the passing of Steve Jobs, besides a gimmicky watch, what sorts of fresh ideas have come out of the company?
The talk is that Apple has upside from the new cheaper phone that targets India and other such markets. As a regretful 2011-12 era BlackBerry (NASDAQ:BBRY) bull, I remember falling for the sweet talk about how less advanced nations such as Indonesia were going to save the day. How'd that turn out?
And apparently by cannibalizing the iMac, it might be able to shore up the iPad line a bit. That's fine, but both new products are likely to lower overall operating margins while doing little for overall revenues.
Let's face a simple, if potentially unpleasant, fact. Smartphones aren't really a sphere for innovation anymore. Smartphones already do just about everything that 90% of users might want.
Most of the world (including even emerging markets) already have decent smartphones. There's not a whole lot of feature phone market left to displace. And in wealthy developed markets, at this point, there's little reason to replace or upgrade your phone. The subject only tends to arise when the current one breaks or stops charging.
There's no novelty factor to new phones anymore. It used to be inevitable that I'd have to scroll through many friends' Facebook photos of Apple product boxes on Christmases past. This recent 2015 Christmas - zero. Even here in Mexico, you hardly hear anyone talking excitedly about phones anymore. It's a passe product.
People were disappointed with Apple's Monday announcement. But really what could they do? They aren't doing much new or interesting, and the products they are going with now, people already generally understand.
It's Amazon (NASDAQ:AMZN) - of all companies - that has the truly fun and exciting Echo.
Apple now finds itself stuck in the same rut that hit PCs 15 years ago. Remember when Compaq and Dell were highflying stocks? Yes, there was a time when people were thrilled to buy new PCs and closely watched new product launches in the space.
Now, PCs (and laptops) are usually only replaced when the old one dies. Consider this breathtaking fact.
Windows XP was released in 2001. Despite its age, the archaic operating system remained the number two most installed computer operating system as of mid-2015, with more than 250 million active users. For a product that stopped being standard in 2006, that's simply breathtaking.
At that point, less than one year ago, XP still had more users than Windows 8 and 8.1 combined. And it had more than four times as many users as the top-installed Mac operating system.
Once products stop being innovative, people only upgrade when their prior version stops powering up entirely. Hardly any regular consumers care when Microsoft (NASDAQ:MSFT) updates Windows anymore, except in cases such as 8 where the new version was a fiasco at launch.
Apple will likely still dominate the upper-end smartphone market in five years. They still run the MP3 player market now. Unfortunately, the MP3 player has collapsed to the point of virtual irrelevance. The tablet is quickly heading there as well.
What happens to Apple when Samsung (OTC:SSNLF) and Xiaomi offer sub-$200 smartphones that do everything today's phones can do? Since Jobs' passing, Apple has stopped making products that are cultural touchstones. Commoditization and Moore's Law will do the rest of the work in returning Apple from its pedestal to becoming just another tech company.
Now sure, Apple still generates a gargantuan amount of cash. Its smartphone business will erode over time, rather than dropping off a cliff. The company may become a master innovator again (though it's looking increasingly questionable).
There are ways where an Apple investment could work. But you have a very high bar for the world's largest company to outperform the S&P 500 (NYSEARCA:SPY). It's difficult for very large firms to put up respectable revenue growth rates due to their startling size.
Apple is showing that it is struggling to find the next big thing. Without that next big thing, it's a solid bet to underperform the broader stock market going forward. When I hear people saying it's a no-brainer long for conservative retirement portfolios, I get ugly flashbacks to Kinder Morgan and Gilead.
Japanese Bond Yields Are Going Nuts
Japanese bonds have long been viewed as a perfect short. Very smart people have been made to look foolish for many years now touting short Japan as a bulletproof concept.
So I think many of us have become inoculated to the short Japanese debt trade. It's one of those wonky ideas that sounds good, but simply doesn't work, based on the last 8+ years of evidence.
That said, the situation is rapidly transforming into something even more bonkers in recent weeks. Please take a moment to reflect on this chart of Japanese 40-year bond yields: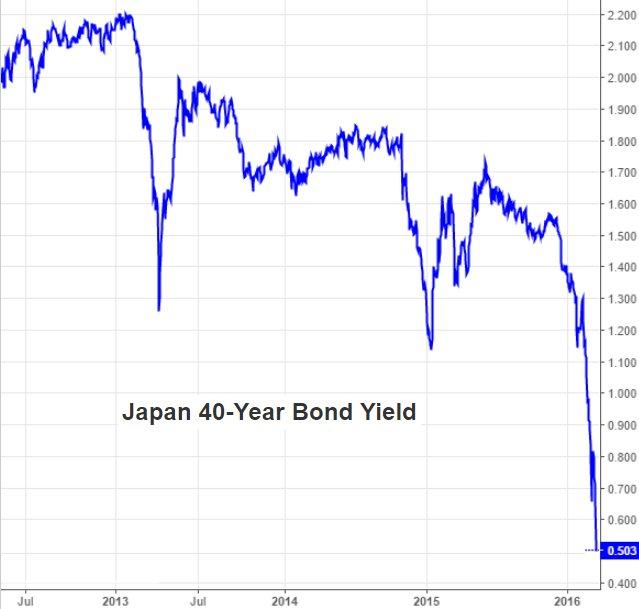 As you can see, the 40-year bond traded between 1.2% and 2.2% for the past 4 years. This is a very low interest rate, and there was a good deal of volatility in there. Still, keep in mind the change in price required to generate a move.
Over that span, the yield never fell by more than half. However, since December '15, the yield has fallen by two-thirds! The former 1.5% rate has gotten cut to a truly paltry 0.5%.
I'm hesitant to use the word "bubble" as it comes to treasury bonds. People have been discussing a potential bond bubble in the US since I was in middle school and no pop has come yet; it's one of those concepts that seems prone to hype.
That said, we may actually have a bubble here, as far as Japan goes. A bubble, broadly defined, is when people pay rapidly escalating prices for assets that have zero or an infinitesimal chance of providing reasonable returns.
This 40-year Japanese paper pays a 0.5% yield. Assuming you don't reinvest interest, your starting $10,000 would throw off $50 a year in interest, adding up to a princely $2,000 at maturity in 2056. The 10-year yield is into the negative, you lose money holding it.
Now, let's ask ourselves, is there any rational outcome where you'd want to own Japanese government bonds that yield 0.5% for a commitment of 40 years? (Assume you can't sell early, otherwise your investment thesis is "greater fool" which is a mainstay of bubble thinking).
In a Japan goes into and then stays submerged in a (deeper) recession scenario, the bonds likely eventually default. Yes, the debt is owed to itself, mostly, as people love to say. But there would be massive societal repercussions if the Japanese government robs its savers to fund the debt. If the Japanese can't get the economy turned around over the next 40-year span, it's quite unlikely the government will still be solvent by year 2056.
Before you write this off as far-fetched, the current Japanese economic downturn has been running for 25 years now. And the same unrelentingly negative demographic situation continues to weigh heavily today.
On the upside, let's suppose a technological breakthrough, sudden permissive attitude toward immigration or other such fortunate event gets the economy solidly back toward economic growth. In this case, inflation should also pick up. Even if it gets back to just 2%, your 0.5%-yielding bond is a gigantic loser.
Once you get as far as 40 years out, it's hard to see a scenario where Japan doesn't either go into a deflationary default spiral, or things start to perk up, triggering inflation. The government could also try monetizing the debt with money printing, which would cause your 0.5% bonds to get crushed by inflation without necessarily even helping the economy.
I get that bonds are insurance. But at a certain price, you have to ask, what am I insured against? Compared to cash, it's really hard to make a rational or logical argument for owning this 40-year paper. The 0.5% yield provides the thinnest of reward in return for taking large risk of both default and inflationary shocks.
I suspect most buyers are technical or swing traders that are in fact buying because they imagine they can sell it at a higher price in the near future. If so, there will be great pain when the music stops. If you want to short Japanese government bonds, there is a leveraged inverse ETF (NYSEARCA:JGBD), though as always, the usual caveats apply for that fund structure.
Disclosure: I/we have no positions in any stocks mentioned, and no plans to initiate any positions within the next 72 hours.
I wrote this article myself, and it expresses my own opinions. I am not receiving compensation for it (other than from Seeking Alpha). I have no business relationship with any company whose stock is mentioned in this article.