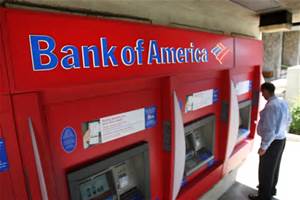 Bank of America (NYSE:BAC) shares have been on a tear since bottoming out in February at $11 as global markets panicked. All things financial were sold relentlessly and as BAC is more sensitive to rates than the other big banks, it was hit harder than most. However, panic has subsided as the Fed backed off of its four hike forecast for 2016 and is now down to just two, a poor development on the surface for BAC but one that brings additional clarity. But with shares still languishing at low levels despite a huge rally, what catalysts are there for BAC to continue climbing?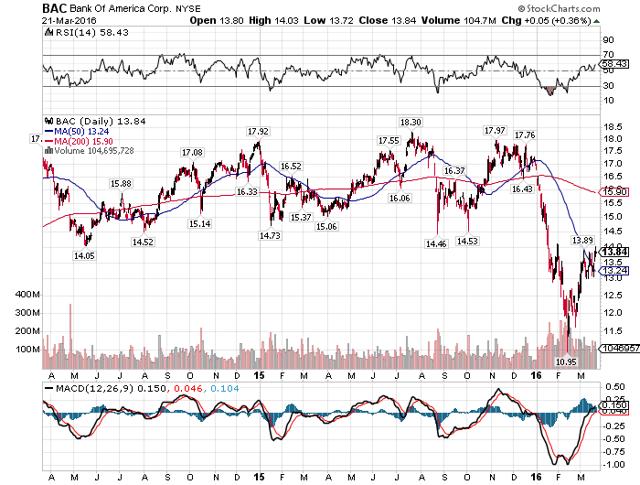 Click to enlarge
One catalyst I've been watching for some time is the company's efficiency ratio and by extension, its ability to earn profits on its asset base. To illustrate my points in this article concerning why I think BAC still has a very long way to go in terms of improving its profitability, I'll be using data from company SEC filings.
A bank's efficiency ratio is the product of many factors including how many personnel the company has and how much revenue it generates. The ratio is simply the percentage of revenue that is expended in order to generate that revenue. In short, it is basically a measure of how much labor expense it takes to earn revenue. And the bank's efficiency ratio has a huge bearing on how profitable the company's assets are, as a lower efficiency ratio, in general, leads to higher profitability on the company's asset base.
For this exercise, I've chosen to plot the company's consolidated efficiency ratio against its annual return on average assets, or ROAA, as that is the most inclusive single metric on profitability a bank has. Data goes back to 2004, encompassing the run-up to the financial crisis and the years since to give us a comprehensive picture of what BAC used to look like in comparison to what it looks like now. This can give us clues as to just how profitable BAC can be going forward.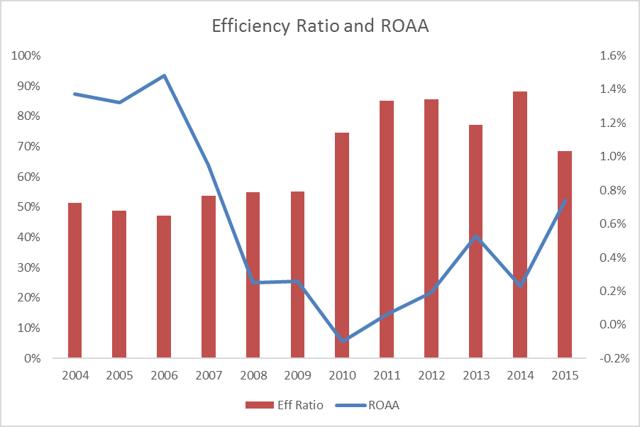 Click to enlarge
There is a lot going on in this chart so let's take some time to walk through what we are seeing as it will help us understand the data's implications going forward. The red bars are the company's consolidated efficiency ratio plotted against the left axis and the blue line is the consolidated ROAA number for each year plotted against the right axis.
Starting with the efficiency ratio, we can see BAC's expenses have moved up and down quite a bit since the crisis. Leading up to the crisis BAC was in the 50% area every year, a strong number for a large bank. That level of expenses would cause BAC to be much more profitable today than it is to say the least as the post-crisis world of greater regulation has led efficiency ratios to rise across the industry. Indeed, BAC was hit during the crisis by a double-whammy of lower per-employee revenue and increased costs and that is why its efficiency ratio has skyrocketed. BAC has had the highest efficiency ratios among the TBTF banks for years now as it continues to grapple with a high staff count and relatively low revenue generation per employee. In addition, the pre-crisis version of BAC didn't include Countrywide or Merrill Lynch so the consolidated company's cost structure was much different.
On the flip side, there is a pretty clear relationship between the company's ROAA and its efficiency ratio; we can see that ROAA tends to move inverse to the company's efficiency ratio over time. This was clearest in 2010 when a spike in BAC's efficiency ratio caused, in part, ROAA to plummet to a negative level. In addition, the spike in 2014 caused ROAA to fall sharply only to be reversed as the efficiency ratio helped ROAA move to its highest level since the crisis last year.
The implications of this are very exciting as the company continues to work through its legacy assets and the personnel associated with them. In addition, as revenue generation continues to pick up, the bank's efficiency ratio will continue to fall as a bank's high labor model sees tremendous leverage as rates rise; there are little to no incremental non-personnel costs for higher rates. We know the Fed wants to raise rates twice in 2016 and I think they will; having to back off of your own guidance two times in one year is downright embarrassing. This bodes well for BAC as it could certainly use higher rates to help bring down its efficiency ratio.
So what does this mean going forward? The relationship between BAC's efficiency ratio and its ROAA is pretty clear and that means that my assumption that BAC's runway for profit growth is still very long, even years on from the crisis ending, appears to be correct. Other banks like Wells Fargo and JPMorgan are pretty much back to normal levels of profitability as those banks didn't experience the same amount of shock to earnings that BAC did. While those banks are still attractive investments, they are so for different reasons than BAC. This company is still in its growth stage as far as I'm concerned and here's why.
BAC has worked through most of its legacy portfolio at this point, meaning that it should see little or no headwind to revenue generation that has been occurring basically since it bought Countrywide. That should help per-employee revenue generation immensely as it continues to move towards a business as usual model instead of one that is just trying to dig out of the crisis.
At 68.6% in 2015, BAC's efficiency ratio was a huge improvement over 2014's level of 88.3%. However, that is still an elevated level to say the least and while we may never get back to the ~45% area that BAC had before the crisis, we can get much closer to 50% than where BAC is today. That means there is a long runway for improvements and most of the remaining gains will come from revenue generation.
As rates begin to normalize and BAC's deposit base is monetized, BAC's leaner operating structure will bear fruit. I think the spikes in BAC's efficiency ratio are a thing of the past and that 2016 and beyond should afford investors gradually lower numbers. As the efficiency ratio moves down into the 50s over time, ROAA should move up as well. BAC's ROAA could easily 1.25% again as its efficiency ratio moves under 60%, something that could happen as soon as next year. That would imply net income of $22.5 billion annually against the $15.9 billion the company produced last year on the same $1.8 trillion in average earning assets. While BAC's ultimate profit gains may not be as great as that next year, it really doesn't need much to go right in order to see double digit EPS gains for many years to come.
BAC is working continuously to improve profitability on its existing asset base as that number has been steady for some time. The efforts are bearing fruit as its efficiency ratio and ROAA are both moving in the right direction and given a little help from rates, we could see BAC's ROAA move well over 1% in the near future. That would provide EPS growth well in excess of the 14% analysts are looking for next year as all BAC needs to do is keep on its current path. Nobody knows exactly what BAC's efficiency ratio or ROAA will look like next year but all the evidence points to the fact that we'll see it continue to move in the right direction. BAC's runway for profit growth is much larger than the other TBTF banks and that is why it continues to be my favorite of the group; ROAA's move up is just getting started as BAC's multi-year effort to improve expenses pays off.
Disclosure: I am/we are long BAC.
I wrote this article myself, and it expresses my own opinions. I am not receiving compensation for it (other than from Seeking Alpha). I have no business relationship with any company whose stock is mentioned in this article.