This article provides updated total returns for business development company ("BDC") investors.
Year-to-Date Returns
Explanation of total returns: The 'Change in Stock Price' assumes you purchased the stock at the end of 2015 and dividends do not assume reinvestment and are calculated using the amounts paid (or accrued) divided by the purchase price.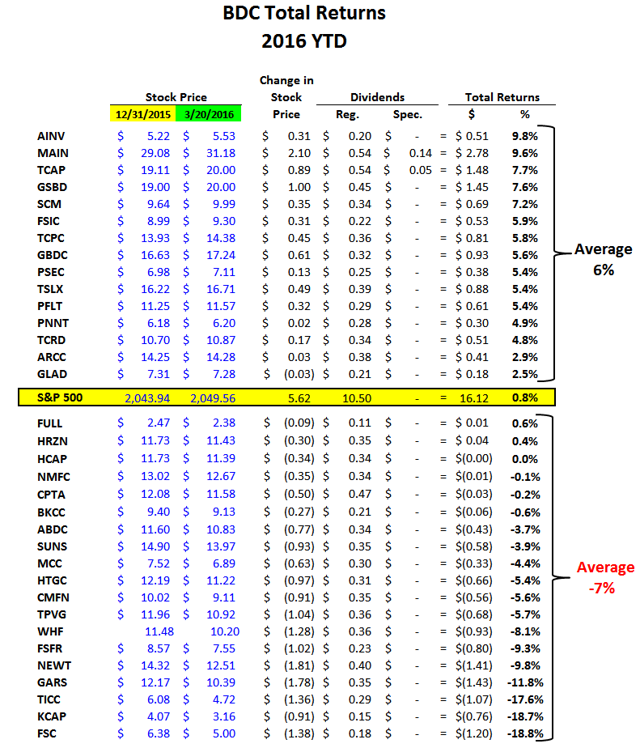 Click to enlarge
Expected BDC Total Returns for 2016:
As mentioned in many of my previous articles, I am expecting continued bifurcation when it comes to BDC performance in 2016. But I do believe that the average BDC will outperform the S&P 500 especially after including dividends.
In my article "Is This a Buying Opportunity for BDCs" I mentioned:
"I am predicting a BDC rally in late Q1 2016 and overall average returns of 17% in 2016."
Currently, the outperforming group is averaging around 6% returns for Q1 2016. I believe more BDCs will join this group for the reasons discussed in "BDCs Continue to Surge".
Outperformers:
Also mentioned in the article linked above, Apollo Investment (NASDAQ:AINV) has been actively repurchasing shares and reduced its management fees to improve its dividend coverage. Oil prices have ticked up from 2016 lows and could be partially responsible for relatively better price performance for BDCs such as AINV, PennantPark Investment (NASDAQ:PNNT) and Gladstone Capital (NASDAQ:GLAD), and to a lesser extent for Main Street Capital (NYSE:MAIN) and FS Investment Corp (NYSE:FSIC).
Most BDCs experienced net asset value ("NAV") per share declines for Q4 2015 related to general market pricing and the widening of spreads. I am expecting to see a partial reversal in Q1 2016 with most BDCs reporting higher NAV per share. However, there was a wide range of NAV per share changes during the recent quarter and the companies with relatively less declines are mostly among the top performers in the previous table including Golub Capital BDC (NASDAQ:GBDC), PennantPark Floating Rate Capital (NASDAQ:PFLT), Triangle Capital (NYSE:TCAP), Ares Capital (NASDAQ:ARCC), Goldman Sachs BDC (NYSE:GSBD), TCP Capital (NASDAQ:TCPC), TPG Specialty Lending (NYSE:TSLX) and Stellus Capital Investment (NYSE:SCM). Prospect Capital (NASDAQ:PSEC) was the only BDC to have larger than average declines but is still outperforming the average and likely related to a large amount of insider purchases last month.

Underperformers:
Most of the poorly managed BDCs had larger than average NAV per share declines and are among the worst performers in 2016 including Fifth Street Finance (NASDAQ:FSC), Fifth Street Senior Floating Rate (NASDAQ:FSFR), KCAP Financial (NASDAQ:KCAP), Medley Capital (NYSE:MCC) and TICC Capital (NASDAQ:TICC). BDCs with higher oil related exposure also had larger declines including New Mountain Finance (NYSE:NMFC) that was primarily driven by "broad market movements" and limited impact from credit deterioration. There was $43.2 million in unrealized depreciation during Q4, around $34 million of which was related to general market changes and the remaining $9 million was credit related issues related to investments in Sierra Hamilton (provider of services to oil and gas industry) and Permian Tank (supplier of above ground storage tanks and processing equipment to the oil and gas exploration/production industry). Newtek Business Services (NASDAQ:NEWT) decline was mostly related to a required payment of a special dividend.
Hercules Technology Growth Capital (NYSE:HTGC) and TriplePoint Venture Growth (NYSE:TPVG) are currently underperforming but are both in the process of growing their portfolios and net investment income.
What can investors expect for the BDC sector for the rest of 2016?
Continued and increased bifurcation driving a wide range of performances
Potential (or continued) portfolio credit deterioration for poorly managed companies
Market overreaction to general market changes including interest rates and credit cycle concerns
Lower competition from banks due to regulations
Investors realizing that passive income from investments will be more difficult than historically
If you are interested in knowing which BDCs I purchase as well as real-time announcements of when I buy more (and free monthly newsletter), please visit "BDC Buzz.com". For a list of all my articles including interest rate discussion, BDC rankings (risk, return, pricing, dividend potential), target pricing charts and valuations, individual dividend coverage potential, my historical purchases and current positions, and suggested BDC portfolios, please see my "BDC Research Page".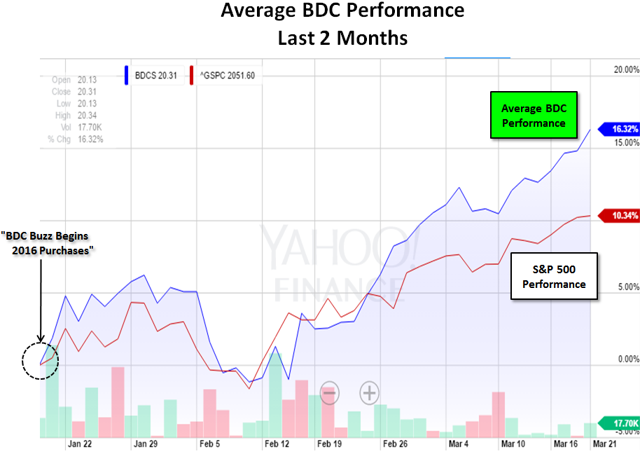 Click to enlarge
Personal note: I have updated my positions to reflect changes in my holdings, but please keep in mind that some of the positions are VERY small and mostly for research purposes.
Disclosure: I am/we are long ABDC, AINV, ARCC, BKCC, FDUS, FSC, FSFR, FSIC, GAIN, GARS, GBDC, GLAD, GSBD, HTGC, MAIN, MCC, MRCC, NMFC, PFLT, PNNT, PSEC, TCAP, TCPC, TICC, TPVG, TSLX.
I wrote this article myself, and it expresses my own opinions. I am not receiving compensation for it (other than from Seeking Alpha). I have no business relationship with any company whose stock is mentioned in this article.