The crash of Valeant (NYSE:VRX) stock is not so much the collapse of a company as the refutation of a style of managment. Upper level management at Valeant believed that they could thrive in the generic pharmaceutical business by a series of price hikes on existing medications and an aggressive growth strategy fueled by debt-laden and overpriced acquisitions.
The strategy won many followers, including Bill Ackman of Pershing Square Capital Management LP. Mr. Ackman did not achieve his status as a hedge fund billionaire by making poor investment decisions. From 2004-2014 Actman's fund delivered returns of 692% versus 132% for the S&P 500 (NYSEARCA:SPY).
We should remember that signs of an impending crash in Valeant stock were not obvious. Signs of a crash in any stock or market are never obvious, if they were the stock already would have crashed. However, there were a number of concerning elements to this story. First, there was always a large gap between GAAP and non-GAAP earnings. This can be seen in the operating PE ratio of the stock, which stands at around 6x, while the most recent TTM P/E of Valeant stood at 58x.
Figure 1: Valeant Operating PE Ratio and TTM PE Ratio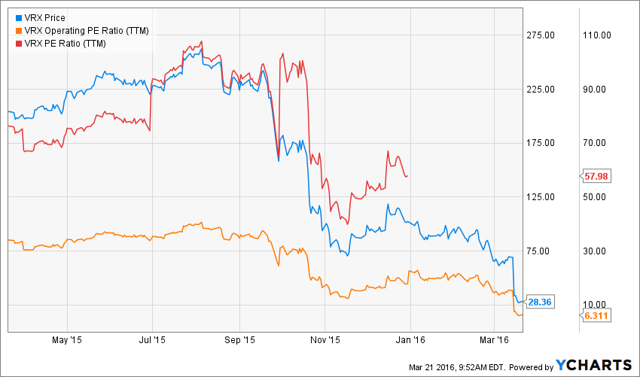 Source: Y-Charts
The chart and table below also highlight this discrepancy. Operating EPS has increased more than ten-fold, while in the past 9 years the company has earned $2.56/share. As a result, we have consistently heard that the company is trading for 4 times earnings. In truth it seems that Valeant is trading for about 12x what it has earned in the past 9 years.
Figure 2: Operating Earnings of Valeant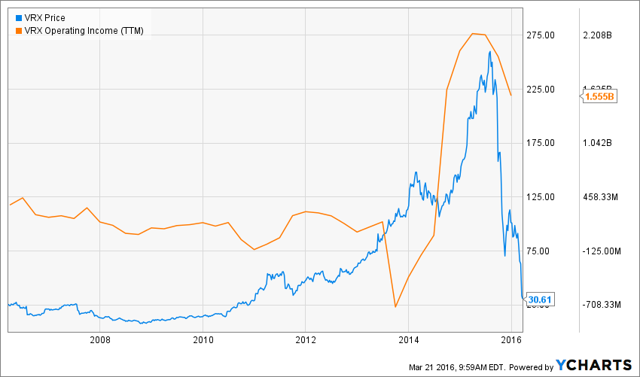 Source: Y-Charts
Table 1: Diluted Normalized EPS of Valeant Since 2007
| | | | | | | | | | |
| --- | --- | --- | --- | --- | --- | --- | --- | --- | --- |
| EPS | 2015 | 2014 | 2013 | 2012 | 2011 | 2010 | 2009 | 2008 | 2007 |
| Diluted EPS | -0.77 | 2.67 | -2.70 | -0.38 | -1.06 | 1.11 | 1.25 | 1.22 | 1.32 |
| Total Liabilities (NYSE:B) | 21.04 | 22.85 | 14.23 | 9.18 | 5.88 | 0.70 | 0.42 | 0.48 | 0.89 |
Furthermore, there is the problem of Valeant's debt. Revenue increased from 842M in 2007 to 10.5B in 2015. However, while revenue grew by almost 13-fold, debt grew by almost 24-fold. Additionally the number of shares outstanding more than doubled. This was the second major warning sign that something was wrong.
The third warning sign could be observed in relation to other generic pharmaceutical companies. These are companies like Teva (NYSE:TEVA), Taro (NYSE:TARO), Mylan (NASDAQ:MYL) and Perrigo (NYSE:PRGO). At the peak, Valeant in blue had significantly greater price/sales than any of these competitors. Taro was somewhat close, but has demonstrated the ability to generate remarkable margins on specialty topical and injectable medications.
Figure 3: Valeant Versus Other Generic Pharmaceutical Companies in Price/Sales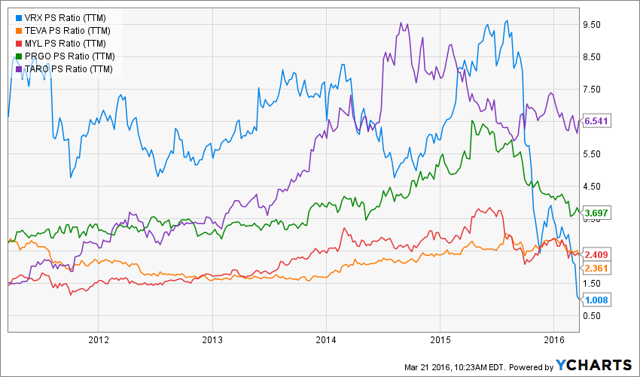 Valeant was priced at well over double the average price to sales, despite the fact that it had much lower demonstrated earnings power and much higher debt. In the end, the company also engaged in dubious accounting practices, but it would have been difficult or impossible for an investor to know that at the time.
Is Valeant A Warning Sign for the Market?
The ultimate lesson of this unfortunate calamity in Valeant over the past week is that: "A bird in the hand is worth two in the bush." There are numerous stocks in the S&P 500 that have qualities of Valeant and while this may be the subject of a later article the most concerning element of this accounting practice is how it is being used to value the market as a whole.
The earnings of the S&P 500 can be found here under additional information. As noted in a previous article, as reported earnings per share for the S&P 500 have fallen by over 10% from $105.96/share in Q3 2014 to $86.47/share in Q4 2015. Nearly 98% of companies have now reported. However, starting near the end of the year these earnings are expected to rapidly rise hitting $126.45/share by Q4 2017. We will not know what these earnings are for some time, however, the expectation is for earnings to go from approximately $86/share to approximately $126/share in two years a growth expectation of 46%.
| | | | | | | | | | | | |
| --- | --- | --- | --- | --- | --- | --- | --- | --- | --- | --- | --- |
| | Q2 2015 | Q3 | Q4 | Q1 2016 | Q2 | Q3 | Q4 | Q1 2017 | Q2 | Q3 | Q4 |
| 12 Month As Reported Earnings | | | | | $94.13 | $100.16 | $111.46 | $115.56 | $119.31 | $122.85 | $126.45 |
It is important to note and highlight how these earnings expectations are without precedent in the modern era. Below is a chart of the earnings of the S&P500 since 1871. While the earnings of the market have often rebounded sharply from a recessionary trough they have never reached peak profit margins and continued to grow by 46% in two years.
Figure 4: Earnings Growth for the S&P 500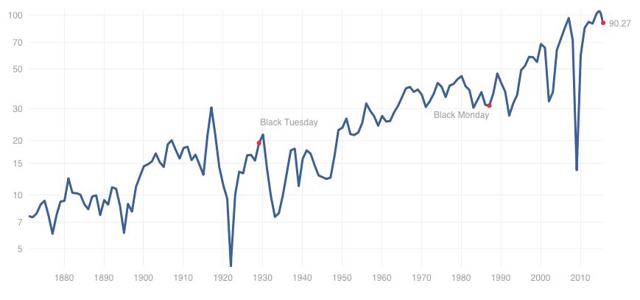 In the following years S&P500 earnings expanded by over 48% in a two year period: 1896, 1914, 1921, 1933-34, 1938, 1946, 1986, 1992, 2001-02, 2008-09. Every single instance was the result of earnings rebounding from a recession except for 1986. So there seems to be a problem for the S&P500: at the moment earnings growth expectations are anticipating a rebound in earnings that is almost never experienced without a recession, however, the market has clearly not priced in a recession. This creates the very concerning prospect that earnings growth in the next two years is likely to fall short of expectations.
Conclusions
It is interesting to note that the three general conditions that led to the crash of Valeant stock have some parallel in today's market. While Valeant was fueled by a debt fuels acquisition binge the market in recent years has been propelled by a debt fueled expansion of the Federal Reserve's balance sheet. This has propelled investors into riskier debt and sent debt on corporate balance sheets to all-time highs. Second, we have a scenario wherein the earnings expectations of the market seem to be nearly without historical parallel. In some cases earnings rebound strongly, but this has never happened from where profit margins currently rest. Finally, the S&P500 given its historical earnings track record seems quite overvalued relative to neighboring stock markets. Emerging markets and Europe have price/earnings ratios well below that of the United States. Given the historical earnings growth of the S&P 500 this seems questionable.
Clearly the S&P 500 is not nearly as risky as an investment in Valeant. Still the recent price decline should give investors pause. The cause of a market decline is never obvious in advance, or else the decline would already have happened.
Disclosure: I/we have no positions in any stocks mentioned, and no plans to initiate any positions within the next 72 hours.
I wrote this article myself, and it expresses my own opinions. I am not receiving compensation for it (other than from Seeking Alpha). I have no business relationship with any company whose stock is mentioned in this article.