Here are the Ultra-Low Volatility Index's rules.
Buy the PowerShares S&P 500 Low Volatility Portfolio ETF (SPLV) with 80% of the dollar value of the portfolio.
Buy the Direxion Daily 30-Year Treasury Bull 3x Shares ETF (TMF) with 20% of the dollar value of the portfolio.
Rebalance annually to maintain the 80%/20% dollar value split between the positions.
The logic behind the strategy is that, due to the nature of compounding gains and losses, a strategy which has extremely low volatility has the possibility to beating the market across an entire bull/bear cycle.
For example, a 50% drawdown necessitate a 100% recovery in a portfolio to break even. We can see the non-linear nature of risk vs. return.
Consider this summary of the issue by Zacks:
"The math of percentages shows that as losses get larger, the return necessary to recover to break-even increases at a much faster rate. A loss of 10 percent necessitates an 11 percent gain to recover. Increase that loss to 25 percent and it takes a 33 percent gain to get back to break-even. A 50 percent loss requires a 100 percent gain to recover and an 80 percent loss necessitates 500 percent in gains to get back to where the investment value started."
Therefore, the goal of the index is to not give up much equity upside by combining the S&P 500 Low Volatility ETF with a 3x leveraged exposure to long duration government bonds, which acts as an imperfect hedge.
Because of the leverage inherent in TMF, we can allocate more capital to SPLV. In addition, it is not necessary to have margin exposure. So instead of the normal stock/bond mix, we are utilizing the S&P 500 Low Volatility ETF, then combining that with leveraged long duration government bond exposure, in an effort to further reduce drawdowns and volatility.
The pattern of the index's past performance seems to be that it outperforms during down periods for U.S. equities and underperforms the market during strong up periods.
Of course, a prolonged bear market in long duration government bonds would probably hurt this strategy index, but the total bond exposure at risk is only 20% in any given year, because the leveraged nature of TMF allows us to dedicate less capital to it.
Today, I want to focus on how this strategy index behaves during stock market dislocations.
2011 is especially instructive: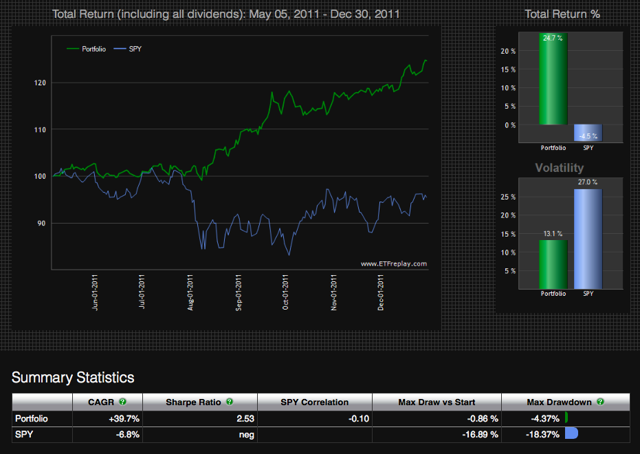 Click to enlarge
When the markets dropped in 2011, the index actually had a slightly negative correlation to the S&P 500! The MAR ratio (CAGR / Maximum Drawdown) almost hit 10. This is incredibly impressive.
In addition, the volatility level of the index is half of that of the SPY.
YTD, the results are similarly stunning: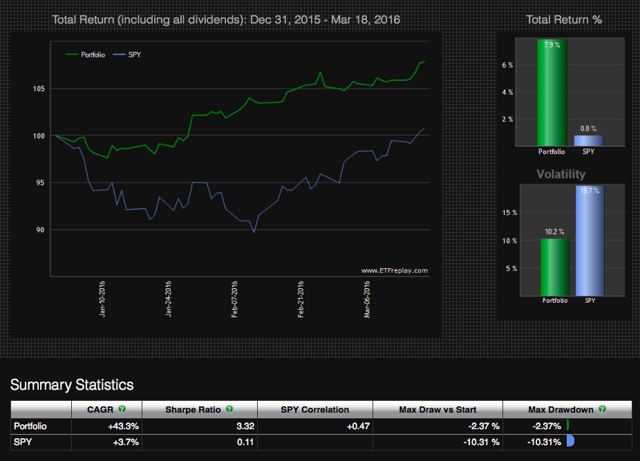 Click to enlarge
Personally, I think most investors want a portfolio that will tread water, hold its own, and only drop slightly when markets are going crazy. Low drawdowns and ultra-low volatility enable an investor to hang on and to actually enjoy the possibilities of the long term. For too long, people have had the pain theory of investing pounded into their head.
The pain theory of investing sounds very heroic and glamorous, but in reality, a smooth ride allows investors to hold on to their positions in order to enjoy the benefits of the long term.
Why get shaken out, when you can have a smoother ride? And the smoother ride, in this case, has a higher return across a full bull/bear market cycle.
Due to the limited trading history of SPLV, let's try to guesstimate what performance might have been by using a close substitute for SPLV, the XLP (NYSEARCA:XLP) consumer staples ETF: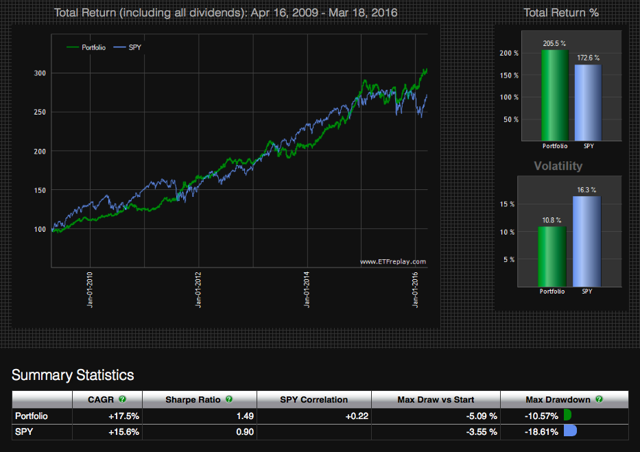 Click to enlarge
We outperform the S&P 500, while having a 0.22 correlation to the SPY (NYSEARCA:SPY) ETF, and cutting the max drawdown almost in half! Remember, we have subsituted XLP for SPLV in order to see more data.
Let's zero in on April 16th 2009 to the end of 2011 using XLP: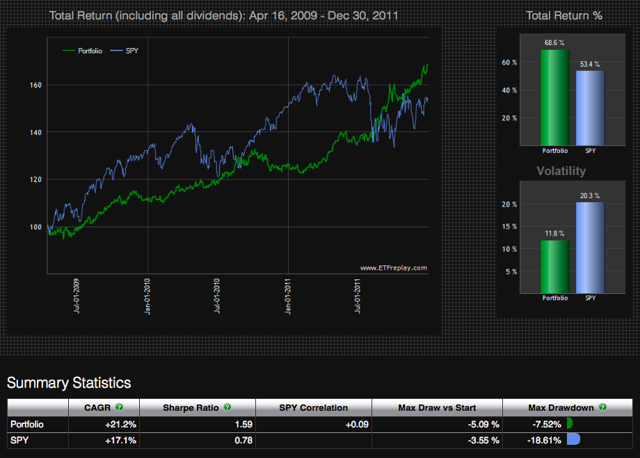 Click to enlarge
We again see outperformance, a max drawdown that has been more than cut in half, a doubled Sharpe, a far superior MAR, and almost no correlation to the S&P 500. Truly spectacular.
And again, the pattern that in big up periods for the stock market, the index lags, and for big down periods for the stock market, the index outperforms. This leads to overall outperformance since market drops hurt investors far more than big up years for the market help.
I would argue that the inclusion of this index in most pension fund and endowment fund portfolios would make them far safer and more resilient to equity market shocks. The historical evidence bears this out.
Here is what investors can take away from this index:
I. For maximum overall performance through a market cycle, it is better to avoid big losses than to make big gains.
II. In practice, this often means outperforming in bear markets and lagging in bull markets.
III. Prudently, lowering the volatility of a portfolio can help.
IV. The best way to lower the volatility of a portfolio is through exposure to multiple asset classes, balanced correctly.
Thanks for reading. We feature even more impressive strategy indices in our subscription service. If this post was useful to you, consider giving it a try.
Hypothetical performance results have many inherent limitations, some of which are described below. No representation is being made that any account will or is likely to achieve profits or losses similar to those shown; in fact, there are frequently sharp differences between hypothetical performance results and the actual results subsequently achieved by any particular trading program. One of the limitations of hypothetical performance results is that they are generally prepared with the benefit of hindsight. In addition, hypothetical trading does not involve financial risk, and no hypothetical trading record can completely account for the impact of financial risk of actual trading. For example, the ability to withstand losses or to adhere to a particular trading program in spite of trading losses are material points, which can also adversely affect actual trading results. There are numerous other factors related to the markets in general or to the implementation of any specific trading program, which cannot be fully accounted for in the preparation of hypothetical performance results and all which can adversely affect trading results.
Disclosure: I/we have no positions in any stocks mentioned, but may initiate a long position in SPY over the next 72 hours.
I wrote this article myself, and it expresses my own opinions. I am not receiving compensation for it. I have no business relationship with any company whose stock is mentioned in this article.