In this article, I will examine the utilities sector and its performance within the S&P 500 index. Further, I will analyze the future outlook of the sector. Then I will use credit-relevant matrices to measure the sector's attractiveness in terms of risk and reward.
The utilities sector is one of the most regulated sectors in America, offering low capital appreciation but stable and attractive dividend yield to its investors. The following table shows the fundamental facts about the utilities sector: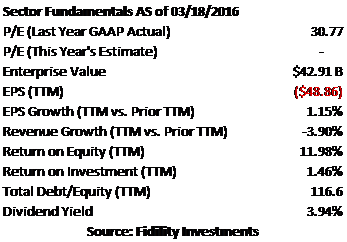 Currently, utilities companies are largely employing defensive strategies, which include strengthening their financial performance through increasing efficiencies (through cost reduction), and executing mergers and acquisitions to reap synergies.
There were 2,537 M&A transactions in 2015 against 2,376 in 2014, an increase of ~6.8%. M&A valuations clocked in with a trailing-twelve-month (TTM) EV/EBITDA of 32x and EV/Net Income of 16x.
In my view, energy efficiency has gained traction as investors are employing huge amount of capital in this area. According to an interview in Deloitte, Opower has combined the power of data analytics with the behavioral science to assist in deploying energy efficiency and demand response programs to consumers.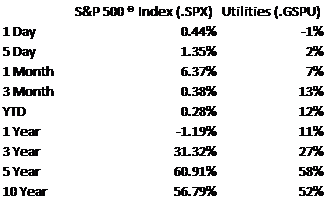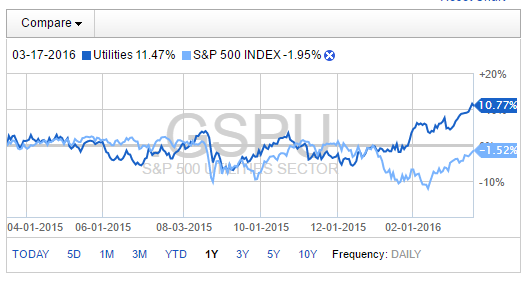 Utilities sector has outperformed S&P 500 for last one year by ~10% due to its stable and non-cyclical dynamics: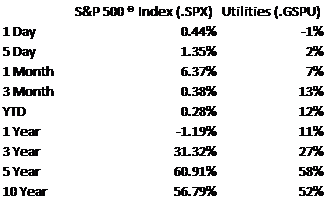 However, if we take a longer time horizon, then this sector has traditionally underperformed the benchmark index (see below). This sector weighs ~3.2% in S&P 500 index. During the last quarter of CY15, the sector's EPS shrunk by 2.30% to $2.58 against the dip of 4.18% in the EPS of S&P 500.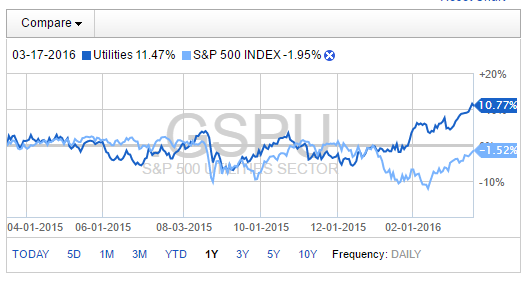 The following graph show historical and future consensus earnings margins of the utilities sector: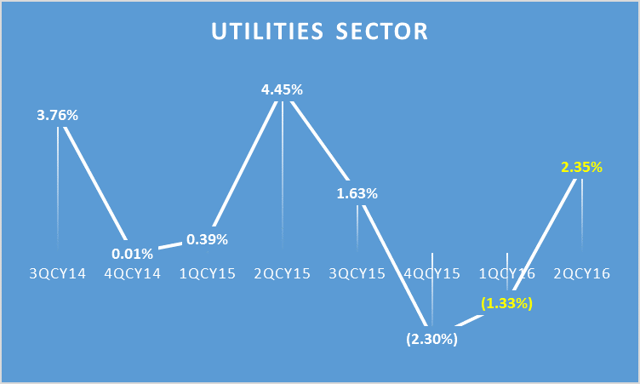 Click to enlarge
Credit Analysis
I would use three matrices to gauge the credit outlook of the sector. These matrices include: i) weighted option adjusted spread ii) Probability of default and Bond-price volatility. The OAS (Option adjusted spread) inched up by 17 bps overall with probability of default edging up by 0.028%. However, during the same period, market risk of the bonds has reduced as bond-price volatility decreased by 0.037%. I my opinion fixed income instruments floated by the constitutes of this sector as "Market weight" in the short-term primarily due to following reasons:
Stable revenues
Improving operating margins due to better efficiencies
Stable free operating cash flow
Stable leverage
Stable coverage
Stable ROC (Return on capital)
Stable net income
Valuation and Outlook
The outlook of this sector is sanguine due to inherent stability in the return on investment of this sector. Investors should have the utilities sector ETF (NYSEARCA:XLU) in their portfolio for diversification benefits as it would, in my view, outperform the market during the time of recession. Further, I expect margin accretion in the firms of this sector, primarily on account of efficiency gains.
The utilities sector has a trailing P/E of ~17x , comparable with the benchmark index's P/E also at 17x. I have a market weight stance on this sector.
Disclosure: I/we have no positions in any stocks mentioned, and no plans to initiate any positions within the next 72 hours.
I wrote this article myself, and it expresses my own opinions. I am not receiving compensation for it (other than from Seeking Alpha). I have no business relationship with any company whose stock is mentioned in this article.