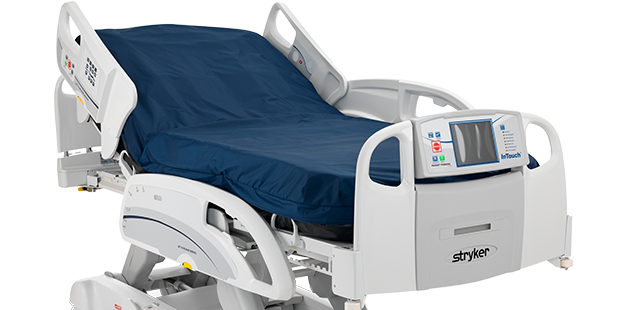 It has been a little while since Smith & Nephew (NYSE:SNN) became the inaugural installment of my new MedTech series. Now it is time to finally move onto our next one. This time we are looking at a company often cited as a possible suitor for Smith & Nephew: Stryker (NYSE:SYK).
Stryker rumored interest in Smith & Nephew has also always kept it on my investment radar. Yet how attractive is the business alongside it peers?* Here I will take a look.
Diverse MedTech Giant
Stryker is a remarkably diverse MedTech company. Fundamentally the business is split into three main segments: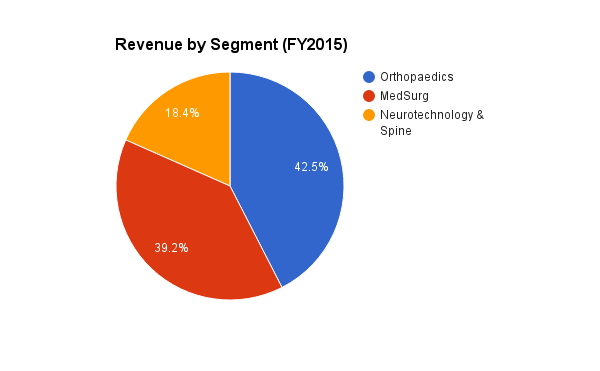 Unsurprisingly orthopaedics represents their largest segment with over 42% of revenue coming from that source. Yet the MedSurg segment is hardly far behind at just under 40% revenue with neurotechnology and spine making up the rest.
Strong Market Positions Across Segments
Unpicking these segments shows not only the depth of their diversity but also the strength of their market positions in many of them. The MedTech industry is generally dominated by only a handful of big, megacap business.
Expensive research and development alongside consistent merger and acquisition activity has left the sector with small, dominant set of giants. Stryker is one of them. In orthopaedics, for instance, it has strong global market shares of between 17 and 22%: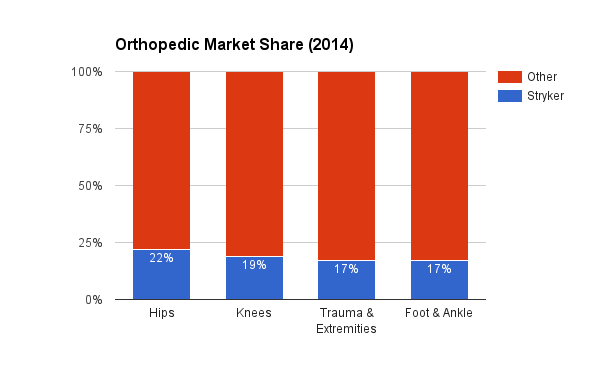 Stryker's strength in MedSurg is even more striking with it holding-in the instruments and sustainability solutions areas-dominant market shares: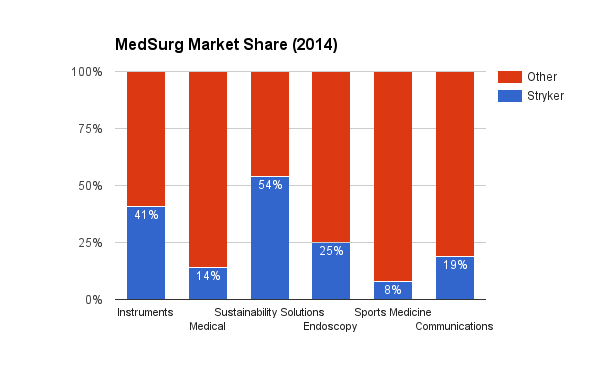 Sports Medicine is by far its weakest sub-segment with just an 8% share. This really puts the Smith & Nephew rumors into perspective as the smaller British peer controls a 24% market share of that sub-segment suggesting the two businesses would supplement one another nicely.
Neurotechnology and spine also sees Stryker hold dominant market positions: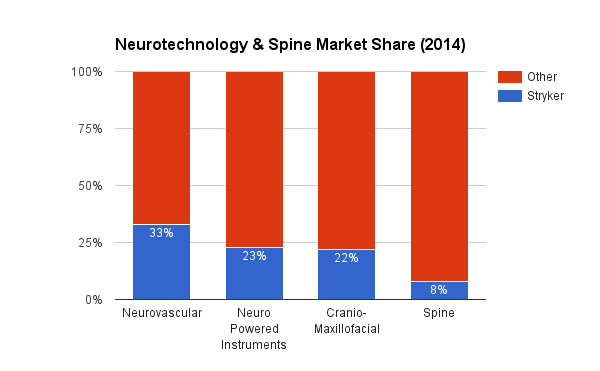 All in all, Stryker is well-placed across its segments and has clear opportunities for building up market share across a number of attractive sub-segments. All very encouraging.
Geographical Spread
Stryker is not without plenty of growth opportunities. Despite strong (sometimes dominant) market positions across its segments, it remains surprisingly lacking in geographical diversity: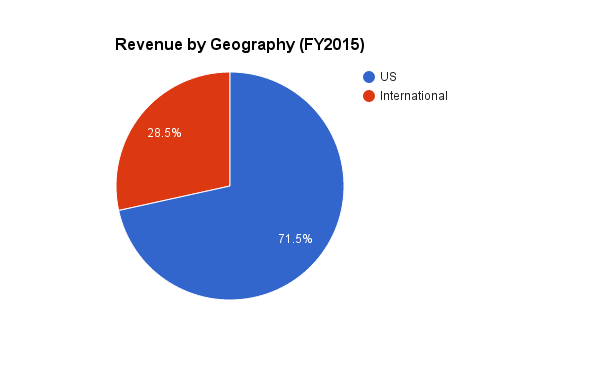 The largest healthcare demand may come from the US, yet over 71% of its revenue from its home market is nonetheless very high.
I was actually surprised by how limited Stryker's non-US exposure was. Emerging market exposure was even more surprising. According to 2014 figures, only one-quarter of this "international" revenue was from outside the developed world. This is a bit unusual in that others (including previous subject, Smith & Nephew) have a wider geographical spread.
Yet things look set to change. The company appears to be targeting non-US growth. Their 2013 purchase of Hong Kong-based Trauson is a core part of this expansion. Stryker explained to investors in July 2015that:
Stryker has a significant opportunity to grow international market share through all of its current business offerings. Stryker will accomplish this by leveraging its broad product portfolio and services, by continuing to capture market share in key developed markets and building scale in emerging markets.

Stryker is committed to growing its presence in emerging markets with emphasis on Brazil, Russia, India, China and Turkey as key growth areas through a two-pronged approach of growing share in the premium market segment as well as expanding into the lower-priced market segment through the Trauson brand of technologies.
This is exciting. Stryker's strong market position in the developed and especially US markets does provide it with a lot of financial and intellectual leverage for bringing this emerging-market growth together. All told, this should help turbocharge revenue growth in the medium- and long-term.
Revenue Growth
Not that Stryker has disappointed in the revenue stakes in recent years. Stryker has seen its sales grow for over straight 35 years. Impressive. Nor has the growth been particularly modest, either. Stryker has seen strong growth for many years with its US-focus giving its relative growth to peers an added fillip in the last couple of years: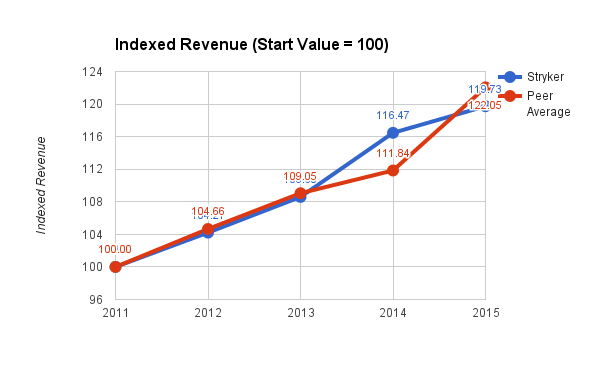 In fact-according to their own calculations-their relative performance has been even stronger than this based on organic revenue growth: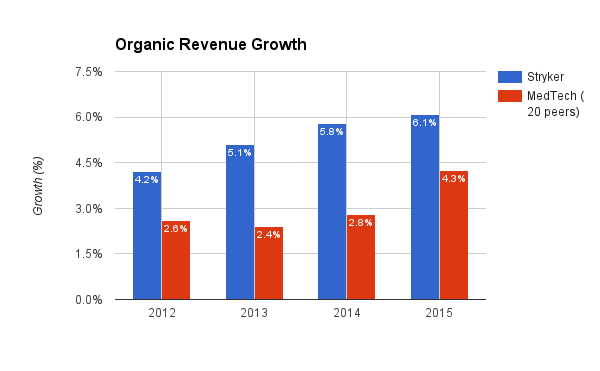 This is an incredible performance. Signs that organic growth is also accelerating is also of great interest. MedTech's incredible growth story is not one of boom and bust cycles but of prolonged growth at sturdy rates. This Stryker has delivered not just over the last 35 years but also in the last few years at rates which can't help but impress.
Currency advantage over more internationally exposed peers, of course, feeds into this somewhat. Nonetheless, it is clear this is a company which knows how to grow and is growing over a long time frame. Although growth is expected to be close to the 5% than 6% rate in 2016, this is still an impressive rate of organic growth.
Robust FCF Performance
Stryker has also performed very strongly relative to its peers on the cash flow front. Free cash flow has struggled to grow in the last couple of years. Yet their FCF growth story remains compelling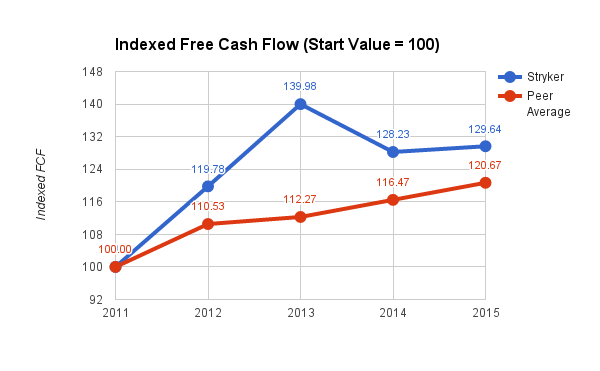 Yet the decline in FCF was chiefly fed by growing CapEx in the last couple of years with OCF (operating cash flow) remaining fairly flat: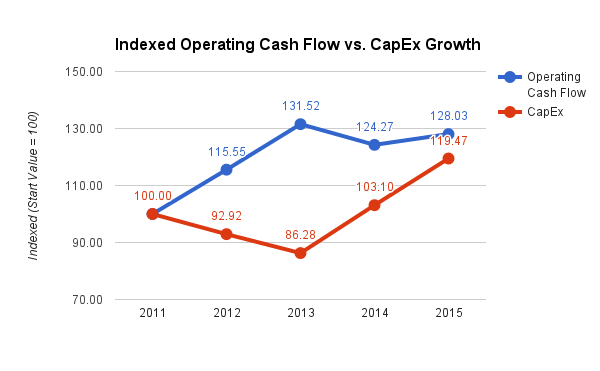 Also, it should be emphasized that the FCF growth rate over this period has been exaggerated by the fact that 2011 had been a weaker than usual year with lower than average OCF and higher than average CapEx:

FCF will likely be lower again in 2016 with management stating at their Q4 2015 earnings call that:
Capital expenditures are expected to be $400 million to $450 million in 2016 as we continue to invest in our operations and IT infrastructure to support future growth.
This is not expected to be the "new normal" CapEx, however. Heavy investment in areas such as a new state-of-the-art 3D printing manufacturing facility means that 2016 will be a "little bit of a blip in comparison to what that normal CapEx would be." CapEx I would expect to drop back down to the $200 to $250 million mark in subsequent years.
Debt Position Remains Strong
Stryker, as noted earlier, operates in an industry in which acquisitions and mergers are frequent. Stryker has not been shy on this front with them often engaging in years in which acquisitions consumer a lot of their cash: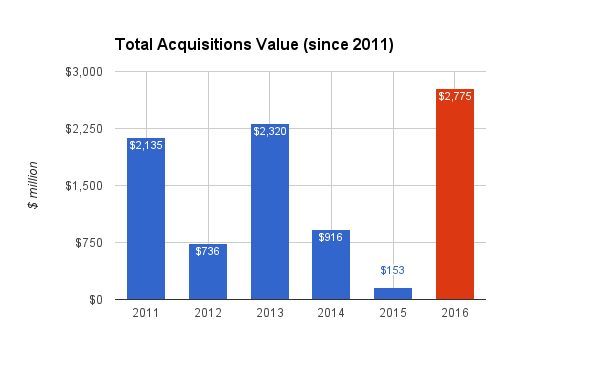 Consequently, like many of its peers has been lifting debt levels significantly in recent years: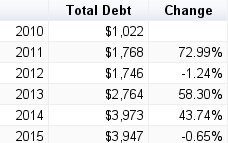 Stryker has already announced that they plan to acquire Sage Products for over $2.7 billion meaning debt will probably rise noticeably again in 2016. Even with this, debt should still be manageable at Stryker. At present it actually carries less debt than many of its peers: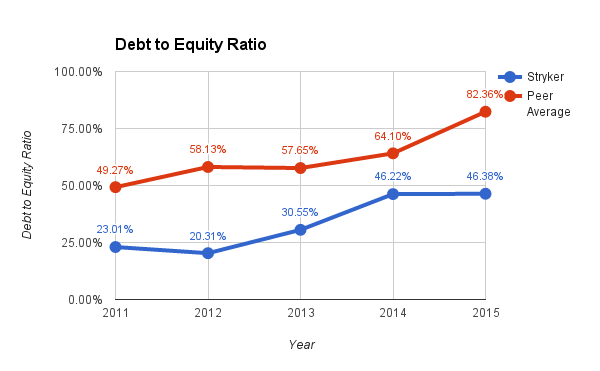 Most importantly this debt has been well-covered by FCF: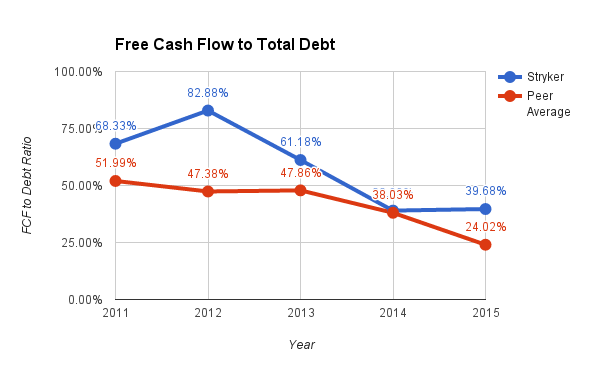 With a FCF/Debt ratio of nearly 40% it could have repaid its entire debt load using just FCF in a little over two-and-a-half years. With debt likely to lift and FCF to drop in 2016, I would expect to see their FCF/Debt ratio drop down in line with their peers. Anything above 25% I should remain happy with their debt load, however. Yet this is something to watch in future quarters.
Excellent Cash Return on Invested Capital
Stryker's ability to generate impressive free cash flow from its business has meant that its cash return on invested capital (CROIC) has remained strong relative to its peers: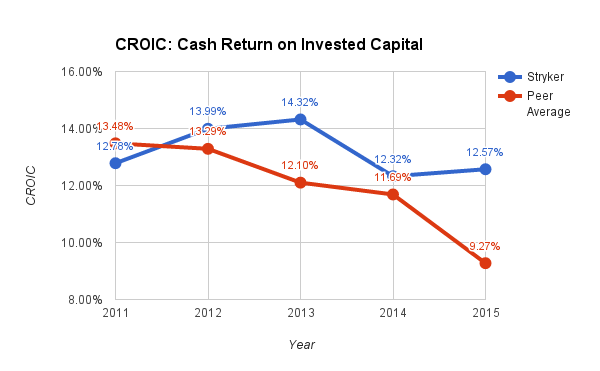 Stryker has managed to produce over $12.50 in FCF for every $100 of capital invested in the business (that is, total debt and shareholders' equity). Anything above 10% is, to me, a compelling cash return. Once again, Stryker has also outperformed its peers here. Something which has to be commended.
2016 will likely see its CROIC dip noticeably due to the above mentioned pressure on cash flow and debt levels. Yet long-term I expect Stryker to produce a CROIC of between 12 and 15% as it has done in recent years.
Overall, I find it hard to fault Stryker with regards its recent performance. Equally, I have little doubt it should perform strongly in the future.
Dividend and Buybacks
The MedTech sector has rarely been seen as prime hunting ground for high yield seekers. With a peer average around 1.65% this has not changed lately. Yet dividend investors can't help but be attracted by dividend growth in the sector.
Stryker, in particular, has grown its dividend significantly in recent years: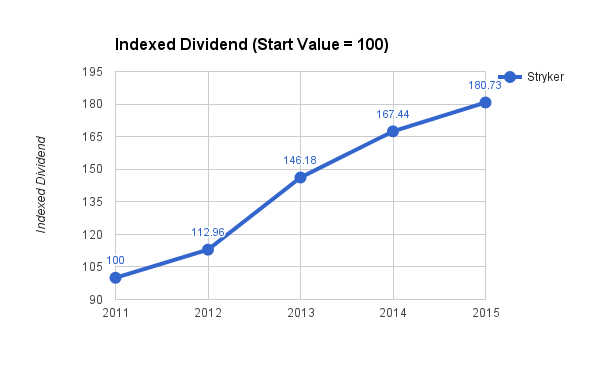 A $100 dividend growing to over $180 in five years is certainly very impressive. Yet rapid growth in the dividend has not meant that it has become a high-yielder. Even with this growth its yield remains modest and below its peers: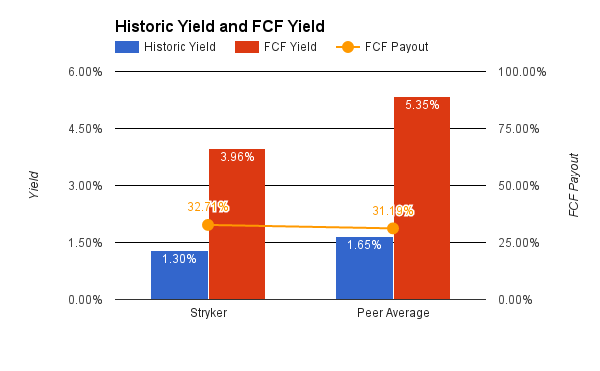 Despite a lower current yield and FCF yield, however, Stryker remains ripe with dividend potential. Dividend payout remains modest and long-term growth remains robust. Stryker has also been rewarding shareholders in other ways. Share buybacks (although inconsistent) have been fairly generous: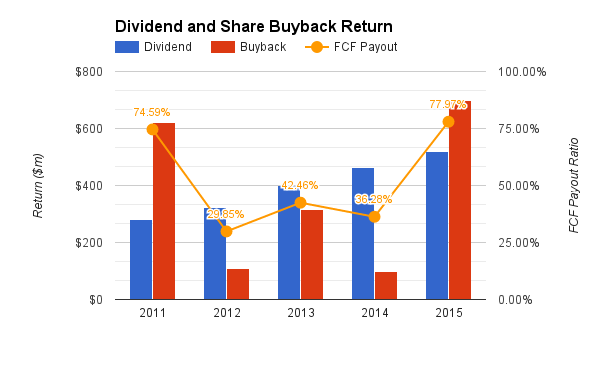 All told this means that Stryker has, on occasions, provided shareholders with a generous return considering the stability and attractiveness of the underlying business: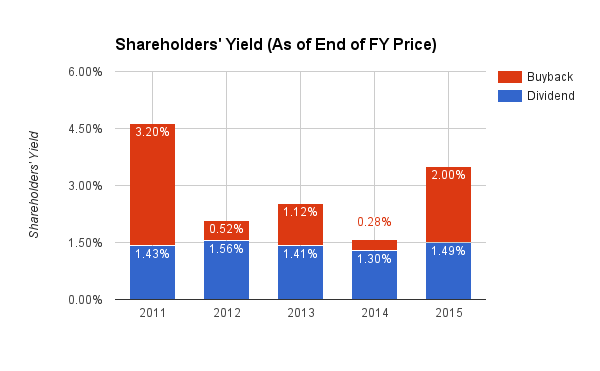 Dividends and buybacks have also always been well-covered by FCF. This is encouraging to see. Stryker have managed to be generous to shareholders in the short-term whilst also retaining cash to invest in the business for future returns. There is little not to like here.
Valuation
Valuation time. You may have noticed that the current 1.3% dividend yield is at the lower end of the average dividend yield over the last five years (2014 also saw a 1.3% yield). Needless to say, Stryker has seen its share price appreciate significantly in recent years: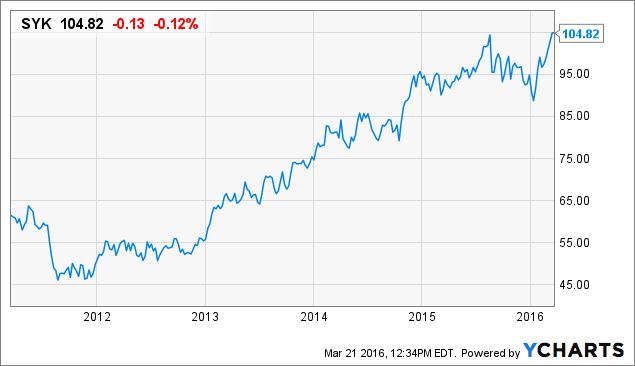 So does this make it unattractive right now? I'd argue not. Certainly it is not an obvious bargain when set alongside its peers historic and predicted EPS: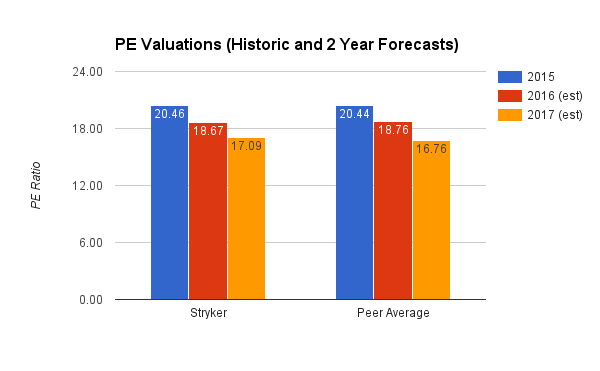 Yet looking at its PE multiple against its predicted EPS growth suggests that it is, in fact, perfectly average in terms of valuation (Stryker is the red dot):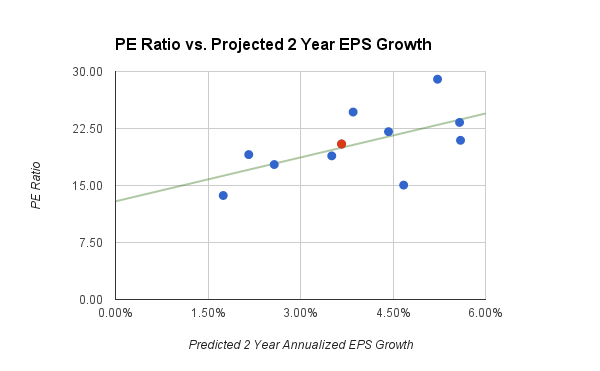 Yet can we consider it fairly valued today? Well, I calculate my fair value by taking the predicted EPS figures for the next two years and averaging them. I then multiply this by the average PE over the last five years. Stryker's average PE sits at over 25 compared to its peer average of 20.5.
Despite its attractions, I find Stryker's historic valuation multiple too rich right now. Sure, growth looks to keep on coming at a healthy pace in the next few years (and likely beyond). Yet I am unsure that it deserves quite such a premium over its premium. Consequently, I will use the peer average to calculate Stryker's fair value. Doing so provides us with a:
Basic fair value of $120.62
I then adjust this by the amount of cash held on their books. Doing so provides us with a:
Cash-adjusted fair value of $129.59
Stryker is currently trading at around $105 (an all-time high, incidentally). I would therefore argue that, right now, despite its premium valuation Stryker still looks fairly valued.
Nonetheless, with FCF looking under pressure this year and debt and cash levels set to weaken due to acquisitions I would set my actual fair value closer to the basic fair value end than the cash-adjusted one (that is, around $120). This would leave Stryker about 13% below fair value right now.
Conclusion
Stryker is a very attractive looking MedTech play. Its strong market position across a remarkably diverse set of MedTech segments is very impressive. International expansion remains a potentially lucrative catalyst which could keep Stryker outperforming its MedTech peers over the medium- and long-term.
Dividends may look modest at current levels. Yet there is still plenty of scope for continued strong growth in coming years. Buybacks I expect to be minimal in 2016 as large acquisitions tend to reduce buyback activity at the company. Nonetheless, for the long-term dividend growth investor Stryker remains, to my mind, a compelling buy.
Stryker remains a strikingly dominant player in an attractive industry with stable, long-term growth prospects. MedTech remains an industry in which big players look set to continue to control the market. Stryker already has a strong market share across many of its segments. I see this strengthening in time through organic and inorganic (such as acquisitions ) means.
I would seriously consider building up a position in Stryker up to the $120 share price mark. For the long-term investors, there is little not to like despite the fact that (in the short-term) heavy investment will likely see a superficially weaker looking performance in 2016.
Notes
* Peers here are: Smith & Nephew, Zimmer Biomet (NYSE:ZBH), Medtronic (NYSE:MDT), Becton Dickinson (NYSE:BDX), C. R. Bard (NYSE:BCR), St Jude Medical (NYSE:STJ), Thermo Fisher Scientific (NYSE:TMO), Danaher (NYSE:DHR), Fresenius Medical (NYSE:FMS), and Baxter (NYSE:BAX).
Unless otherwise stated, all graphs and tables and the calculations contained within them were created by the author. Image reproduced from Stryker.
Disclosure: I/we have no positions in any stocks mentioned, and no plans to initiate any positions within the next 72 hours.
I wrote this article myself, and it expresses my own opinions. I am not receiving compensation for it (other than from Seeking Alpha). I have no business relationship with any company whose stock is mentioned in this article.