The decision to forgo the strategy of low cost indexing in exchange for selecting individual stocks is an important one. It takes a bit of the "passive" about the process and inserts in some additional work. There are a variety of reasons why you might believe this decision is better for you.
For one, you could simply enjoy the process. We have to find the things in life that we take interest in, and for many owning small pieces of excellent businesses fits the bill. Or you could be trying to "beat the market." In the aggregate everyone is average, and when you add in fees more people are below rather than above. Still, that's not to suggest that investors don't appreciate the sense of control or challenge.
Or perhaps most pertinently for many on this site, your primary focus may not be on total return. Instead you could be focusing on minimizing taxes or generating an above average income stream whereby you don't have to worry about day-to-day market pricing bids.
Whatever the reason, once you decide to select individual securities you're met with the challenge of finding the select few companies, out of thousands, that you'd like to own. This can be a difficult task - the investing world and possibilities are quite vast.
In order to combat this, and wade through your possibilities, stock screens are regularly used. Despite all of the limitations, I find that it can be useful to start here and begin by focusing on a select few companies and then expanding from there. The idea isn't to find the perfect 10 or 30 stocks by using a screen. Instead it's about finding some metrics that are relevant to you, seeing what comes out, digging a bit deeper and perhaps finding a security or two that happens to be of interest.
I'll give you illustration to demonstrate what I mean. Let's say you're looking for a few things: high-quality, solid dividend cash flow and a reasonable valuation. To meet those tests, you could think about something like this: rated A++ in financial strength according to Value Line, a 3%+ dividend yield and a P/E ratio under 15. Now to be sure this is limited, and it may not be exactly what you're after. Yet it does give you a starting point.
When I use those metrics, I go from thousands of securities down to less than a dozen:
AT&T (NYSE:T)
Verizon (NYSE:VZ)
Qualcomm (NASDAQ:QCOM)
Cisco (NASDAQ:CSCO)
Public Service Enterprise Group (NYSE:PEG)
IBM (NYSE:IBM)
Merck (NYSE:MRK)
Emerson Electric (NYSE:EMR)
Intel (NASDAQ:INTC)
Wal-Mart (NYSE:WMT)
Deere (NYSE:DE)
Here's what that looks like in table form: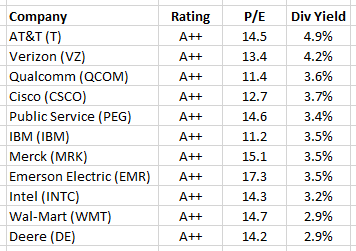 Note that I used trailing numbers related to the company's earnings and dividends. Further, some of the numbers might not exactly match up, but that's sort of the point. The first step of the screen is to whittle down your list to something manageable. The next part is learning more and determining whether or not certain aspects are more of less attractive than they first appear.
For instance, AT&T atop the list with a 4.9% starting yield looks reasonably interesting. Of course during the past few years, you had an opportunity to partner with the company with a yield that was well above 5%. So on that basis is may not look as compelling. Still, that doesn't mean that the security should drop off your radar forever. It just means that the pricing bids are a bit higher and could warrant further investigation.
Or something like Public Service Enterprise Group may catch your eye. A lot of income investors may not have even heard of this company before. Yet here's a $20 billion utility that's paying out half its profits with a dividend that keeps plodding along. Without testing out different metrics and screens, these are the types of companies that routinely pass under the radar in favor of other household names.
Learning more about certain securities can also highlight some potential business hiccups or opportunities. For instance, when you run a screen Emerson Electric may pop up as having a P/E ratio under 15. When you look a bit closer that may not exactly be the case. You can see that earnings-per-share dropped from around $3.75 in 2014 down closer to $3.20 in 2015. Subsequently, it becomes important to determine whether or not you believe this downtick is short-term or long-term.
The same could be said for a company like Deere. Earnings-per-share went from over $9 per share in 2013 down to $5.75 or so last year. With that mark the 14 earnings multiple may appear reasonable. When you look a bit deeper, you can see that earnings may continue to decline, leading to a higher earnings multiple in the future. From there the same logic of making a short-term versus long-term judgment applies; keeping in mind that cyclical companies can often provide the best returns when they appear the most "expensive."
By the way, a common theme that happens to emerge when you look at these types of companies is dividend growth. It's sort of a byproduct of solid businesses. You have AT&T, Emerson Electric and Wal-Mart with 32, 59 and 43-year dividend increase streaks to go along with decade-plus streaks associated with Verizon, IBM, Qualcomm and Deere.
Peter Lynch had this idea about flipping over rocks. His contention was that the more rocks you flipped over, the more grubs you found. The person that flips over the most rocks wins. Grubs, of course, are "winning stocks" or adequate securities in this sense. That's what I'm trying to do here. The concept is not to say, "here's the best 10 stocks based on these metrics." There are way too many variables at play for a simple screen to provide those types of results. Instead, it's about creating a manageable list and learning more. If you find one security that catches your interest or develop a new concept during the process, it was all worthwhile.
Disclosure: I am/we are long T, IBM.
I wrote this article myself, and it expresses my own opinions. I am not receiving compensation for it (other than from Seeking Alpha). I have no business relationship with any company whose stock is mentioned in this article.