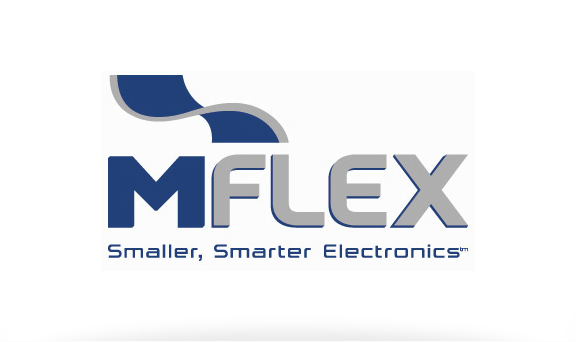 1. Idea Generation: 40.8% acquisition premium
On February 4, 2016, flexible printed circuit and assembly solutions provider Multi-Fineline Electronix (NASDAQ:MFLX) announced that it had agreed to be acquired by precision sheet metal component firm Suzhou Dongshan Precision Manufacturing Co., Ltd. (DSBJ) for $23.95 per share in cash, a unusually high 40.8% premium to the February 3 closing price.
As you can see in the chart of MFLX's stock price below, the stock jumped following the acquisition announcement and has been trading towards the per-share acquisition price.
Multi-Fineline Electronix: Share price from 2/3/16 to 3/11/16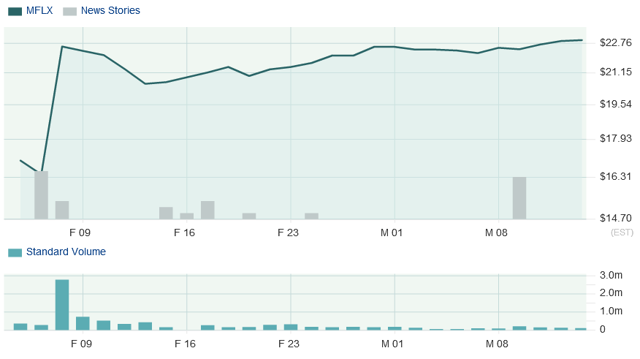 Click to enlarge
Source: bigcharts.marketwatch.com, retrieved 3/13/16
2. Investment Research: The usual burdens, plus a few unusual ones
Before we can identify the right trade on a deal, we need to forecast terminal values and a completion date. The first step is to confirm deal terms in the press release issued by MFLX:
The transaction, which is expected to close in the third quarter of fiscal 2016, is subject to approval by MFLX and DSBJ stockholders, regulatory approvals, including antitrust review in the US and the People's Republic of China, review and clearance by the Committee on Foreign Investment in the US and other customary closing conditions.
It's also worth noting that the transaction will be funded through a combination of cash on hand, existing credit facilities, and new debt, but is not conditioned on financing.
Conditions of the Deal: None knows the weight of another's burden (George Herbert)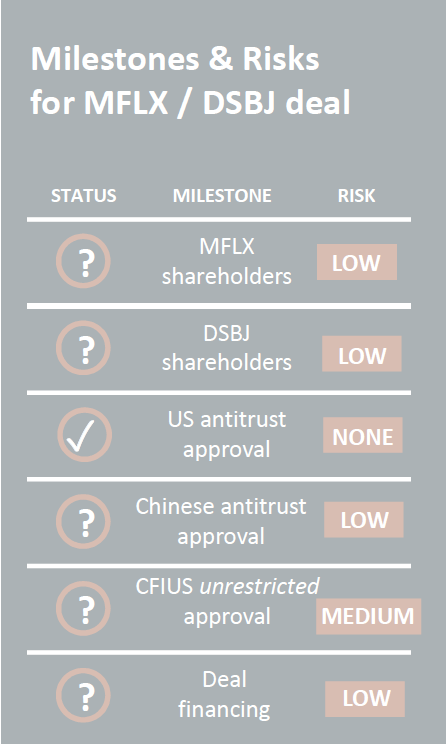 The deal's conditions, confirmed in the merger agreement, aren't particularly burdensome at first glance.
Much like beauty, though, what's "burdensome" is in the eye of the beholder. The merger agreement contains an unusual "Burdensome Condition" clause: DSBJ can terminate the deal if regulatory approval requires a divestiture or other restriction of business operations, if such action -in DSBJ's judgment - would reasonably be expected to be materially adverse (the "Burdensome Condition"). It is unheard of for a corporate acquirer to have unilateral discretion over the definition of "materially adverse." The presence of that clause in this merger agreement attests to a weak negotiating position for the seller.
The merger agreement requires MFLX and DSBJ to file the US antitrust notification by February 26; if that filing is made on time, the review period will expire March 27 (if it does not conclude earlier). As it turns out, the Federal Trade Commission had no concerns and announced an early termination of the review on March 7. The preliminary proxy is due to be filed with the SEC by April 5.
The merger agreement also requires the completion of the DSBJ shareholders meeting, Chinese antitrust filings and CFIUS applications "as soon as reasonably practicable." In slight contrast, filings with the National Development and Reform Commission (NDRC) and State Administration of Foreign Exchange (SAFE) are due "as promptly as practical." I believe there's minimal difference between "as soon as reasonably practicable" and "as promptly as practical," but it's interesting to note that the attorneys drafting the merger agreement chose different language for some conditions.
Market research predicted a straightforward antitrust approval process. MFLX is a producer of flexible printed circuits and flexible circuit assemblies, competing against firms such as Nippon Mektron, Flextronics, Interflex, Zhen Ding Technology, HI-P (Shanghai) Technology, Flexium Interconnect, and Sumitomo Electric. DSBJ, on the other hand, designs and manufactures sheet metal parts. There's no overlap, and no basis for concern about the possibility of anticompetitive action resulting from this deal. The FTC's early termination of the review confirmed our assessment.
Similarly, I anticipate little difficulty with the shareholder approvals. A 40.8% premium is compelling for MFLX shareholders, and Chinese shareholders are not known for obstructing the will of corporate managers.
What's more difficult to predict is what will come from the CFIUS review. On one hand, MFLX has no government contracts, no defense business, and nothing to do with US national security. On the other hand, CFIUS recently blocked an acquisition by Tsinghua Unisplendour of 15% of a combined Sandisk and Western Digital. In 2014 a Chinese firm was prohibited from constructing wind turbines near a Navy base in Oregon. Yet, CFIUS has cleared a host of recent semiconductor company acquisitions by Chinese companies, suggesting that semiconductor technologies are not a key issue for national security. We believe CFIUS is likely to approve the deal without divestiture or mitigation clauses.
The NDRC and SAFE approvals are present in any acquisition by a Chinese company. NDRC evaluates mergers and acquisitions from the perspective of a governmental entity with broad administrative and planning responsibilities for China's economy. NDRC has never prevented a transaction's completion. SAFE functions as an element of China's capital controls, and must approve the exchange of RMB for dollars to pay out to existing MFLX shareholders. Like NDRC, SAFE has never prevented a deal from closing.
Estimating the Timeline: Best to cast a wide net
I initially estimated the deal would be completed by December 31, 2016, in line with guidance from MFLX. After researching the component approvals needed for the deal's completion, I moved my expected end date to September 30.
The timeline includes specific estimates for each step of the shareholder approval, US antitrust process, Chinese antitrust process and CFIUS. A good recent model for this transaction was the acquisition of OVTI by Hua Capital Management, which took 275 days from the signing of the deal to its completion. If MFLX takes 275 days, it will close on November 6.
US Antitrust: DONE
The initial 40-day antitrust review timeline (10 days to file, 30 days to review) was overly conservative; the deal only needed 31 days from announcement to clear US antitrust:
2/26/16 - Latest possible filing of the premerger notification
3/7/16 - Early termination of antitrust review
Shareholder Approval: To be determined
With a merger like the MFLX deal, the shareholder approval process is more complicated than with tender offers like TRAK. The forecast for the MFLX shareholder approval is as follows:
| | |
| --- | --- |
| Event | Expected Date |
| Preliminary Proxy | 4/5/16 |
| Definitive Proxy | 5/5/16 |
| Shareholder Vote | 6/5/16 |
DSBJ shareholders will also vote on the transaction "as soon as practicably reasonable." The most recent Extraordinary General Meeting of DSBJ shareholders took 20 days from announcement to vote (announced 12/16/15, record date 12/29/15, meeting held 1/5/16). While I am uncertain when the vote will be held, I am confident that the DSBJ shareholder vote will be completed by the date of the MFLX shareholder meeting, at the latest.
Chinese Antitrust: In process
The opacity of the Chinese antitrust review process has been discussed in previous Seeking Alpha posts (see OVTI and PCP). As I wrote in the piece on OVTI:
The process of applying to the PRC Anti-Monopoly Bureau includes a filing, anacceptance of the filing by the Bureau (which occurred 40 days after the filing in 2014's Chindex transaction), a 30-day phase 1 review of the application and, if necessary, an additional 60-day phase 2 review period.

… [T]he PRC Anti-Monopoly Bureau is notoriously understaffed and application reviews are commonly extended into phase 2.
Using an estimate of March 31 for the date of the filing, we have the following timeline:
| | |
| --- | --- |
| Event | Expected Date |
| Filing | 3/31/16 |
| Acceptance of Filing | 5/10/16 |
| Phase 1 Expires | 6/10/16 |
| Phase 2 Expires | 8/10/16 |
CFIUS: As soon as reasonably practicable
The merger agreement requires MFLX and DSBJ to engage in pre-filing consultations with CFIUS, make a draft filing with CFIUS "as soon as reasonably practicable," and then file a final version of the voluntary notice "as soon as reasonably practicable." In the comparable OVTI transaction, CFIUS filings were made in June, about three months after the deal was announced. The CFIUS review of OVTI was completed on October 7. If the OVTI timeline is applied to the MFLX acquisition, the expected pace of CFIUS approval is as follows (all dates are approximate):
| | | |
| --- | --- | --- |
| CFIUS Event | OVTI Date | MFLX Date |
| Pre-filing Consultation | 6/1/15 | 4/15/16 |
| Filing initiates 30 day review period | 6/30/15 | 5/15/16 |
| 45 day investigation begins | 8/1/15 | 6/15/16 |
| CFIUS clearance | 10/6/15 | 8/20/16 |
NDRC and SAFE
Like the Chinese antitrust review, the NDRC and SAFE processes are opaque. In some cases NDRC is completed before the antitrust review, in others it takes longer. In the acquisition of Integrated Silicon Solution by a Chinese private equity consortium, NDRC was resolved about 15 days before the antitrust process. For OVTI, NDRC clearance was the final approval, delivered almost two months after the end of the Chinese antitrust review. There is no information from past deals regarding SAFE's timing, but SAFE has never held up a deal.
Approvals Overview: Putting it all together
The biggest risk to the deal is the "burdensome clause," the term that allows DSBJ to declare regulatory restrictions or divestitures as burdensome. If DSBJ comes down with a case of buyer's remorse, and if CFIUS for some reason has a problem with Chinese control of MFLX's Irvine facility, there's a ready-made excuse available for DSBJ to cancel the transaction. In light of the CFIUS objection to Tsinghua Unisplendour's control of a minority stake in Sandisk/Western Digital, we know that it is possible for the Committee to reach that conclusion.
At the same time, I believe that scenario is pretty far-fetched. MFLX doesn't have any business that is related to defense or national security (much like OVTI, which was completed without incident). I remain confident that the underlying rationale for this transaction is intact. In light of the estimate that the CFIUS clearance will be done in late August, I believe the MFLX acquisition will be completed by September 30, 2016.
Applying the Research: Finding the right trade
MFLX's expected stock price if the merger is completed by the end of September 2016 is $23.95, the acquisition price. The expected value if the acquisition fails is $18.15 - MFLX's share price prior to the February 5 announcement, adjusted for recent changes in comparable companies' stock prices. $18.15 isn't a floor, it's just an estimate of where the stock might settle out if the acquisition is terminated.
Investors wishing to limit their exposure to the estimation risk that's inherent to downside calculation should review MFLX's exchange-listed options. One potentially attractive opportunity is available in the form of a bullish call spread, buying an August 2016 $17.50 call and selling an August 2016 $20 call. This option pair recently traded at $2.35 net debit. At that price, an investor could earn a 6.4% return on risk if MFLX is trading at or above $20 when the options expire.
Conclusion
As developments occur in the transaction process, we should remain concerned about the CFIUS review and the opaque nature of the Chinese antitrust review process. I anticipate that the transaction could close as early as September or as late as December, depending largely on the pace of the Chinese approvals. For what it's worth, I believe that closing by the end of September is most likely.
Common areas of risk in merger arbitrage situations are financing, volatile business conditions, antitrust investigations, and unwieldy regulatory reviews. The need for CFIUS approval and the uncertain pace of Chinese review create some additional risk in MFLX, relative to other situations. At the current stock price, investors have an opportunity to be well-compensated for the additional risk they take when they invest in Multi-Fineline Electronix.
Disclosure: I am/we are long MFLX.
I wrote this article myself, and it expresses my own opinions. I am not receiving compensation for it. I have no business relationship with any company whose stock is mentioned in this article.
Additional disclosure: This information is provided for educational purposes only, and is intended to be an example of how ArbitrOption applies its investment strategy. It does not constitute investment advice. As with all investments, there are associated risks and you could lose money investing. Prior to making any investment, a prospective investor should consult with her or his own investment, accounting, legal and tax advisers to evaluate independently the risks, consequences and suitability of that investment to their personal financial circumstances.