Himax (NASDAQ:HIMX) shares fell on March 18th after UBS downgraded the stock on the reasoning that the company's augmented reality ("AR") and virtual reality ("VR") market opportunity is being over-hyped. The stock has slid further since then and is clinging onto the double-digit plateau at $10: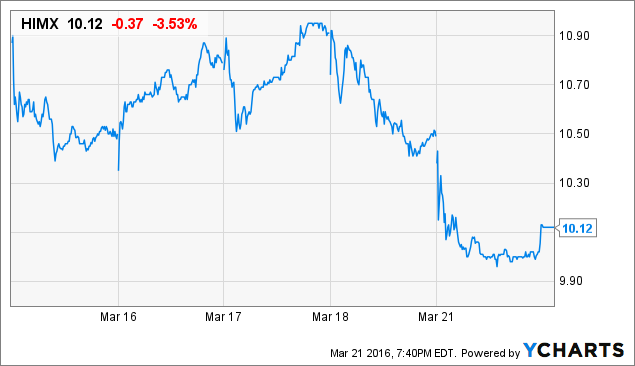 HIMX Price data by YCharts
As I mentioned in an article I wrote on HIMX on March 15th, which can be found here, 2016 will be a big year for Himax's LCoS and WLO products because of the AR/VR products its clients are releasing this year. Management stated in the past earnings report that they expect revenue for these two product types to double quarter-over-quarter. My take and UBS' appear to be a bit at odds with each other.
First off, UBS' price target of $4.40 implies a market capitalization of $756 million. Himax just endured one of its worst years in a while and still managed to report trailing twelve months revenue of around $690 million and EBIDTA of $45 million. And it is important to note, that these numbers are without any meaningful revenue from AR/VR applications.
Even without any AR/VR potential whatsoever, a $756 million valuation is much too low. I also would point out that until June 2014, before AR/VR was even an impending source of revenue, UBS had HIMX at a price target of $13.70. That price target was based on Himax's financials before the recent slowdown. I fully expect, as does Himax management, that 2016 will be a bounce back year for the company, yet UBS thinks an appropriate price target is $4.40 because AR/VR is over-hyped? Without even a mention of the comeback in the actual core of Himax's business, which is its large panel and medium and small panel driver segments?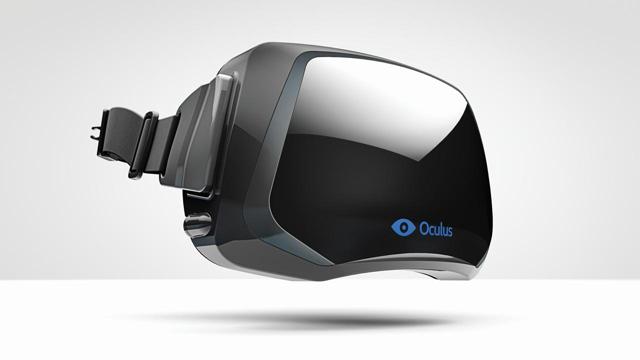 Click to enlarge
(Source: Oculus Rift)
Needless to say, but I completely disagree with the price target. But how about the reasoning? Is Himax's opportunity in AR/VR being overestimated by the market? This is a much more interesting topic of discussion.
Doubling revenues quarter-over-quarter sounds nice but what is that quantitatively? In the last earnings report Himax management admitted that the doubling of sequential revenue is calculated using a "small base." Additionally, management said they don't expect heavy order volumes from their AR/VR clients for "early generation products," but have been working with those clients for future, higher volume releases. The following snippet from the earnings report is Himax's description of their AR/VR positioning:
We currently have more than 30 customers using the Company's LCOS and/or WLO for their AR devices and optical engine designs, with the vast majority of them in the U.S. . . . As for VR applications, as mentioned in the press release in January, Himax has had new driver IC design-wins with two top-notch VR players in the next generation OLED panels for their VR devices
Himax has kept its clients and the products it supplies close to the vest so it's hard to gauge the company's market potential for AR/VR. However, Himax has been linked to products such as the Oculus, Google Glass, Microsoft Hololens, and others, which would indicate that the company's AR/VR potential is among the highest for suppliers in this market. Again, it is difficult to quantify Himax's potential future earnings, but because of its positioning as the supplier for top AR/VR products, it stands to reason that the magnitude of the AR/VR market's expansion will directly and significantly impact the magnitude of Himax's revenue increase.
Personally, I expect AR/VR to become as central, if not more, to Himax's business than its current large panel and medium and small panel segments. Additionally, Himax should get an overall margin boost from these products as AR/VR products will come with a high price tag, and it will take some time before they become commoditized. I see a lot of potential upside for HIMX based on both a comeback in its current core business and based on AR/VR opportunity. Over-hyped? Not likely.
My question to you is what kind of revenue range do you expect from Himax's AR/VR products? Will it rival the company's current driver segments and become its new bread and butter? Voice your opinion in the comments section below!
Disclosure: I/we have no positions in any stocks mentioned, and no plans to initiate any positions within the next 72 hours.
I wrote this article myself, and it expresses my own opinions. I am not receiving compensation for it (other than from Seeking Alpha). I have no business relationship with any company whose stock is mentioned in this article.