So-called athleisure apparel is a smoking-hot segment of the retail industry, and we'll see if it can pump up the bottom line of Nike (NYSE:NKE) when the athletic apparel maker reports earnings after the bell.
The stock got a boost Monday after JPMorgan swapped Lululemon (NASDAQ:LULU) for NKE on its Analyst Focus list, an interesting move so close to an earnings announcement. "Nike's brand is best-in-class with significant runway remaining in the long-term story (with both top-line and gross margin) - a compelling combination," according to the analyst note.
This comes less than a week after NKE unwrapped its latest innovation, the self-lacing gym shoe called the HyperAdapt 1.0. It plans to release the shoes on Christmas in three colors only to members of Nike+.
Analysts reporting to Thomson Reuters are looking for, on average, earnings per share of $0.49, up from $0.45 cents a share in the year-ago period. That's a 9% gain, but below the strong double-digit profit growth the company reported the last eight straight quarters. Analysts are expecting top-line sales to ring up at $8.2 billion, a 10% jump over last year's revenues but remember, past performance is no guarantee of future results.
Can NKE Beat Expectations?
In the quarter that ended in November, NKE said its future orders - an important metric of near-term growth of upcoming orders - were 20% higher, adjusted for currency fluctuations. A Macquarie analyst called those numbers "absolutely astounding." NKE has a long history of beating expectations. Can that happen again?
On the conference call, analysts will be listening for insight into the new sneakers and future orders as well as any information executives share about sales ahead of and during the Olympics this summer in Rio.
Short-term options traders have priced in a potential 5.5% share price move in either direction around the earnings release, according to TD Ameritrade thinkorswim platform's Market Maker Move indicator.
Going into earnings, call and put trading is active, running at about three times average. In the short term, call buyers seem to be targeting the March 65 and March 67½ calls. Put buyers are at the 61 and 63 strikes. The implied volatility is at the 70th percentile, compared with its typical middle range.
Note: Call options represent the right, but not the obligation, to buy the underlying security at a predetermined price over a set period of time. Put options represent the right, but not the obligation, to sell the underlying security at a predetermined price over a set period of time.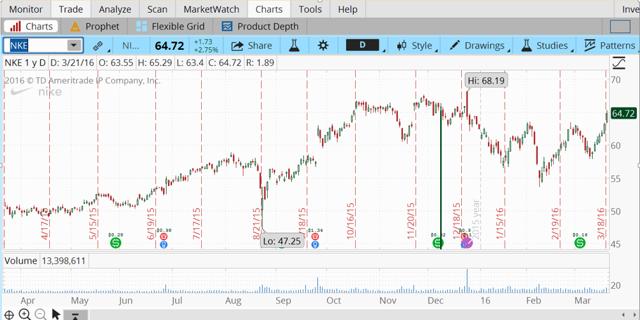 Click to enlarge
Figure 1: Nike Bounce. NKE shares have rebounded by nearly 18% since February and are nearing a fresh 52-week high. Chart source: the TD Ameritrade thinkorswim platform. Data source: Standard & Poor's. Not a recommendation. For illustrative purposes only. Past performance does not guarantee future results.
TD Ameritrade commentary for educational purposes only. Member SIPC. Options involve risks and are not suitable for all investors. Please read Characteristics and Risks of Standardized Options.
Disclosure: I/we have no positions in any stocks mentioned, and no plans to initiate any positions within the next 72 hours.
I wrote this article myself, and it expresses my own opinions. I am not receiving compensation for it. I have no business relationship with any company whose stock is mentioned in this article.