Increased volatility risk
A week ago I wrote an article where I added the analysis of risk to my previous bullish articles on Amira Nature Foods (NYSE:ANFI). In this article I will further explain those risks and make a simple accounting exercise in order to see how a 33% price decline in the commodity ANFI is selling should affect its accounting.
The story behind ANFI is that it did not disclose any financial information for almost one complete fiscal year. As the markets are made by thinking participants the thinking evolves around available information and assumptions. Available information are facts while assumptions are mere participants' thoughts.
We do not have color on what was going on with ANFI's business in the last year, therefore the only certainty we have is that our view is distorted. As there is no information on ANFI's business everything is based on assumptions, and assumptions are easily influenced and often wrong. ANFI's stock has become a pure sentiment play without any foundation on fundamentals. As this is a pretty heavy statement, let me prove it to you.
My last seeking alpha article where I explained some risks related to ANFI was published on March 15th at 2:59 PM when ANFI's price was $11.11. After publication volume spiked an ANFI closed the day at $10.65. The total daily decline was 15.41%, 5% since the publication of the article.
Figure 1: ANFI's weekly price movements and volume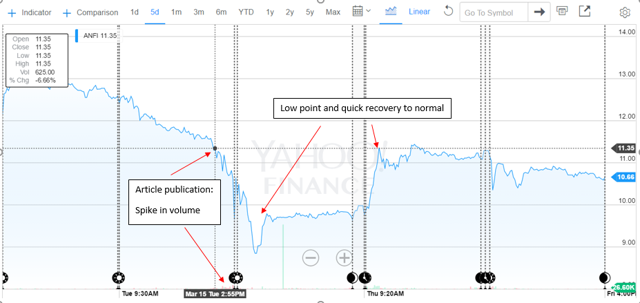 Click to enlarge
Source: Yahoo
The next day the free fall continued for an hour until 10:30 AM when the price reached a week low of $8.85, a 21% decline since the publication of the article. To be more precise, the 21% decline happened in the two hours of trading after the publication of the article.
From the low on Wednesday the price quickly rebounded to where it was before the article was published. For me the quick return to normal is logical as I did not disclose anything that shouldn't be available to any informed ANFI investor.
But, the first point of this follow up article is that something as simple as a Seekingalpha article can, albeit for a short time, have such a strong influence that it lowers ANFI's price by $2.26 or 21%. In total the decline in ANFI's market capitalization was $64.7 million. Such a move shows the volatility ANFI's stock has due to the low free float (75.5% KARAN A. CHANANA and 7.5% FFM LLC) and lack of information around which a price equilibrium can be created based on fundamentals. This brings to various potential future scenarios and increased volatility and risk.
Possible future scenarios
The thing everyone is waiting for is the disclosure of the three 2016 quarters financials. But I do not see that as the main disclosing event as it will not be in detail as the 20-F. Therefore, we are bound to wait until July to see exactly how will ANFI deal with lower basmati prices. I focus on the 20-F and not on the quarterly reports because ANFI has a business model where it is necessary to store inventory for at least a year. As an analyst I need detailed information of what is going on and how it is accounted for. For now, we can only look at ANFI last annual report and make assumptions about the next one.
The first assumption is that ANFI manages to continue on its growth path and increases earnings by 20%. In that case we would have EPS of $1.76 that would create a positive boost for ANFI and I would not be surprised to see a share price of more than $17 that would value ANFI's business properly with a PE ratio of 10.
The second assumption could be that ANFI did not grow in 2016 and had EPS stable at $1.47, which would be excellent given the circumstances in 2016. With a positive guidance and a PE ratio of 10 ANFI would easily reach a price of $15.
The third assumption is one that sees ANFI's revenue and EPS decline, similarly to what happened to KRBL in their last quarter due to a decline in basmati prices. Volatility in prices is normal when you are in a cyclical food commodity business. If we assume EPS of $1 with a PE ratio of 10 this would give a price of $10. But seeing what happened to ANFI's stock after just talking about some potential risks related to it in my last article I would not be surprised if various allegations emerge and the stock price falls to the lows we have witnessed last August. Increased panic selling combined with a short attack and the low float could easily bring ANFI's share price to the low single digits.
Given that the quarterly reports are much less detailed than the annual one I think the best thing to do for ANFI is to publish only the annual report in July 2017 and not publish the three interim reports because not detailed financial reports increase the threat of short attacks that could easily create panic like the short term panic that we all witnessed last week or even worse, like the one we witnessed last August.
Additional research into the effect of the decline in basmati prices
As the thesis behind my previous article was the decline in basmati prices I have done some further research on how that could affect ANFI. According to ANFI's last annual report ANFI has $262.8 million in inventory. We can assume that the inventory was bought in the 2015 fiscal year with prices of basmati around $1312 per ton and it will probably be sold in the fiscal year 2016 with basmati prices around $885 per ton. As ANFI measures its inventory at the lowest of cost or net realizable value we can assume some inventory impairments in 2016. If ANFI manages to sell its inventory at higher prices, there will be no inventory impairment. We have to wait for the financial statements to see if ANFI will manage to do that. But, there is another step ANFI usually makes that is under question with declining basmati prices. The step is the common accounted increases in inventory value in the range of the yearly net profit.
Figure 2: ANFI's income statements for 2013, 2014, and 2015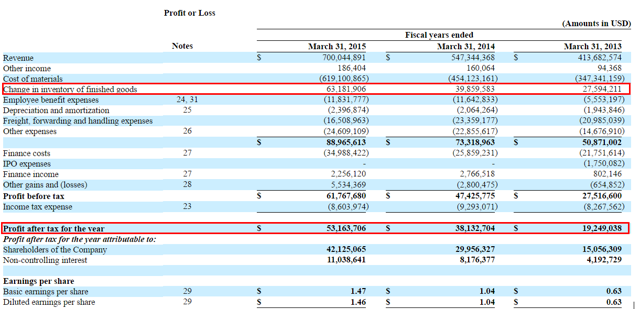 Click to enlarge
Source: SEC
In each of the last three fiscal years the increase in inventory value was higher than ANFI's net profit. Again, as basmati prices have declined, even if ANFI manages to avoid inventory impairment we should at least not see increased inventory values in 2016. No increased inventory value would mean no profit for ANFI in 2016. This thesis can further be confirmed by taking a look at the discounts ANFI is offering on its products. I will start with the UK and the 10% discount at Morrisons that is not much but should be mentioned. A personal digression, last year around this time my wife bought one kilo of ANFI's pure basmati rice at Morrisons for 6 UK pounds per kilo. As the current price is 4.28 UK pounds per kilo retail prices are already down 29% from last year, or 34% if we translate it to $US.
Figure 3: ANFI's discount in the UK - Morrisons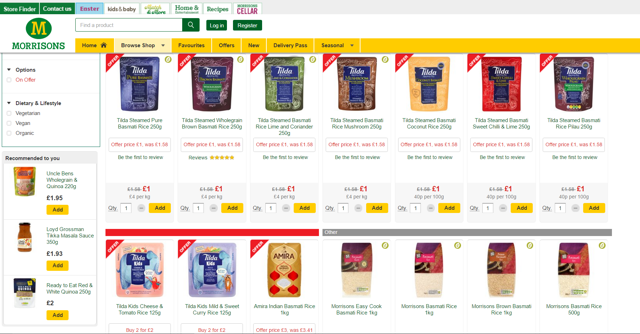 Click to enlarge

Click to enlarge
Source: Morrisons
A marginal fact that I came across while researching is that I did not find ANFI's branded rice at TESCO stores. Maybe ANFI is just selling third party branded rice to TESCO at the moment but this was not disclosed in any company statement while the launching of its branded rice sales at TESCO was strongly publicized.
Switching from the UK to India the discounts on the Indian Snapdeal site a much higher, ranging from 25% to 45%.
Figure 4: ANFI's discount on Snapdeal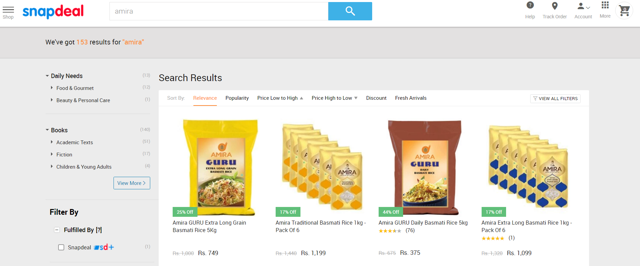 Click to enlarge
Source: Snapdeal
On the Reliance fresh direct site the discounts are even worse as they go up to 60% and ANFI is the most aggressive seller.
Figure 5: ANFI at Reliance fresh direct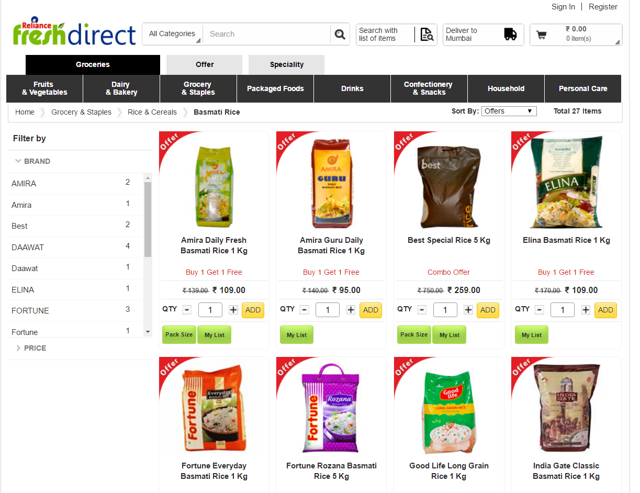 Click to enlarge
Source: Reliance fresh direct
An accounting exercise
By looking at figure 2 we can see that the increased value of ANFI's inventory due to the process of ageing basmati rice was $63.1 million in 2015. As basmati prices have declined by 33% according to the Indian government food agency and my personal purchases I find it very unlikely that ANFI will be able to show that increase in inventory value. With retail prices already down 33% in conjunction with the reported bulk basmati prices and knowing that ANFI bought the rice last year for ageing at a much higher price I simply do not see how the "change in inventory of finished goods" account can be positive for ANFI in this fiscal 2016. By removing the $63 million 2015 positive change in inventory from ANFI's income statement ANFI's EBIT would be $25.8 million. This would result in a loss of $1.4 million for ANFI in 2016.
The second interesting accounting issue is related to ANFI's $262.8 million inventory.
Figure 6: ANFI's balance sheet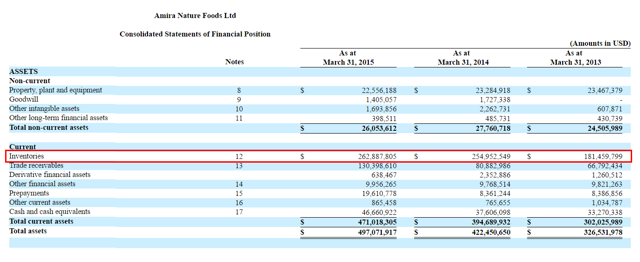 Click to enlargeSource: ANFI's 20-F.
As according to ANFI's annual report inventory is accounted at the lower of costs or net realizable value with the 33% decline in basmati retail prices there is a probability that the inventory will have to be impaired by 33% as basmati retail prices have fallen in line with bulk prices meaning that the fall in basmati prices is not postponed into retail by the ageing process. If inventory is not impaired, then by using the FIFO (first in first out) inventory method gross margins should be much lower than the 2015 11.5%. Logical thinking would bring to negative margins. With stable basmati prices the gross margin was 11.5%, as the retail price of basmati fell by 33% and the FIFO method is used by ANFI the aging process should bring to a negative margin of 31%. This is of course exaggerated as basmati prices slowly declined during the last 12 months and we will all see the precise figure in ANFI's next annual report.
The above mentioned risks are clearly explained in ANFI's 20-F under the header "Risks related to our operations":
Any decline in the market price of Basmati rice while held by us for aging may harm our results of operations and financial condition.

The Basmati rice industry is cyclical and is dependent on the results of the Basmati paddy harvest, which occurs for only seven months in the year (September to March). We purchase Basmati paddy from farmers through government regulated agricultural produce markets or through licensed procurement agents and then process it throughout the year. A unique feature of Basmati rice is that its quality is perceived to improve with age. Our Basmati rice is sold at least 10 to 12 months after harvesting and generally commands a price premium. As a result, we typically allow our Basmati paddy to age from six to eight months and our processed Basmati rice to age for an additional four to six months before we sell it. If there is any fall in the price of Basmati rice during the time we hold it for aging, we may not be able to recover, or generate the same margins from, our investment in Basmati paddy or processed rice, which may harm our results of operations and financial condition.

The price we charge for our Basmati rice depends largely on the prevailing wholesale market price; lower market prices may harm our results of operations and financial condition.

Numerous factors affect the wholesale price of Basmati rice, including weather, government policies such as the reintroduction of minimum support prices and minimum export prices, changes in prices of other staples, seasonal cycles, pest and disease problems and balance of demand and supply. Furthermore, the highly fragmented nature of the Basmati rice industry in India limits the pricing power of individual companies. Any prolonged decrease in Basmati rice prices could harm our results of operations and financial condition. Currently, we are not able to hedge against such price risks since Basmati rice futures do not actively trade on any commodities exchange.
The combination of potential inventory impairments, negative margins and negative changes in inventory values forecast a negative result in fiscal 2016 for ANFI.
Conclusion
When ANFI first came up on my search screen more than a year ago I was really excited about the possibilities of such a business, exposed to the fastest growing country in the world, India, and also selling a local product globally. Now I am saddened by the fact that most of the talking around ANFI is about accounting fraud, disclosing statements, trading and little of it is related to fundamentals. I really hope ANFI will be able to withstand this difficult time for the stock and the low basmati price cycle in its business and blossom into the beautiful business it can be.
In the short term I will close my positions in ANFI as the risks simply outweigh the benefits at this moment. Bad news could easily influence a 70% decline while good news would just confirm the current situation and only excellent news (growth 20%) could give significant returns. Seeing that basmati prices have fallen strongly and more than 100% of ANFI's net profit usually comes from increases in the value of its inventory I find ANFI showing profit in 2016 as a very unlikely possibility.
As I said at the beginning of the article, only time will tell, as this is all based on assumptions. Please make your own research before making any investment decisions. I hope ANFI will manage to grow in the future and really be a gem. On the other hand, I also know that falling in love with a stock is a very dangerous investing situation so be careful to understand the risks of investing in ANFI.
Disclosure: I/we have no positions in any stocks mentioned, and no plans to initiate any positions within the next 72 hours.
I wrote this article myself, and it expresses my own opinions. I am not receiving compensation for it (other than from Seeking Alpha). I have no business relationship with any company whose stock is mentioned in this article.
Additional disclosure: This article was provided for informational purposes only. Nothing contained herein should be construed as an offer, solicitation, or recommendation to buy or sell any investment or security, or to provide you with an investment strategy. Nor is this intended to be relied upon as the basis for making any purchase, sale or investment decision regarding any security. Rather, this merely expresses my opinion, which is based on information obtained from sources believed to be accurate and reliable and has included references where practical and available. However, such information is presented "as is," without warranty of any kind, whether express or implied. The author makes no representation as to the accuracy, timeliness, or completeness of any such information or with regard to the results to be obtained from its use should anything be taken as a recommendation for any security, portfolio of securities, or an investment strategy that may be suitable for you.