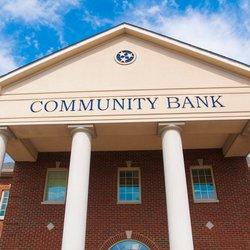 Premier Financial Bancorp (NASDAQ: PFBI) is a relatively small and sleepy multi-state bank holding company with 47 branch offices across five states and Washington D.C. which originates residential, commercial, and consumer loans and not much else.
However, unlike some of its community banking contemporaries, Premier has a documented history of profitability as it has been profitable on a net income basis in each of the past 10 years including 2008/2009, bears a uninterrupted dividend payout harking back to 1996 amounting to just over a 4% annual yield today, and has a management team with a very well defined strategic plan in place... which they have actually executed upon to date!
Said management and directors, a closely knit bunch with an average tenure of just over 12 years apiece are led by long-time Chairman Marshall T. Reynolds, whom effectively controls the holding company of Premier Bank & Citizens Deposit Bank & Trust as the single largest shareholder with a 10.2% ownership stake, all officers and directors together own approximately 16% with two other substantial independent shareholders owning more than 5% apiece as below:

Source: Premier Financial Bancorp 2015 Annual Meeting Proxy
By seeking to provide banking services to customers in non-urban areas, Premier believes that it can minimize the competitive effect of larger financial institutions that typically are focused on more sprawling metropolitan areas. If this sounds familiar, readers of Sam Walton's official autobiography Made In America and those more intimately acquainted with Wal-Mart's (NYSE:WMT) roots will instantly recognize such a strategic plan is straight out of the world's largest retailer's early playbook.
Via this master design and its mandate of leaving local bank management in place, in respect to integrating new acquisitions and seeking to centralize certain of the acquiree's back office, support, and investment functions in order to drive consistency and cost efficiency, Premier's leadership has compounded book value over the past 10 years by over 50%, while also increasing dividends by more than 400% during this same time frame.
While there are still some things left to be desired, namely less issuances of dilutive stock options as incentive compensation and related party transactions - Premier leases its company headquarters from an entity 20% owned by its aforementioned Chairman Marshall T. Reynolds and 20% owned by another board director.
Aside from such instances, management as can be clearly quantified has done quite an exemplary job.
The bigger picture
Though Premier is a multi-bank holding company with 47 banking offices across 5 states and Washington D.C., it is largely concentrated in West Virginia & Kentucky with 24 of its branches located in the two states.
Thus it is largely susceptible to the Southern economy or the more rural counties of these two states, given the locality of its branches.
Only thing we can be certain of to some extent on a micro/macro economic level, is that the lending environment prevailing over the past eight years is presently at or near its end. As higher overall interest rates arrive and begin to affect different institutions in different ways depending upon the makeup of their loan portfolios - Premier's being decidedly asset sensitive with its net interest income due to rise along with rates in this respect.
Basell III capital adequacy guidelines with which Premier would be in full compliance with were they to hypothetically take effect today being gradually phased in over a multi-year schedule by January 1st, 2019, and some aspects of the Dodd-Frank Wall Street Reform & Consumer Protection Act still subject to future rule making and due to fully come on-line over the next several years. It's ultimate impact
likely being that of increasing the cost of doing business for Premier and other chartered financial holding companies through larger Federal Deposit Insurance Corp. (FDIC) premiums, having to hire additional regulatory compliance personnel, and other ways as has already become evident.
Boring but better banking
Premier's lending activities are plain for lack of a better term, as it's bank subsidiaries only originate and retain variable rate residential mortgage, commercial, consumer, and to a lesser extent agricultural loans. No derivatives, swaps, and an insignificant $22 million in the way of customer repurchase agreements as of December 31, 2015.
The most exotic it gets is selling originated fixed rate loans into the secondary mortgage market and even in this sense precautions are taken, as the banks' mortgage originators are all salaried employees who do not receive a commission or other incentive compensation for the number or type of mortgages they originate so as to stifle any potential "animal spirits" before they ever get unleashed
Not only this, but the banks underwriting is also balanced. With no asset class making up more than 50% of total loans and a near even balance between presently outstanding commercial real estate (44.3%) and residential real estate (39.55%) loans, its two largest loan segments respectively. In this same breath, Premier has also not aggressively pursued increased business for its own sake or simply to boost its return on assets or equity, as its loan/deposit ratio currently sits at an adequate 80.10%.
This last fact no doubt owing at least in part to its stable, local checking and savings deposit base. With only about 6.1% of the banks' total deposits qualifying as jumbo time deposits - the most un-captive kind.
Despite annual net income decreasing by 5.4% as compared to 2014, the silver lining in this is that the decline came largely as a result of a lower average yield earned on loans as well as on its securities portfolio.
While the latter's performance may always be random and erratic by its very nature, net interest income from the former should rise as non-accrual loans continue to dwindle as they have for the past five consecutive years and earnings of recent acquisitions become fully reflected in Premier's results from operations going forward.
For the time being, Premier's relatively low price/earnings of 10.2 - well below that of its peer group which carries a median multiple of 14.4, prices in any prospective lack of future earnings growth materializing.
Some somber considerations
Every business, be it a bank or otherwise is susceptible to the effects of direct competition in its primary market area and the macro economics which prevail in one way or another.
Even for multi-state community banks such as Premier, their cyclicality is somewhat more pronounced since how the local economy goes, businesses and residents tend to go, and in turn so ultimately do their deposit institutions. In this regard, the red states of West Virginia and Kentucky have overall foreclosure rates of 1.12% and 0.60%, respectively, which is lower than the current national average of 1.77% according to the Mortgage Bankers Association.
Such figures are not too dis-similar from Premier's own non-performing assets/total assets ratio of 1.67%. The banks do have a number of special mention and sub-standard credits outstanding, but these are also declining on a year over year basis as can be seen below: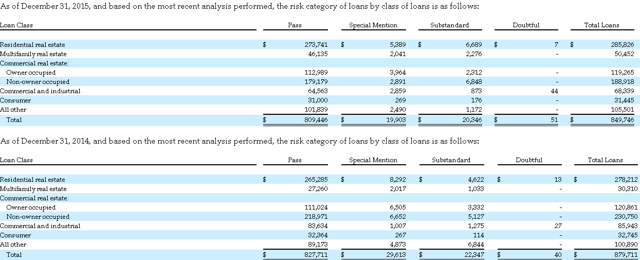 Source: Premier Financial Bancorp 2015 Annual Report
Barring significant deterioration of economic conditions in the southeast as a whole, Premier is well positioned to continue to see improvement in its loan quality with the only cautionary note being the decided lack of reserves which amount to only 24.5% of existing non-performing assets, which is a less-than ideal coverage ratio even in more prosperous times.
Apart from this score, Premier's efficiency ratio of 76% is the only other metric to keep alerted to, as it sits below the peer such as First West Virginia Bancorp (OTC: OTCQX:FWVB) and First Citizens BancShares (NASDAQ: FCNCA) median of 71.42%. In other measures, it tops its competitors with far less borrowings and a net interest margin north of 4%.
What's it worth & what it could be worth
| Measure | Figure |
| --- | --- |
| Book value | $147.23 |
| Takeout value | $168.51 |
| Market value | $146.80 |
* $Millions
In consideration of the above approximate and also conservative valuation, some of the things Premier needs to do in order for it to come to fruition are relatively simple, but as per usual far from easy:
Continue conservative loan underwriting.
Further execute community banking plan of strategic expansion outside major metro markets.
Consummate additional opportunistic mergers and acquisitions in aforementioned smaller markets.
In other words, Premier needs to continue doing more of the same which it has been doing since it's founding as a bank holding company in 1991. That is, keep on making generic loans to individuals and small/mid-size businesses it intimately knows and understands in the communities which it serves, adding to its deposit share base in the states in which it already operates by continuing to avoid major metropolitan markets, and seeking out deals such as the $26.3 million all-stock merger with First National Bankshares Corp. carried out this January, bringing it another $205 million in bank deposits in its home base of West Virginia.
In conclusion, Mr. Market is presenting an opportunity to own a piece of a simple, well management, multi-state bank at a slight discount to its current book value that has a proven history of continually profitable operations, carrying little existential downside risks.
Disclosure: I/we have no positions in any stocks mentioned, and no plans to initiate any positions within the next 72 hours.
I wrote this article myself, and it expresses my own opinions. I am not receiving compensation for it (other than from Seeking Alpha). I have no business relationship with any company whose stock is mentioned in this article.
Editor's Note: This article covers one or more stocks trading at less than $1 per share and/or with less than a $100 million market cap. Please be aware of the risks associated with these stocks.