In my previous article I gave three reasons why I thought the SP 500 index was in a bear market even though the market has rallied impressively off of the February 11 bottom. Two reasons were technically based and the third reason was fundamental to corporate earnings. The market has rallied even more recently yet I still feel that the market is in a bear market rally. According to Mark Hulbert bear market rallies are common and are often sharp. As I expect the market to decline I am now identifying positions I want to purchase if my price targets are realized. My first interest is the health care sector.
In this article I will show how the Health Care Select Sect SPDR ETF (NYSEARCA:XLV) has performed in the past compared to the S&P 500 index as represented by the SPDR S&P 500 Trust ETF (NYSEARCA:SPY). I will identify long term trends that favor XLV. I will also detail some of the risks that investors face with XLV. Lastly, I will explain where I think a low risk entry price can be had.
Performance
While the SP 500 has rallied as mentioned above the healthcare sector as represented by the Health Care SPDR ETF has underperformed compared to the SP 500 index. Chart 1 shows the performance of the SPY and the XLV since the beginning of 2016.
Chart 1 - Performance of SP 500 and XLV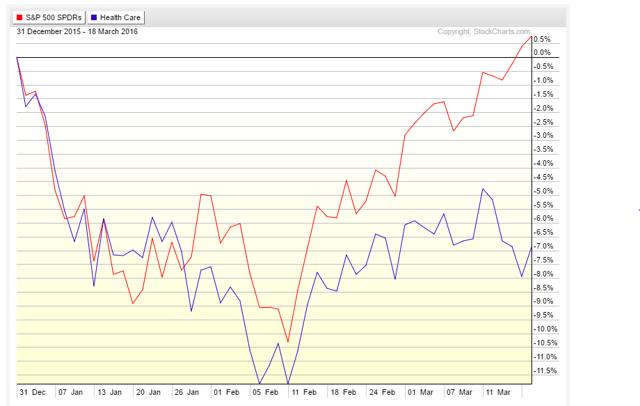 Click to enlarge
While XLV has underperformed for the past year, XLV has demonstrated market beating returns over the past 3, 5, and 10 year periods versus the SP 500 index as shown in Table 1. It is due to this longer term performance record that I want to be a buyer of XLV if the market declines further as I expect it will.
Table 1 - SPY vs XLV Total Returns
| | | | | |
| --- | --- | --- | --- | --- |
| ETF | 1 Year Return | 3 Year Return | 5 Year return | 10 Year Return |
| SPY | -6.2% | 10.7% | 10.0% | 6.4% |
| XLV | -7.0% | 16.9% | 17.2% | 9.3% |
Source: schwab.com
Table 2 shows the top ten holdings of XLV. The names include blue chips like Johnson & Johnson (NYSE:JNJ); health insurers like UnitedHealth Group Inc. (UNH); drug manufacturers Merck & Co Inc. (MRK), Pfizer Inc. (PFE), and Bristol-Myers Squib (NYSE:BMY); and biotechnology companies Amgen Inc. (AMGN) and Gilead Sciences, Inc. (GILD). All in all XLV holds 57 healthcare companies, has a current distribution yield of 1.56%, and currently sells at an earnings multiple of 20 based on trailing twelve months earnings.
Table 2 - Top 10 Holdings of XLV
| | | |
| --- | --- | --- |
| Company - Symbol | % of XLV | Industry |
| Johnson & Johnson | 11.70 | Pharmaceuticals |
| Pfizer | 7.15 | Pharmaceuticals |
| Merck & Co | 5.74 | Pharmaceuticals |
| Gilead Sciences | 4.85 | Biotechnology |
| UnitedHealth Group | 4.79 | Managed Health Care |
| Allergan (NYSE:AGN) | 4.41 | Pharmaceuticals |
| Amgen | 4.32 | Biotechnology |
| Medtronic (NYSE:MDT) | 4.24 | Health Care Equipment |
| Bristol-Myers Squib | 4.14 | Pharmaceuticals |
| AbbVie (NYSE:ABBV) | 3.64 | Biotechnology |
Source: schwab.com
Favorable Long Term Trends
There are several reasons why the health care sector as represented by XLV will continue to offer long term market beating results in the future. Fortune has identified three reasons the health care sector should continue to outperform the market. First, health care spending is rising 6% per year. Second, "new drug approvals are on the rise" according to Fortune. Third, earnings in the health care sector are expected to rise 10% in the coming year, besting the earnings expectations of the market as a whole. Lastly, demographics should not be forgotten. In a recent article by Kaiser Health News, baby boomers will live longer but oddly enough will have poorer health doing so. They will suffer from chronic illness, obesity, hypertension, etc. These ills will drive more spending on Medicare to an estimated $1.2 trillion by 2030. CNBC recently reported that baby boomers "are going to need more drugs and medical services as they age." I believe that this demand and the spending on Medicare will find its way to many of the stocks in the Health Care SPDR ETF.
Rising health care spending will benefit many if not all of the industries in the healthcare sector. Spending on drugs, insurance plans, medical equipment, and medical services will benefit companies such as Merck, Pfizer, UnitedHealth Group, Medtronic and others in the sector. New drug approvals will benefit the pharmaceutical industry. New drugs of note in the pipeline include Merck's Bridion for anesthesia and Keytruda for cancer; Pfizer's Xlejanz for rheumatoid arthritis and Eliquis for atrial fibrillation; and Bristol-Myers Squib's Opdivo for cancer. Many more drugs are in the pipeline for pharmaceutical companies. Earnings are expected to rise across the board. State Street Global Advisors has a 3-5 year EPS growth rate of over 10% for XLV.
Risks
While the long term opportunities look appealing, there are risks to owning the health care sector ETF. Risks according to Zacks include a Republican being elected as President. If a Republican gets elected to the White House a Republican President may dismantle the system in place (Affordable Care Act) causing healthcare providers and insurers to have uncertain earning power. The same CNBC article cited above also noted that drug pricing is a major risk in the health care sector. If a Democrat gets elected to the White House the pricing of drugs may come under severe pressure causing uncertain earnings power. Lastly, patent expiration and research and development costs can affect many pharmaceutical companies.
A dismantling of the Affordable Care Act could adversely affect a company like UnitedHealth Group. The risk of politicians getting involved in drug pricing could negatively affect Gilead Sciences and any other company that has a drug priced higher than politicians want it to be priced. Patent expiration is affecting Merck. Its Zetia drug is coming off patent in 2016 and Zetia contributed $2.6 billion in revenues. Also, Allergan, Gilead, and Pfizer all have drugs coming off patents in 2016.
Low Risk Entry Price
Chart 2 shows the XLV on a monthly chart since the market lows in 2009. I use the 6 and 10 month exponential moving averages as a way to gauge market risk. When the 6 month moving average is above the 10 month moving average stock prices have a tendency to rise. When the 6 month moving average is below the 10 month moving average prices have a tendency to decline as they are now as can be seen on Chart 2. The other technical indicator on the chart is the Fibonacci retracement levels. These levels of 38%, 50%, and 62% show areas of support when a market retraces its last move. The first level of support is the 38% level which corresponds to the $55 level. I think this would offer an excellent entry price for the long term investor
Chart 2 - XLV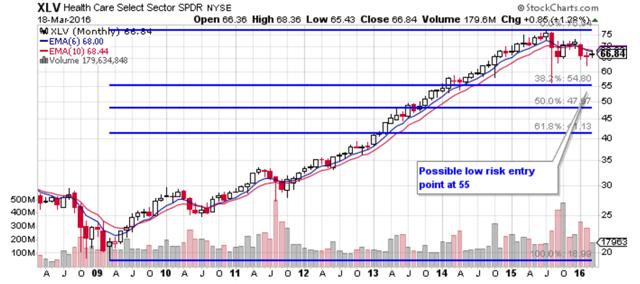 Click to enlarge
Summary
In my opinion the long term positives outweigh the risks of investing in the health care sector. I believe that the patient investor will be able to buy XLV around $55 per share if the overall market declines as I expect it to do. Currently, XLV is selling for 15 times forward earnings of $4.42 according to State Street Global Advisors. If XLV declines to $55 it will be selling for a little over 12 times forward earnings. State Street also believes that the 3-5 year EPS growth is expected to be above 10%. Paying 12 times forward earnings for 10+% earnings growth for the next 3-5 years seems very compelling to me. Additionally, that investor would receive a dividend yield of 1.93% based on a trailing 12 month distribution of $1.0616 at a $55 share price. I believe this offers outstanding value that will reward investors for years to come.
Currently I own MRK, AMGN, and GILD in my individual stock accounts. I will be a buyer of XLV if the $55 level is reached as I like its long term prospects. For me, I need to plan my trades and trade my plan.
Disclosure: I am/we are long AMGN, GILD, MRK.
I wrote this article myself, and it expresses my own opinions. I am not receiving compensation for it (other than from Seeking Alpha). I have no business relationship with any company whose stock is mentioned in this article.