Enbridge (NYSE:ENB) is a Canadian mega-cap pipeline and energy storage company that gets covered a lot in articles praising it for its dividend/dividend growth. As a large-cap dividend grower, it has received ample coverage given the current fetish with this investing style. It is currently the 8th biggest Canadian company by market cap. This position floats around, but it is generally in the top 10.
First, let's give Caesar what belongs to Caesar. Enbridge's fans sing its praises for reasons I cannot state better than it is stated on the company's own website:
"Enbridge has paid dividends for over 63 years. The annualized dividend is currently $2.12 per share, and has been increased in each of the last 21 years. Over the past 11 years the dividend has delivered average compound annual growth of 14% and in 2015 announced a 14% increase for 2016. We expect that our highly transparent growth outlook will translate into 14-15% dividend growth between 2015 and 2019. Enbridge's target dividend payout is between 40 to 50 per cent of earnings, providing a healthy balance between returning income to shareholders and retaining income for reinvestment in new growth opportunities."
Seems pretty legit. In fact, an investment in 100 shares 10 years ago at $17.22 would have given you 181% price appreciation, counting for 1 split, and a 234% total return if we count dividends (not reinvested). Not too shabby.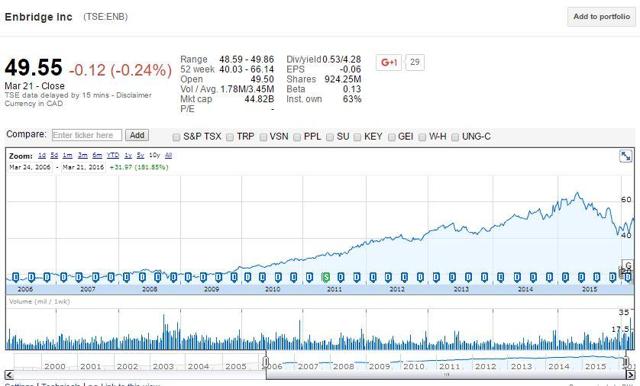 Click to enlarge
Source: googlefinance.com
In the 3-month period covering December 2015-February 2016, Enbridge's yield briefly touched 5%, which was the first time that had happened since 2002 (it was yielding 2.75% in April 2015). We know that years of rock-bottom interest rates in the developed world have investors reaching for yield wherever it can be found, and many dividend growth stocks have thereby been pushed to nosebleed levels. Here we have the opposite scenario, where the market was pricing in a fair bit of risk. Remember that although it is not an oil company, Enbridge is in the TSX Composite energy sector, so it was not immune to the broader market selloff and volatility that was happening in those months. But something else was going on. Despite the steady stream of positive coverage, Enbridge is consistently one of the top shorted stocks on the TSX. As of last Friday, it was at #7. What opportunity do the bears see?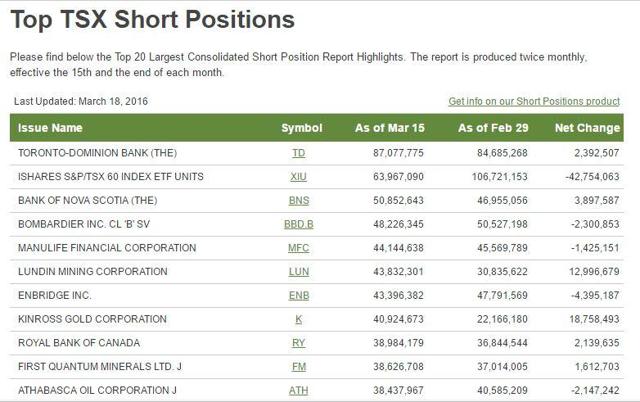 Click to enlarge
Source: tmxmoney.com
First thing I note is that the dividend statement from the company's website says that dividends are to be paid from 40-50% of earnings. Except that hasn't happened in the last four years. Whoops.

Click to enlarge
Source: googlefinance.com
I found the answer elsewhere on the company's website. It's "adjusted cash flow from operations" not earnings. Most of the time you read complaints about big companies hoarding piles of cash to buy back stock and pay dividends rather than reinvesting in their businesses or the broader economy. What I read here is a utility company being run like an REIT.
The short case was succinctly made by a portfolio manager named Patrick Horan when he appeared on BNN (Canada's CNBC) last October. Shorting the stock was one of his top picks because, he said, the company is a serial equity issuer and has too much leverage. His call was correct in October 2014 if we look at the tale of the tape where you could have made some money between then and the January bottom. Actually, he would still be in the black today if his position was still open: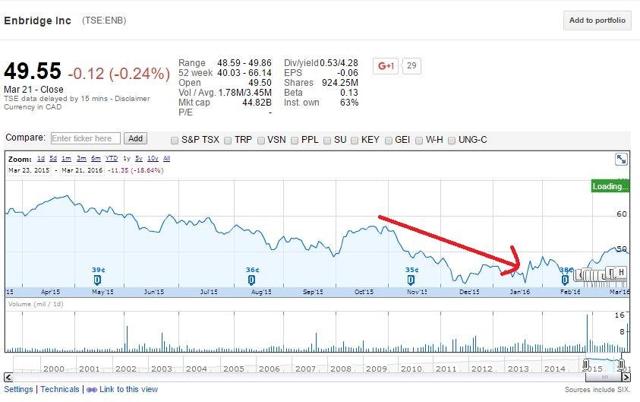 Click to enlarge
Source: googlefinance.com
A quick look at the balance sheet over the past year does indeed reveal a steadily rising share count, to the tune of 12.5%. So far, so good: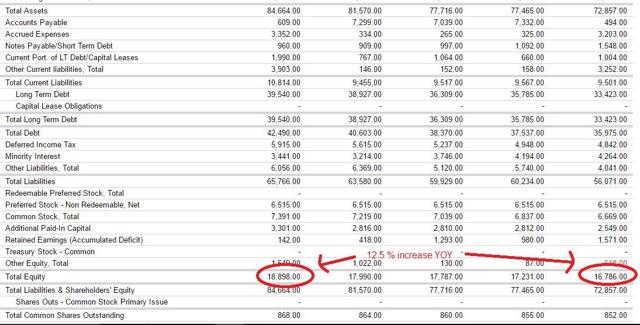 Click to enlarge
Source: googlefinance.com
It turns out upon further research that he was also recommending shorting as early as June 20, 2014. Now we have to look at the 5-year chart to see how this sticking the neck out on Enbridge has worked out for Mr. Horan, who is obviously a lot smarter than me since he is on TV.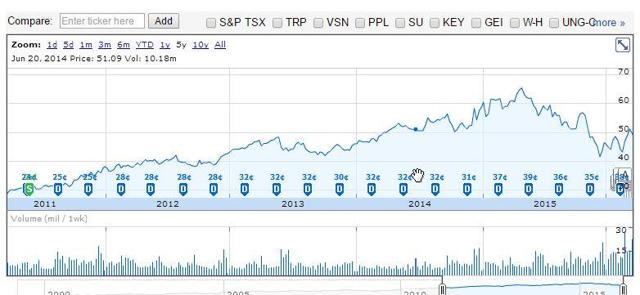 Click to enlarge
Source: Googlefinance.com
If you were short 100 shares on June 20, 2014 (when the stock was trading at $51.09), you would have paid $539 in interest ($5,109 * 0.06/12* 21 months) since then, assuming a 6% margin interest rate plus $309 in dividends. This means that even though the stock is currently down 3.9% from June 2014, your position is down 12.6% and counting.
Now we must give Horan the benefit of the doubt. As anyone who has seen Christian Bale's character performance in the film The Big Short knows, sometimes you can see something that is not readily apparent to the market. You end up looking like a foaming at the mouth crazy person while the market comes around to your view.
To accomplish the evaluation of whether Enbridge is the screaming short this person said it was, we must review Enbridge's complicated and somewhat Byzantine ownership structure:
There are 924 million common shares outstanding on the TSX and the NYSE for a combined US market cap of $35 billion or $46 billion Canadian. That takes up 53 cents per share per quarter of revenue or about $490 million Canadian ($351 million USD).
Next we look at Enbridge's 18 different series of preferred shares: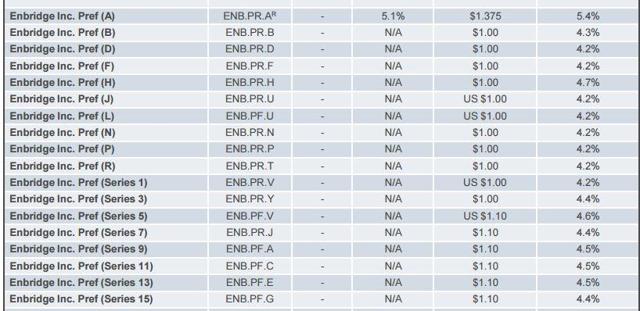 Click to enlarge
Source: Enbridge.com
There is $6.515 billion of preferred share equity on the balance sheet (Source: Google Finance) which has held steady for the past year. This can be broken down into three types. First, we have $125 million of Canadian Perpetual Preferreds (Series A) that can be bought back at any time. These are costing $1.725 million per quarter in dividends. Then we have 13 series of Canadian dollar preferred shares that total $4.85 billion in equity and create a combined annual $218.6 million drain on cash.
Here is another breakdown of just the Canadian preferreds:

Click to enlarge
Source: CIBC World Markets February 2016 Preferred Share Report
All of the Canadian preferreds besides the perpetuals are rate resets, meaning they reset at a lower rate than the initial coupon. These were a popular way to raise equity in Canada post-financial crisis. Now because they are resetting at lower rates over the next few years, they are trading way below their $25 par value (around $16 or $17 and some as low as $13 or $14) and have a higher yield for new investors, like the ENB.PR.J, currently yielding 6.9%.
Finally, we have the USD preferreds: ENB.PF.V ($200 million), ENB.PF.U ($400 million), ENB.PR.V ($400 million) and ENB.PR.U ($200 million) for a total of $1.2 billion USD, costing just over $40 million USD a year in dividends.
Then there is the Enbridge Income fund (TSX: ENF). This is a vehicle that the company, through complex transactions, drops assets down into and pays the assets income out of. Enbridge owns just over two-thirds of this thing, which has just under $3 billion of market cap. We can look at it as representing between 5-10% of Enbridge equity even though it is a separate entity. It also requires a $62 million a year payout, which is more than covered since it comes from high-return assets. This fund is designed to appeal to "income investors" hence its name. The structure of it is very favorable to Enbridge because the bottom line is that it gives Enbridge another way to raise equity that costs less than it normally would.
There is also a 33% interest or $2 billion stake in Houston-based Enbridge Energy Partners (NYSE: EEP), currently losing money and yielding 13.58%, and a wholly owned subsidiary called Enbridge Energy Management, trading on the NYSE under the ticker EEQ. This is the "Limited Partner" in the Enbridge Energy Partners Limited Partnership and it pays no dividend, is down 50% on the year and has negative $7 earnings per share on the current $18 stock price. Finally, there is the Delaware-listed Midcoast Energy Partners L.P (NYSE: MEP), another partner in this US web of companies that has a market cap of $200 million, is losing money (negative $5 earnings per share at the current share price) and is apparently still paying a 35 cent quarterly dividend which means that it currently has a yield over 25%.
The company just issued another $2.3 billion of equity in Canada at the beginning of the month in a bought deal which was oversubscribed. The company is viewed as shareholder friendly and that view actually culminated at the start of the oil crash in December 2014, when Enbridge began the huge restructuring that caused the shares to pop the most in one day since 1987. Bondholders were not happy on December 5th, 2014 when they learned that debt was being transferred to Enbridge's subsidiaries along with assets, but Enbridge has not been shy about raising debt and equity to fund its growth program ever since. The results are mixed so far but the company thinks this is the best way to create value and history will bear out whether it was correct or not. I'm just looking at the back of the envelope calculation from my rundown above which reveals $2.22 billion of annual dividends, preferred and common, that must be paid from $3 billion in operating income right now. Plus there is 10-12% annual dividend growth committed to through 2020 on the common, plus all the uncertainty around pipelines and oil sands development in Canada, plus $39 billion in long-term debt, up 18.3% YoY. That Limited Partnership business in the US is small potatoes compared to the overall size of the company, but it looks like a mess too.
I'm not going to say short Enbridge because those who know me know that I don't believe in the unlimited risk of shorting a stock. If you are truly bearish on energy, there are names that are way more volatile and in way worse shape than this one that you could go after. At the same time, I find all this leverage and financial engineering unimpressive. Yes, the company owns the largest network of gas distribution in North America and has a decades-long reputation built up, but I think it is getting a bit fat and happy in this position. A quick comparison to some of its competitors reveals underperformance in just about every metric geared toward long-term value creation:

My calculations based on Yahoo Finance
These are all forward P/Es and are normal for this industry, but there's no lipstick on this pig: Enbridge's debt to equity and enterprise value to EBITDA are off the charts compared to other pipeline companies. It says on its website that 95% of its revenues are immune to commodity price fluctuations and 95% of its clients are investment-grade borrowers, but that does not explain to me why it has the worst return on assets out of this bunch.
The bottom line? As a value investor, I don't like it. I don't want to buy it right now. But shorting a stock with a beta of 0.13 to me is just crazy. If oil has bottomed, which I think it has (and I could be wrong! Like everyone), I think the best way to play this is using a neutral strategy like a long iron condor into the summer. The stock was not driven by sentiment in energy during much of its history but it is now. A low cost, non-directional strategy would therefore seem appropriate to me. For example, I see on the following list that an iron condor with the July 48 and 52 calls and 46 and 42 puts can be put on for about $160 and will give a relatively wide profit zone.

Click to enlarge
Source: tmxmoney.com
That is the only way right now I can see a good trade around all of the uncharacteristic uncertainty in this very boring (and frankly, hard to understand) stock.
Disclosure: I/we have no positions in any stocks mentioned, and no plans to initiate any positions within the next 72 hours.
I wrote this article myself, and it expresses my own opinions. I am not receiving compensation for it (other than from Seeking Alpha). I have no business relationship with any company whose stock is mentioned in this article.