The Federal Open Market Committee (FOMC) meeting last week was important for Bank of America (NYSE:BAC) holders, but in a more complex manner than may have been expected. The Fed's rate policy plans are critically important to the profit margins of the bank. However, the health of the American economy is even more important. That's why the actions and statements of the Fed really produced the best result for BAC. Call it a Goldilocks-type result, because the Fed backed off the brakes enough to ensure the economy continues to grow, but at the same time, it continues to anticipate two rate hikes this year and four next year. That's why I say Goldilocks would call the Fed's actions just right for Bank of America today.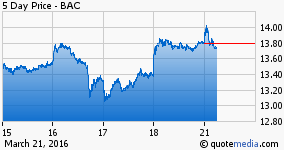 Five-Day Chart of BAC at Seeking Alpha
The five-day chart of BAC's shares shows a wild swing last week catalyzed by the FOMC monetary policy meeting. The bank's stock turned significantly lower Wednesday just after the FOMC published its release, but almost immediately thereafter, it started climbing back up. By Friday, when I initiated this article, the stock was already higher than it was before the FOMC statement. Here's why.
Most BAC holders would have expected the best result for the bank to have included another FOMC rate hike and an indication of three more hikes this year. While that would be true if the economy was humming along, it probably was not the case last week. That is because the health of the economy is uncertain, and a very hawkish Fed might have been received poorly as a result.
Economic data has been mixed this year, and that has been a great cause of concern for the U.S. equity markets, and certainly banks. GDP growth slowed to 1.0% in the fourth quarter of 2015, down from 2.0% for Q3 2015. For the first quarter of 2016, economists surveyed by CNBC see 1.9% growth on average. Recent retail sales data raised concern as well, after it showed 0.3% growth for February, but only after downward revision to January. None of those figures is indicative of steadfast economic growth, and the most recent quarter raised serious concern about the possibility of recession.
Recession would be far worse than the less aggressive Fed monetary policy we received last week. If the U.S. economy were to fall into recession, unemployment would increase and consumer spending would fall off. Borrowers would increasingly default on loans and bank shares would be penalized for decreasing loan demand and rising defaults on outstanding loans. Profit margins would decline for banks as well in recession, as the Fed would have to take interest rates back to zero to help spur economic activity. So, recession must at all costs be avoided.
One such cost, perhaps, was the Fed's pause of its planned rate hike trajectory. The FOMC forecasts for the Fed Funds Rate came down from four rate hikes for 2016 in December's projections to two hikes forecast for the year in the just published data. It was a disappointment for BAC's holders, but one that was already priced into both the Fed Funds Rate Futures and the bank's shares.
Heading into the FOMC meeting, Fed Funds Rate Futures were indicating a likelihood for just one hike this year, and indicating it might not come until December (75% chance). But BAC shares' year-to-date performance (-17.5%) has certainly accounted for that already. Indeed, by seeking to first preserve economic growth and then normalize interest rate policy, the Fed has made the best choice for BAC's future.
In conclusion, while the result of the FOMC meeting may have seemed unfortunate for Bank of America initially, when considering the importance of economic growth to the bank, I believe holders of the stock received the best possible result, and one that Goldilocks would deem just right. I follow BAC's shares closely and invite relative investors to follow my column here at Seeking Alpha for analysis of relevant events.
Disclosure: I/we have no positions in any stocks mentioned, but may initiate a long position in BAC over the next 72 hours.
I wrote this article myself, and it expresses my own opinions. I am not receiving compensation for it (other than from Seeking Alpha). I have no business relationship with any company whose stock is mentioned in this article.
Additional disclosure: My previous long position via options reached expiration last week. I expect to establish a new long position soon.