Mobile TeleSystems (NYSE:MBT) has published its financial reports (IFRS) for 2015. In general, it looks quite strong compared to its competitors (MegaFon and VimpelCom (OTC:VMPLY)):
Consolidated profit rose 5%, up to ₽431.2 bln;
adjusted OIBDA reduced 2%, down to ₽175.5 bln;
adjusted OIBDA margin amounted to 40.7% (which is 0.7 p.p. higher than the management of MTS was expecting); and
net income reduced 3.5%, down to ₽49.5 bln.
The Russian segment of MTS's business showed a growth in consolidated profit of 4.4%, up to ₽391.2 bln. Revenue from the mobile business rose 5.2%, up to ₽336.5 bln, revenue from data services rose 19.8%, up to ₽77.2 bln, revenue from sales rose 37.4%, up to ₽40.3 bln. OIBDA has reached ₽165.1 bln while OIBDA margin was 42.2%.
Let me remind you that the Russian segment generates 90% of revenue and 94% of OIBDA for the company, so the dynamics of this certain segment are the most important for shareholders.
Financial results of MTS year to year (RUB mln)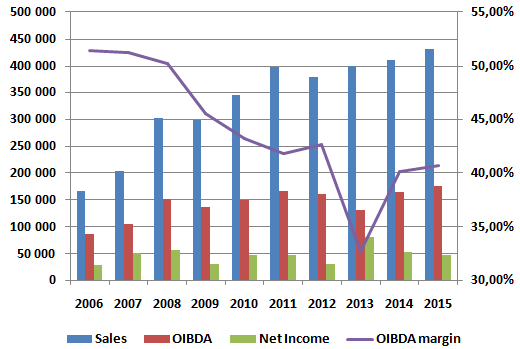 The size of MTS's debt for 2015 has grown 19.3%, up to ₽346 bln (yty). The main reason is a revaluation of the currency part of the debt, which, at the end of 2015, amounted to 32% of the debt. Debt/OIBDA was 2.0x versus 1.6x in 2014, and net debt/OIBDA was 1.2x against 1.0x, which still remains at a comfortable level.
Expectations For 2016
According to management's forecasts, revenue will grow 4% in 2016. Such growth is expected because of the increasing consumption of mobile Internet and sales of phones, growing share of MTS in the broadband market and paid TV for private users, and finally, due to revenue growth in foreign subsidiaries.
Adjusted OIBDA will move between -2% and +1%. Besides, the company has planned to reduce CAPEX (from ₽96.1 bln in 2015 to ₽85 bln in 2016).
Also, from the sale of its subsidiary in Bermuda, MTS received 68 million treasury shares (3.3% of equity), which will be redeemed later. Thus, the funds that were previously directed as dividends under these shares will be redistributed among the remaining shares.
Furthermore, management announced its intention to repay part of the short-term foreign currency debt, which should not exceed $100-200 million. MTS also confirmed the absence of intent to sell the tower infrastructure.
In early April of this year, management plans to declare dividends and to submit a new dividend policy. Under the statement of the Vice President of Finance and Investments Alexey Kornya, the company plans to adhere to the current dividend policy, which claimed:
For the calendar years 2013-2015, MTS aims to payout a minimum dividend distribution of an amount equal to at least 75% of Free Cash Flow for the relevant financial period or, if greater, RUB 40.0 billion per year.
In 2015 ₽52 bln was directed to dividends while FCF was equal to ₽51 bln.
Uzbekistan and Dividends In 2016
Management did not provide any comments about the investigation of the corruption scandal in Uzbekistan. In my article "Mobile TeleSystems' Risks Outweigh Potential Reward," I wrote that the potential fine can be up to $600 mln (or ₽41 billion at the rate USD/RUR = 68), which will amount to almost the entire FCF of the company and can pose a threat to the payment of dividends.
Nevertheless, the positive attitude of the company's management on the conference call makes it clear that it has no intention to greatly reduce dividends. This means one of two things: either it is still convinced that the corruption story will be hushed up and it won't face a fine, or the company will resort to debt capacity to pay the dividends. If the company uses the second option, net debt will rise to ₽256.9 bln and the rate of net debt/OIBDA will rise to 1.46, which is within the comfort range of a debt load. In addition, if the company really can reduce CAPEX to ₽85 billion, it will receive an additional ₽10 billion of FCF in 2016. Based on those considerations, I think that my fear that MTS chooses not to pay dividends in 2016 in case of receiving a fine of $600 million has been exaggerated. The dividends will be paid; the only question is their size.
Conclusion
Since writing my article "Mobile TeleSystems' Risks Outweigh Potential Reward" of March 2, MTS's ADR quotations increased by 8% (and in fact all of the growth was yesterday's news that the dividends will be paid). The ruble during the same period strengthened by the same 8%, which means that in the long-term horizon, exactly this factor is crucial to the shareholder.
The other problem, long term, is the volatility of the ruble. As far as there is no growth potential for business, the ADR price will first of all depend on dividends. If the ruble strengthens, dividends in USD will also grow. If, in the opposite case, the ruble continues to weaken, dividends will fall.
The mood of MTS's management says that the company plans to maintain the current level of dividend payments. Therefore, it is hoped that in April a dividend in the amount of 18-20 rubles per share will be declared. At the rate USD/RUR = 68, we get $0.53-0.58 per ADR (6.5-7.2% dividend yield).
In general, despite the interesting dividend yield, buying MTS still carries the serious risks connected to volatility of the ruble and the risk of a slight deterioration of the credit quality of the company in connection with the investigation in Uzbekistan. If you do not expect a new stage of devaluation of the ruble, a purchase of these shares is of interest. But, as for me, Verizon Communications' (NYSE:VZ) shares or AT&T's (NYSE:T) are more interesting as a result of their stability.
Disclosure: I/we have no positions in any stocks mentioned, and no plans to initiate any positions within the next 72 hours.
I wrote this article myself, and it expresses my own opinions. I am not receiving compensation for it (other than from Seeking Alpha). I have no business relationship with any company whose stock is mentioned in this article.