Penn West Petroleum (NYSE:PWE) had gained strong momentum on the market since the last week of February, but its run was halted by its fourth-quarter results that were reported earlier this month. Though the company's results were weak in light of the drop in oil prices, a key factor why Penn West has dropped over 20% on the market in less than two weeks is because management sees a breach in the debt covenant by the end of the next quarter.
But, in my opinion, this is a good opportunity to go long Penn West Petroleum as the developments in the oil market, along with the company's own steps, will help it stage a comeback. Let's see why.
More debt reduction ahead
Penn West Petroleum has focused not only on reducing its operating costs, but has also made impressive progress as far as reducing its debt is concerned. In fact, as shown in the chart below, the company disposed assets worth $800 million in the previous financial year to bring down its net debt to $2.1 billion: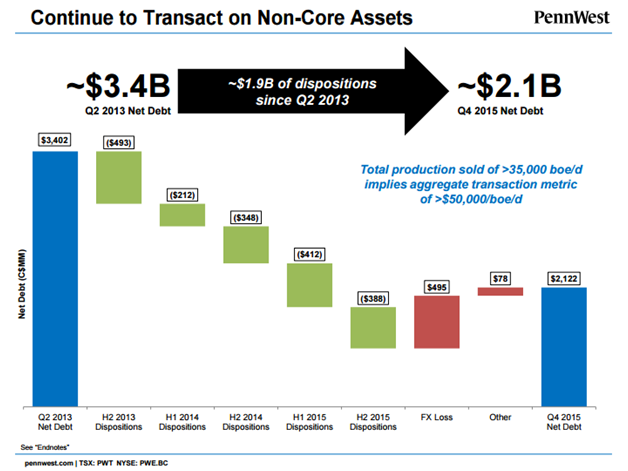 Source: Penn West Petroleum
What's more important is that Penn West has continued to focus on asset sales in order to reduce the debt and the interest burden. On March 21, the company announced that it will be divesting its Slave Point asset in northern Alberta for $148 million. Apart from reducing the debt, this move will also allow Penn West to reduce its operating cost per barrel and also help achieve a drop in the corporate decline rate. As a result, Penn West's overall operating costs will decline further as a result of this move.
On the other hand, Raging River Exploration (OTC:RRENF) is looking to scoop up Penn West's Viking light oil assets on the back of its low debt. As a result of these moves, it is likely that Penn West will be able to bring down its debt further, which will put the company in a stronger position to negotiate the debt covenants with lenders.
Penn West's debt covenant requires that its senior debt to EBITDA ratio remains below 5x. At the end of last year, the company was within the required covenant as its senior debt to EBITDA ratio was at 4.6x. Therefore, more asset sales to reduce the debt will give it a stronger positioning to re-negotiate the covenant with the lenders.
Moreover, the fact that oil prices have once again started rallying will allow Penn West to gradually improve its EBITDA in the coming two quarters, apart from its cost reduction and debt reduction moves. Let's take a look.
Cost reductions and better oil prices could lead to a turnaround
Penn West is following a smart strategy of minimizing its capital expenditure, apart from maximizing its cash flow from operations and free cash flow by selling off its non-core assets. The company is looking to maximize energy production from its key assets where costs are low.
For instance, Penn West has refined its drilling and completion processes by shifting its well completions to a 12 stage-12 ton method as compared to the earlier 15 stage and 15 ton operating plan. This strategic shift has led to cost savings of nearly $300,000 per well, with well productivity remaining the same.
The following tables show the progress that Penn West has made in terms of cost reductions, while the type curve numbers indicate that more cost reductions are possible:

Source: Penn West Petroleum
As shown in the chart above, Penn West was able to bring down its drilling and completion costs throughout last year. Currently, the company's type curve indicates that its drilling and completion costs will drop further this year, correspondingly leading to a decline in the total well cost as well.
Now, as oil prices have been on the ascent of late, a decline in costs will allow Penn West to improve its EBITDA profile going forward. In fact, WTI Oil has breached the $40/barrel mark just recently as compared to the sub-$30 levels that it was languishing at in January. The increase in oil prices is being driven by lower production and robust demand.
For instance, according to the IEA, non-OPEC countries will produce 750,000 barrels per day of oil this year, upgrading its earlier forecast that called for a decline of 650,000 barrels per day. This is a decline of almost 12% as against the production that was achieved last year. The drop in non-OPEC oil production does not come across as a surprise because big shale producers have decided to put a hold on fracking and bring down their capital budgets by huge margins.
Similarly, the biggest oil producers in the world such as Russia and Saudi Arabia are gunning for $50 oil, which is why they are intent on capping production to reduce oversupply in the market. When coupled with an expected increase of 1.2 million barrels/day in demand this year, it is quite possible that oil prices will continue to improve in the future. Hence, it is not surprising to see why big oil companies such as BP (NYSE:BP) believe that global oil supply and demand are all set to regain their balance as inventories decline: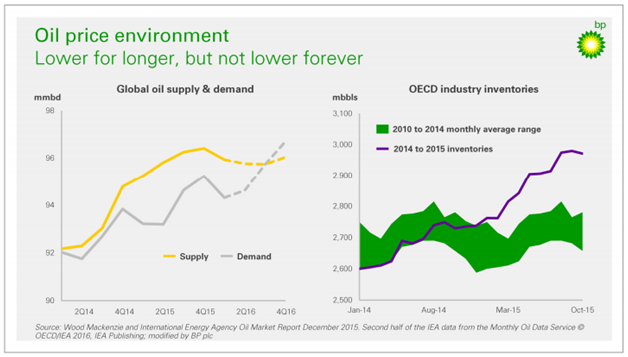 Source: BP
Conclusion
Penn West Petroleum might be in a tight spot currently, but a turnaround cannot be ruled out in the future as the company's focus on reducing costs and lowering the debt will help it recover as oil prices increase. So, I think that it will be a good idea to go long Penn West Petroleum and take advantage of the drop in its stock price of late as it is capable of turning around.
Disclosure: I/we have no positions in any stocks mentioned, and no plans to initiate any positions within the next 72 hours.
I wrote this article myself, and it expresses my own opinions. I am not receiving compensation for it (other than from Seeking Alpha). I have no business relationship with any company whose stock is mentioned in this article.
Editor's Note: This article covers one or more stocks trading at less than $1 per share and/or with less than a $100 million market cap. Please be aware of the risks associated with these stocks.