In Part I of this two-part series, I indicated that the Federal Reserve's pause and dovish tone at its monetary policy meeting last week cleared a path for stocks to climb higher. In this second part, I attempt to address a tougher question: just how high can stocks climb then?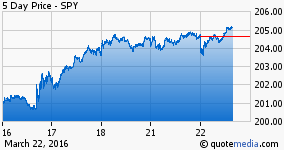 5-Day Chart of SPY at Seeking Alpha
In Part I of this series, I indicated that the Fed's surprisingly dovish tone and its soft Fed Funds Rate forecast cleared a path for stocks to climb even higher. "Even higher," means after coming back from mid-February depths and marking break-even for the year on St. Patrick's Day as we suggested they would in early March. But just how high can stocks climb? I expect that will have everything to do with Fed credibility, or the lack of it now, and economic data. Here's why.
The Fed's significant shift from a seemingly steadfast surge toward monetary policy normalization in December to its March cautionary tone brings its credibility into question in my opinion. Only three months passed and the Fed's forecast for the Fed Funds Rate dropped by 50 basis points. Certainly, this year's economic data raised concern about the ability of our economy to avoid recession, but that same question existed in December when the Fed went ahead with its first rate hike in years. And the Fed Chair's dismissal of inflation signs, in my opinion, raises even more question about its focus on its two Congress given mandates, to maximize employment and to contain inflation. Lately, it has seemed to me to be more focused on overseas phantoms and financial market volatility. Obviously, sub-factors impact the two Fed mandates and deserve consideration, but it still feels like we have strayed.
So if the Fed can change course on a dime, then the market will more critically consider the factors that drive the Fed. Economic data, therefore, will be even more critical to how high the stock market can run. As for the data radar, we'll also need to pay attention to overseas indications, given that the Fed is doing that as well. Oil prices matter too, as does dollar strength and financial market volatility. I think it's clear that we may be in for more volatility given Fed transparency that is analogous to a view into the fog. Even given the uncertainty and volatility I anticipate as data is received, one thing is likely a given moving forward. Basically, bad news is good news again, as long as it's not too bad.
"Bad news is good news again as long as it's not too bad."
If economic data is reported that reflects sluggishness in the economy, but still indicates expansion, then markets will anticipate Fed trepidation. Likewise, if data from China and Europe shows trouble, markets will anticipate Fed refrain. So, bad news is good news, because investors will continue to reward equities as corporations continue to enjoy a very low cost of capital. To the contrary, if U.S. economic data is strong or indications from overseas are positive, stocks should act in a counterintuitive manner and anticipate forward Fed hawkishness.
However, if the news is so bad as to induce fear of recession, then all bets are off. No longer will the market worry about the Fed's plans, but instead penalize stocks due to the unfolding of a tough operating environment. Likewise, if the economic situation is stellar, or if China clearly turns a corner and Europe speeds its growth, then stocks should celebrate an environment where Fed rate hikes are justified and even welcome.
The criteria for market rise or fall that I have laid out here exist all the time. However, I believe because of the Fed's apparent loss of control and credibility, these factors will be exaggerated in their influence on financial markets.
| | |
| --- | --- |
| Security Sector | 03-22-16 |
| SPDR S&P 500 (NYSE: SPY) | -0.1% |
| SPDR Dow Jones (NYSE: DIA) | -0.2% |
| PowerShares QQQ (NASDAQ: QQQ) | +0.2% |
| iShares Russell 2000 (NYSE: IWM) | -0.1% |
| Vanguard Total Stock Market (NYSE: VTI) | -0.1% |
| Financial Select Sector SPDR (NYSE: XLF) | -0.3% |
| Technology Select Sector SPDR (NASDAQ: XLK) | +0.0% |
| Energy Select Sector SPDR (NYSE: XLE) | -0.5% |
| Health Care Select Sector SPDR (NYSE: XLV) | +0.9% |
| Consumer Discretionary Select Sector SPDR (NYSE: XLY) | -0.2% |
| Consumer Staples Select Sector SPDR (NYSE: XLP) | -0.7% |
| Utilities Select Sector SPDR (NYSE: XLU) | -0.3% |
| Materials Select Sector SPDR (NYSE: XLB) | -1.1% |
| Industrial Select Sector SPDR (NYSE: XLI) | -0.6% |
| iPath S&P 500 VIX ST Futures (NYSE: VXX) | -1.1% |
| SPDR Gold Trust (NYSE: GLD) | +0.3% |
| United States Oil (NYSE: USO) | -0.5% |
So I have not given a number or level to look to with regard to a market index or ETF, but instead supplied signals to watch for direction and velocity. I think that's the best advice anyone can give. Stocks should, however, operate within a parameter dictated by the Fed's wish to normalize monetary policy and the economic situation. And I believe that dictates equities likely trade within a range marked by past highs and lows. No new territory should be explored unless the situation changes in a more profound manner by some unknown black swan or the escape of the global economy back toward stable growth. For my regular market musings and analysis, I welcome investors to follow my column here at Seeking Alpha.
Disclosure: I/we have no positions in any stocks mentioned, and no plans to initiate any positions within the next 72 hours.
I wrote this article myself, and it expresses my own opinions. I am not receiving compensation for it (other than from Seeking Alpha). I have no business relationship with any company whose stock is mentioned in this article.