While the paradigm shift to cloud computing is still in the early innings, it is driving record leasing results for the landlords who own and develop state-of-the-art data center facilities.
DuPont Fabros (NYSE: DFT) is now the only one of the six data center REITs pursuing a wholesale strategy exclusively.
Wholesale requirements are typically 2 MW or greater of critical load. Hyperscale public cloud customers often take down larger chunks of data center capacity of 10 MW or more.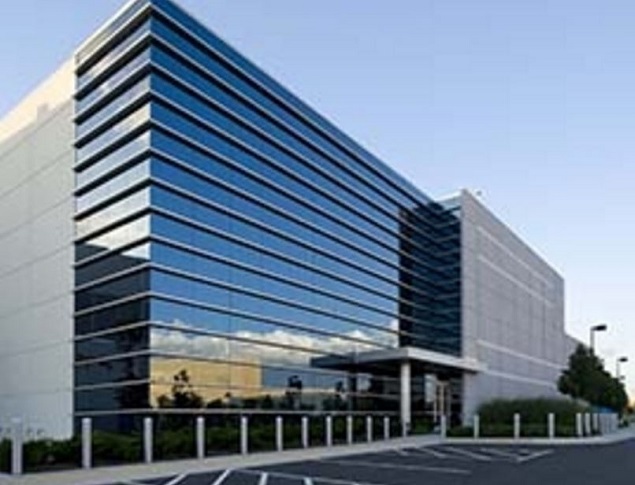 Source: DFT - ACC5 Ashburn, VA (360,000 SF - 36.4 MW critical power)
DFT Q4 2015 Record Leasing
Leasing has been fast and furious for DuPont Fabros, and they are literally running out of product to offer customers. DFT's 12 data center portfolio, containing 266 MW of critical load, was 98% leased at the end of last year.
During Q4 2015 alone, DFT signed a dozen leases totaling a record 32.3 MW of critical electrical load.
If you aren't familiar with data centers, that is a tremendous amount of customer demand. By way of comparison, non-wholesale data center markets like Los Angeles and Northern New Jersey have only generated ~2 MW of leasing in small increments over 12 months.
The top wholesale data center markets include Northern Virginia, Dallas/Fort Worth, Chicago and Silicon Valley. While DuPont Fabros does not have a Dallas presence, it is scoring huge wins in the other three top U.S. wholesale markets.
DFT 2016 Leasing Momentum
On March 17, DuPont Fabros announced that it had signed another 27 MW of critical load with existing hyperscale and large wholesale:
One pre-lease of the entire third phase of SC1, comprised of 16.00 MW and approximately 64,000 CRSF.
One pre-lease of a portion of CH2 Phase III, comprised of 7.11 MW and 44,628 CRSF. This lease is expected to commence in the third quarter of 2016 when CH2 Phase III is placed into service.
One pre-lease of a portion of CH2 Phase II, comprised of 2.84 MW and 17,830 CRSF. This lease is expected to commence in the second quarter of 2016 when CH2 Phase II is placed into service.
Expansions of available critical load of an existing lease at CH2 Phase I and an existing pre-lease at CH2 Phase II. These expansions totaled 1.16 MW of critical load.
Previous phases in Santa Clara were only generating 9.25% ROIC. Notably, the estimated GAAP unleveraged return on investment of SC1 Phase III is 11.3% to 11.7%. DFT estimates it will spend $164-$170 million to complete SC1 Phase III and commence this lease in the third quarter of 2017.
A Happy Problem
It was abundantly clear to me when I wrote up the DuPont Fabros Q4 2015 earnings call for Data Center Knowledge, the DFT wholesale business plan was firing on all cylinders. I concluded that management needed to accelerate its development timetable.
In January 2016, DFT had announced it was exiting the New Jersey market because it isn't a viable pure wholesale market. During the Q4 2015 conference call, management guided that they would wait for the sale of NJ1 to help fund a West Coast market expansion after Toronto.
I certainly applaud CFO Jeff Foster and Eldredge for their conservative approach to balance sheet management. (They have drawn a line in the sand that net debt to adjusted EBITDA would stay below 5x, despite significant new construction).
However, Foster also mentioned on the Q4 earnings call there were plans for new equity issuance in 2016.
The company intended to fund its growth in 2016 from cash, cash flow and existing debt facilities. Management guided that the pace of development could be accelerated by proceeds from the sale of its New Jersey data center.
However, the new leases signed by DuPont Fabros during 4Q 2015 were literally off the charts compared with historical activity.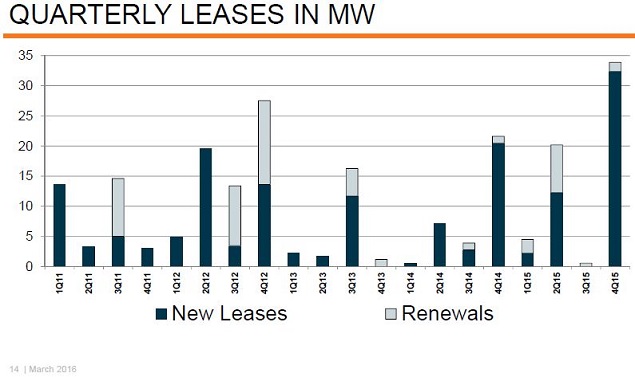 Source: DFT - March 2016 (for all non-attributed slides)
Something had to give in order for DuPont Fabros to have product to deliver, given the huge backlog and a leasing pipeline which is even stronger than last year.
DFT Steps On The Gas
In addition to the 27 MW of leasing, on March 17, 2016, DFT also announced entering into an agreement to acquire a 46.7 acre parcel of land in Hillsboro, Oregon, for a purchase price of $11.2 million.
This acquisition is being made in connection with DFT's recently announced plan to expand its data center development and operations into one or more new markets over the next several years. DFT expects to complete the acquisition in the second quarter of 2016.
This is great news for DuPont Fabros shareholders as management apparently had no choice but to move up its conservative timetable.
Both Portland and Phoenix had made it all the way to the final cut, but Hillsboro, Oregon (east of Portland), is now officially the next DFT pin in the map after Toronto.
The company announced an equity offering on March 17, immediately following the great leasing news. Remember, this has not been an easy market for non-investment grade REITs to raise capital.
However, despite DuPont pricing the underwritten offer at $37.75 per share and upsizing the offering from 5,500,000 to 6,620,000 shares, DFT shares continued to trade higher.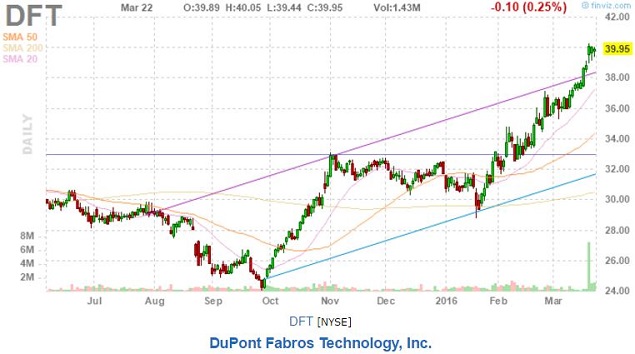 During the past 52 weeks, DuPont Fabros has traded in a range of $24.11-$40.31 and shares are trading near all-time highs.
On March 22, DuPont Fabros confirmed that the 933,000 share underwriter option was fully subscribed, resulting in $287.4 million of gross proceeds.
Usually, a REIT share price will dip down, even if just briefly, on a secondary share offering. However, in this case, investors hoping to buy that dip were shut out.
A Red-Hot Sector
During the past couple of years, the entire group of publicly traded data center REITs has been top performers vs. the broader market and REIT sector. All data centers aren't designed to perform the same functions. Each of these six data center REITs offers a different assortment of products and services.
However, enterprise customers simply focus on deploying the best IT solutions, so there is plenty of overlap between the various REIT business strategies.
There is a continuum among data center REITs with DuPont and industry pioneer Digital Realty (NYSE: DLR) anchoring the large footprint or wholesale end of the spectrum. At the retail end, Equinix, Inc. (NASDAQ: EQIX), now the largest REIT by market cap, tracks its revenue by the cabinets leased to its customers.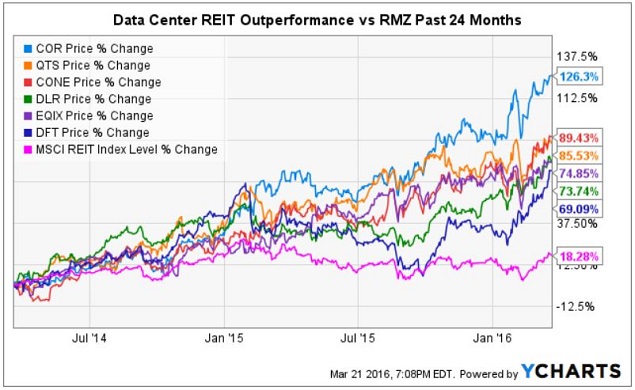 Equinix is focused on global interconnection, leasing to thousands of customers who tend to cluster around hundreds of network and cloud providers to form industry ecosystems.
Digital decided to expand into retail colocation and interconnection last year with the acquisition of Telx. Meanwhile, Equinix is now Digital Realty's third-largest customer based upon revenues.
The other three data center REITs - CoreSite Realty (NYSE: COR), QTS Realty (NYSE: QTS) and CyrusOne (NASDAQ: CONE) - operate in an overlapping colocation/interconnection space, with some strategic or opportunistic wholesale to anchor new facilities.
CoreSite has a connectivity focus in its major U.S. markets. QTS offers a full-range of solutions, including cloud and managed services, with a focus on security and compliance and CyrusOne has an enterprise focus, targeting Fortune 1000 customers.
Most notably for investors, these three smaller REITs have each demonstrated the ability to grow rapidly while delivering mid-teen ROIC on new development phases in existing shell space.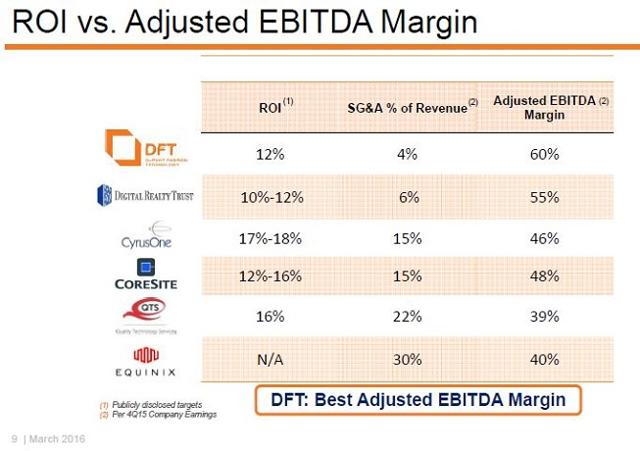 DuPont Fabros is a way for investors to bet on a wholesale pure-play entry in the data center REIT derby.
One advantage of a pure wholesale data center REIT business model is lower SG&A expenses, which contribute to sector leading EBITDA margins.
Bottom Line
At the end of last year, I took a long look at all of the REIT sub-sectors. It became apparent to me that data center REITs were uniquely positioned to continue to grow, even in the face of slowing global GDP forecasts, weaker growth in China and sluggish demand for oil and other commodities.
During 2016 data center REITs have outperformed vs. the broader equity REIT sector, technology sector and global equity markets.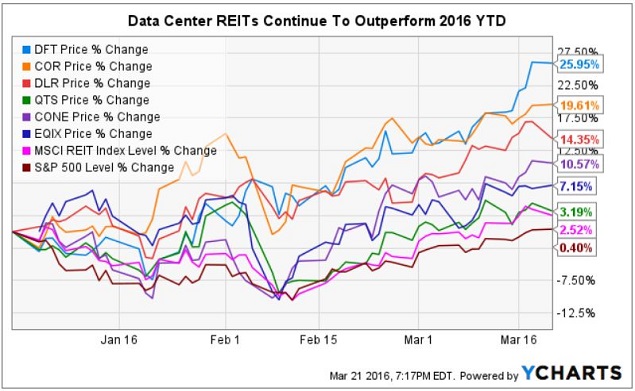 Based upon Mr. Market's reaction to DFT's recent leasing successes and expansion plans, DuPont Fabros has recently unseated CoreSite Realty as the best performing data center REIT in 2016.
Kudos to DFT management for executing on its vision. DuPont Fabros recently presented at two analyst conferences. My next DFT focus article will take a closer look at the five-year growth plan management has now shared with investors and analysts.
Investor Takeaway
Notably, DFT derives 60 percent of its revenue from its top four customers: Microsoft (NASDAQ:MSFT), Facebook (NASDAQ:FB), Rackspace (NYSE:RAX) and Yahoo (NASDAQ:YHOO).
However, this tenant concentration may now be viewed more positively by investors, since hyperscale cloud providers have accelerated capex spending, DuPont's ROIC is improving, and long-term leases are being signed with creditworthy customers.
DuPont Fabros has now announced plans to open facilities in two more markets where new and existing customers are likely to expand.
I like the idea of owning DFT along with the other data center REITs. I think as a group they will continue to outperform both the RMZ and S&P 500 during 2016 on a total return basis.
I continue to recommend this sector for long-term investors. Back in January I suggested a DIY Smart Beta strategy of owning the entire data center sector on an equal weight basis.
That is one way for investors to diversify the concentration risk currently baked into owning DFT shares, taking advantage of this REIT's projected growth.
On March 22, Barclays raised its target price for DFT by another three dollars to $45 per share, following a boost in February from $39 to $42 per share. This implies another 12.5% leg-up above DuPont's brand new $40 per share trading range. DuPont Fabros also pays a well-covered quarterly distribution yielding 4.7%.
I would wait to initiate a position for an inevitable pullback when the Fed sounds a bit more hawkish or Mr. Market decides that REITs aren't the flavor of the month.
I relentlessly hunt for diamonds in the rough and rising stars, in addition to closely following data centers, covering REIT blue-chips, and breaking news. Please consider following me as a Seeking Alpha author if you would like to be notified when my future articles are published.
Disclosure: I/we have no positions in any stocks mentioned, but may initiate a long position in DFT, CONE, COR, QTS, DLR, EQIX over the next 72 hours.
I wrote this article myself, and it expresses my own opinions. I am not receiving compensation for it (other than from Seeking Alpha). I have no business relationship with any company whose stock is mentioned in this article.