You really have to hand it to Linn Energy (NASDAQ:LINE), it has to be one of the most tone-deaf companies out there. After saddling its unitholders with A Surprise Tax Bill last year after its debt exchange, the company seemingly wanting to make amends, is offering unitholders the option to exchange one unit of "LINE" for one share of "LNCO" LinnCo (NASDAQ:LNCO). Quite frankly, this seems like a poor deal for a variety of reasons as outlined in this article.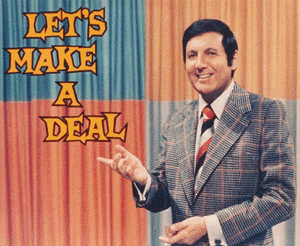 LNCO is in much worse shape than LINE
Believe it or not, despite LINE being on the verge of bankruptcy, LNCO is in an even more precarious position. LNCO had income taxes payable of $30 million as of December 31, 2015, yet only had cash on hand of $11 million. This $19 million cash shortfall is a big problem as LNCO's only real asset are units of Linn Energy, which no longer pay a distribution. In other words, the only source of cash for the company is not providing any. This inability to address the tax obligation was reason enough for LNCO's auditors to question its ability to continue as a going concern.
Needless to say, a company that only assets are near-insolvent LINE units and has a negative cash balance after it pays its taxes is not worth much if anything at all.
LINE is worth more than LNCO
Let us go through the two possible scenarios.
If LINE is worthless, then LNCO is at best also worthless.
If LINE has some value, then the LNCO shares have this value minus the $19 million cash tax shortfall (~$0.15 per share).
Unsurprisingly, the market is pricing LINE and LNCO at around this level. As of this writing, shares of LNCO are trading at $0.50 and LINE units are at $0.60. This is a $0.10 per unit premium for LINE over LNCO, close enough to $0.15.
As a result, if a LINE unitholder were to trade the units one for one for LNCO shares, they'll be giving up this premium, which also happens to be a sizable 20% of the current unit price.
The upshot for LINE unitholders is that they'll no longer face the surprise taxes coming from cancellation of debt income flowing down to each partner's schedule K-1 forms. Rather, this tax burden, if it were to occur again, would be handled at the c-corp level by LNCO. Though, given LNCO's inability to pay the taxes from the first debt exchange, this does not seem like a much better deal.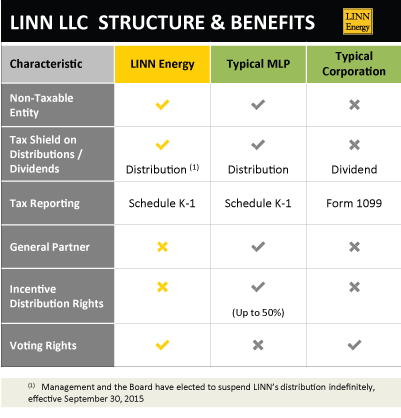 Is LINE looking to do another debt exchange?
Lastly, this LINE/LNCO exchange offer raises an interesting question -- Is LINE looking to do another debt exchange? The passage from the press release is vague, but it is interesting:
The purpose of the Exchange Offer is to permit holders of LINN units to maintain their economic interest in LINN through LinnCo, an entity that is taxed as a corporation rather than a partnership, which may allow LINN unitholders to avoid future allocations of taxable income and loss, including cancellation of debt income, that could result from future debt restructurings or other strategic transactions by LINN.
Future debt restructurings or other strategic transactions? I mean, sure, it could happen. There have been some hopeful signs that something may be in the works. LINE's debt has rallied after the 10-K was filed, which is odd. And there are also indications that lenders do not want to deal with the aftermath of a large oil producer going under. With $10 billion in debt, LINE would be by far the largest oil company bankruptcy in the current energy rout. Plus, oil has rebounded in recent days.
Though, I doubt it will happen. LINE's 10-K painted a nightmare scenario where the company is mere weeks away from triggering a disastrous chain of defaults, cross defaults and debt repayment acceleration. They even admitted that a Chapter 11 Bankruptcy may be unavoidable. To avoid this fate, LINE would need waivers from its creditors, a cash infusion, debt and or interest reduction, among other major concessions. I do not think there is enough time.
Disclaimer: The opinions in this article are for informational purposes only and should not be construed as a recommendation to buy or sell the stocks mentioned. Please do your own due diligence before making any investment decision.
Disclosure: I/we have no positions in any stocks mentioned, and no plans to initiate any positions within the next 72 hours.
I wrote this article myself, and it expresses my own opinions. I am not receiving compensation for it (other than from Seeking Alpha). I have no business relationship with any company whose stock is mentioned in this article.
Editor's Note: This article covers one or more stocks trading at less than $1 per share and/or with less than a $100 million market cap. Please be aware of the risks associated with these stocks.