SolarCity (NASDAQ:SCTY) has experienced serious downward pressures over the past few months, largely as a result of growth issues. As rapid growth has traditionally been one of the company's greatest strengths from an investment standpoint, its rather sudden growth slowdown is certainly troubling. SolarCity's latest quarterly results were so disappointing from a growth standpoint that the company lost approximately one-quarter of its value almost immediately following the earnings release.
SolarCity has clearly not been exempt from recent major residential solar headwinds. The increasingly harsh financing and policy environment in residential solar is undoubtedly taking a toll on the company. Despite these mounting challenges, it is still well positioned in the long run. The company has proven its ability to adapt in a rapidly evolving industry, and will likely remain a dominant force for the foreseeable future. Despite the growing concerns surrounding the health of the rooftop solar industry, SolarCity's long-term prospects remain strong.
Quick to Adapt
Very few solar companies have been able to maintain a foothold in the constantly evolving rooftop solar industry. Residential solar, in particular, has proven to be an incredibly difficult market to operate in, given its complexities. Only SolarCity and a handful of others have been able to cement a dominant presence in residential solar over the past few years. Much of the company's success in this industry has been due to its innovative and adaptable nature.
SolarCity continues to prove that it can adjust to an increasingly harsh residential solar environment. Most notably, it has started to focus on higher-quality growth and on improving its near-term financials. The company's increased focus on its financials is especially important given the growing skepticism surrounding long-term residential solar products. As the financial markets are becoming less certain regarding the value of long-term residential solar contracts, SolarCity's growing focus on more tangible financial metrics like cash flow (as opposed to retained value) will be vital in winning back investor confidence.
In addition, the company appears to be gaining influence on the policy front. While the industry as a whole has experienced some major policy blows over the past few quarters, SolarCity is still doing a good job of influencing the narrative. For instance, it helped engineer the enormous backlash against Nevada's anti-rooftop solar policy by rousing public, political, and even celebrity sentiment. As a result of this intense backlash, the state implemented a slightly less harsh version of the original ruling. Moreover, the unexpectedly intense backlash to Nevada's decision will likely serve as a deterrent for similar rulings in the future.
Most recently, SolarCity organized an event at Elon Musk's Gigafactory in order to sway Nevada's top politicians and government officials on the issue of solar. The company even invited celebrities like Leonardo DiCaprio in order to further bolster its solar agenda. With electric utilities starting to ramp up their battle against rooftop solar, SolarCity is smart to focus more of its attention on the policy front. It is doing a great job of leveraging the overwhelming public support for solar.
SolarCity is doing a great job of rousing public support for solar. Here is a picture of SolarCity CEO, Lyndon Rive, posing with other influential individuals at his event.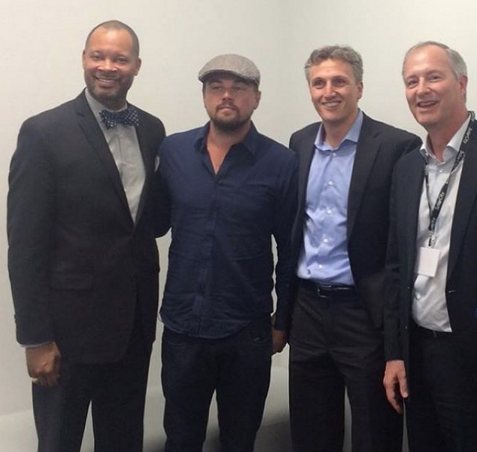 Source: Electrek
Expanding to Other Markets
While SolarCity has been experiencing troubles in residential solar, it has been making great progress in the commercial solar market. As commercial solar is comparable to residential solar in terms of market size, the company's progress on this front is highly encouraging. Establishing a strong presence in the commercial solar market will likely be vital in pushing the company to new heights.
SolarCity's commercial solar business grew 82% YOY in Q4, and now makes up for approximately one-fifth of the company's total installations. In contrast, its residential solar business only grew 49% YOY in Q4, and is expected to continue experiencing relatively slower growth in the coming quarters. What's more, SolarCity is far ahead of its main competitors, Vivint Solar (NYSE:VSLR) and Sunrun (NASDAQ:RUN), on the commercial front.
SolarCity is also expanding its operations internationally, which should help reduce growth volatility by reducing the impact of region-specific issues. By expanding operations to multiple countries, it should see far smoother growth moving forward. Although it still has a small presence outside of the US, the company is also ahead of its rivals on this front. SolarCity has clearly demonstrated that it is more adaptable to changing circumstances than its competitors.
Downsides to SolarCity's Mindset
Much of SolarCity's success can be attributed to its innovative and risk-taking nature. Unfortunately, this mindset has also created some problems for the company. Most notably, SolarCity has had to eliminate its highly unique MyPower solar loan product due to its relatively complex and confusing nature. What it initially thought would be a game-changing loan product turned out to be far less popular than imagined. If the company started out with a simpler and more generic loan program as opposed to a highly complex one, it could have avoided this debacle.
In addition, SolarCity's highly ambitious solar module manufacturing plans are not progressing as smoothly as expected. While the ultimate outcome of its manufacturing ambitions is still far from certain, the company at least appears to have underestimated the difficulties associated with large-scale module manufacturing. The complete ramp-up of SolarCity's Buffalo manufacturing facility has been delayed by approximately two years, which could be crippling given the rapid pace of progress in photovoltaics.
Conclusion
Despite the numerous headwinds facing residential solar, SolarCity is still undervalued at its current market capitalization of $2.6 billion. The company's drop in value over the past few quarters more than accounts for the mounting obstacles in the industry. SolarCity created approximately $200 million of value in Q4 alone (using the company's assumptions), and will likely continue to grow at a solid pace in the long run. With approximately 2 GW of cumulative installations, it is building out one of the most impressive solar fleets in the entire industry.
Disclosure: I am/we are long SCTY.
I wrote this article myself, and it expresses my own opinions. I am not receiving compensation for it (other than from Seeking Alpha). I have no business relationship with any company whose stock is mentioned in this article.