Church & Dwight (NYSE:CHD) joined the S&P 500 on Monday December 28, 2015. For those in the investment arena, it is known that is a big deal. It could be compared to being a race car driver and becoming an entrant in Formula 1 racing. So what is Church & Dwight? Church & Dwight is a manufacturer of household consumer and personal care products. The brands they carry include the following:
ARM & HAMMER: Leading brand of baking soda in terms of reputation. Many of their products are marketed under this brand.
Trojan: Popular condoms with substantial market share.
First Response: Number one selling brand of ovulation and pregnancy test kit in the U.S.
Nair: Number one brand hair depilatory brand in the U.S.
Spinbrush: Leading battery-operated toothbrush brand in the U.S.
OxiClean: Well known laundry stain fighting additive.
Orajel: Number one oral analgesics brand in the U.S.
XTRA: Mass appeal laundry detergent.
The company is divided into three segments, consumer domestic, consumer international, and specialty products. The products listed above fall within one of the segments. In addition to the products listed, Church & Dwight sells other products which don't represent the majority of the company's sales. It is clear the company is a leader or if not, quite competitive in the product category it participates. For this reason, Church & Dwight's stock performance has been superb. Church & Dwight's return for the last 10 years has been 18.17% annualised. Quite an impressive performance most investors would dream of.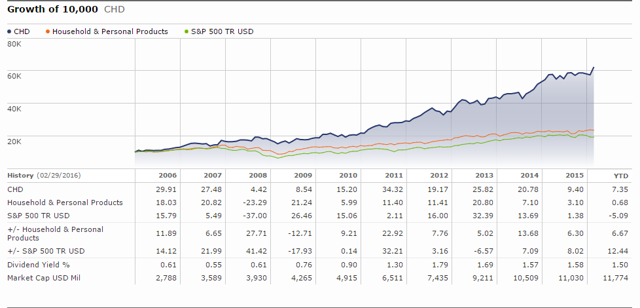 Source: Morningstar
It's clear Church & Dwight's products sell well and management is competitive. Else, stock performance could not have been as decent as it has been for a sustained period. Now, let's go into the numbers to see if Church & Dwight's financial performance, strength, and performance dictate a decision to buy or sell Church & Dwight shares.
Financial Strength
Over the years, Church & Dwight has maintained it gross profit margin, increased its operating profit margin, and delivered consistently on the earnings per share for its investors on a diluted basis.

Source: Church & Dwight Investors Site
Aside from Church & Dwight increasing their earnings per share, the company's free cash per share has also increased. This definitely is a plus as it proves that the company's profit is real and sustainable.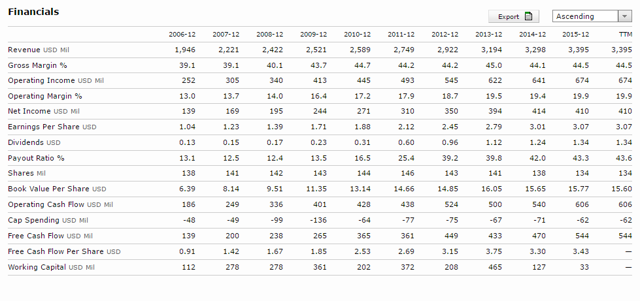 Based on 4Q15, Church & Dwight has reduced its debt to equity ratio and maintained a cash balance to comply with operational needs. Operationally it seems Church & Dwight has reduced its risk as much as possible while staying competitive.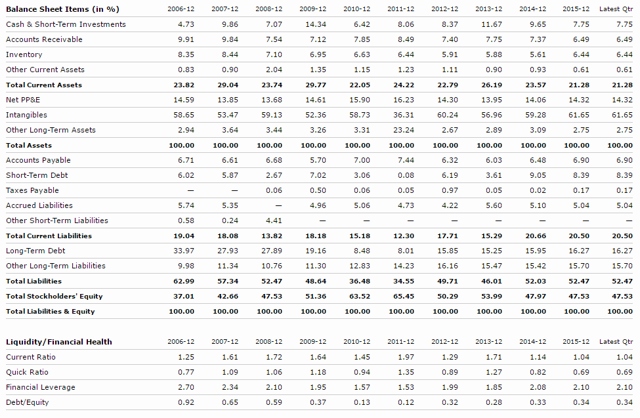 Operations
As a manufacturing operation, Church & Dwight has maintained its act together. The DSO, Days Inventory, and CCC have been reduced on average which all point to an excellent managed company. On the other hand the Payables Period, Receivables Turnover, Inventory Turnover, Fixed Assets Turnover, and Asset Turnover have all increased or been maintained in the long term. All those also results pointing out again to great management.

Growth
One of the reasons Church & Dwight has maintained its premium valuation aside from its superb management arises from the company's long term growth. Over a long period of time, Church & Dwight has consistently maintained its growth. On the Investor Relations page, the Chairman has stated they plan to maintain its long term growth at 8% excluding the effect of acquisitions in 2016 and beyond. From a long term perspective this is an outstanding and admirable performance planned for. On recent periods, growth has not been as high as in previous periods questioning its long term growth.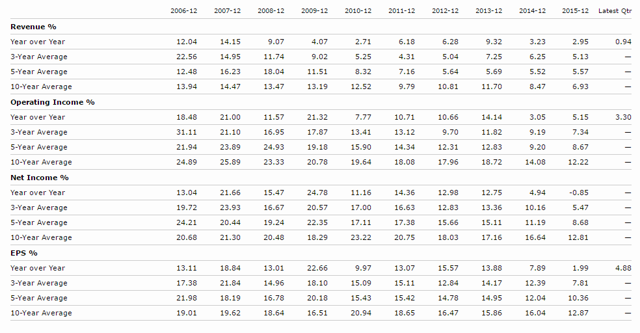 Valuation
Church & Dwight is not cheap by any means. Its PE hovers around 29, PEG over 3.50, and P/FCF circling 22. Though these are not a dot com valuations, they certainly are not cheap. I understand the company deserves a premium valuation but in my opinion not to the degree it's currently in.
Conclusion
Church & Dwight is an excellent company that is well managed, has an impressive history, manufactures well known products which most are dominant in their category, and trades at a premium though it has done so for quite a while. If I were to buy the stock I would take a small position or wait for a dip. I suspect the share price should trend neutral for a small amount of time (1-2 years) followed by continuous appreciation. Also since Church & Dwight is a smaller sized company than many of its competitors like Procter & Gamble, Unilever, Colgate Palmolive, and Clorox, the company is prime to be taken over. Should that occur, the shares should appreciate quickly and substantially.
Source: All images and information were obtained from Morningstar and Church & Dwight's investor site (including 10-K).
Additional Disclosure: This post is solely my opinion and data and information contained is not intended to be investment or tax advice. A reference to a particular investment or any observation provided in is not a recommendation to buy, sell, or hold or to make any other investment decision. If you seek advice or counseling regarding your finances or investments, please consult a professional. Investing is risky and adequate precaution should always be taken. We don't take any responsibility for your investment or other action nor we have any liability for the accuracy of the information provided. We make no representation about the suitability of the information contained herein. Past performance is not indicative of future results.
Disclosure: I/we have no positions in any stocks mentioned, and no plans to initiate any positions within the next 72 hours.
I wrote this article myself, and it expresses my own opinions. I am not receiving compensation for it (other than from Seeking Alpha). I have no business relationship with any company whose stock is mentioned in this article.