The road to upside in Solazyme/Terra Via (NASDAQ:SZYM) stock has been slow and extremely rough for long investors in the shares as the company has faced an almost unlimited amount of bad news. Regardless of company fundamentals, Solazyme/TerraVia shares have long been subject to mispricing due to the fact that the company is currently categorized as an alternative energy (Dow-Jones industry category) supplier. As such, SZYM has been subject to the woes of pricing in all things related to the price of oil. Add to this a long string of revenue and earnings misses, production problems at its Moema Brazil facility, law-firm-hyped shareholder lawsuits, analyst downgrades (and abandonment of the stock), etc., etc. Ongoing bad news has trimmed the stock price from a from a high (in 2011) near $27 to a current 52-week low of $1.18, for an approximate drop of 95%. For long-term holders in the shares, the steady downward spiral has amounted to torture. The downward spiral of the shares now appears to be ending, as noted in the chart below: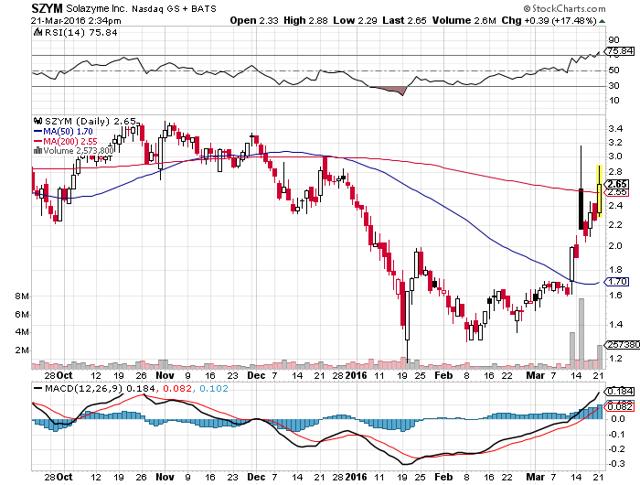 (Courtesy: StockCharts.com)
As noted in the chart, the stock has undergone a powerful rally from an intra-day low of $1.18 in January to a current range near $2.70. Also noted from the chart is the fact that the shares rocketed past its 50-day moving average and, at this writing, the shares have crossed the 200-day moving average at $2.55. At this writing (3/21), the shares moved up over 20% on 3.5 million shares traded, five times average trading volume. Possible explanations for current strength may include the beginning of a short squeeze and an article that appeared in the Wall Street Journal (3/21) linked later in the article concerning food suppliers' reaction to a Vermont law requiring disclosure of GMO ingredients. As of February 29, short interest reported in SZYM was 16,584,013 shares representing 46.31 trading days to cover. The foregoing would seem to indicate there is a major portion of short interest remaining.
Company name change and prospects:
Both in the intermediate and long term, the significance of the company name change to TerraVia is a milestone event in the company's history. As the investment community becomes increasingly aware that Solazyme/TerraVia is primarily a healthy, sustainable food supplier, the stock should continue to power higher. Growing consumer demands for safer, healthier foods continue to be reported in the news, as consumers have steadily increased demands for more transparency on food ingredients. And momentum seems to be building on the issue. Only recently, however, have food suppliers begun to take notice with actions aimed at addressing consumer concerns. In fact, the Wall Street Journal article mentioned above, titled "GMO Labeling Law Roils Food Companies", deals with the fact that the state of Vermont has passed a law to require GMO food labeling by July 1, article linked here. As the article states, companies are becoming increasing nervous about public demands related to food and it appears momentum is building not only with consumers, but with food suppliers.
There are few food ingredients companies more focused on sustainable, healthy, tasteful foods than the appropriately named TerraVia. The merits of the Solazyme/TerraVia business model have been long reported in over 100 articles published by SA contributor Kevin Quon, with his latest article linked here. Over the time span of Kevin's articles, it has been painful to remain long in SZYM shares and, as Kevin stated in a past article, shareholders should measure performance of the shares in "decades" rather than in days, weeks, or months. It appears that Kevin's statement may be prophetic when considering current situation with food ingredients and an apparent bright future for sustainable, healthy food ingredient suppliers.
A recent announcement by Solazyme/TerraVia management reported the signing of a five-year agreement with Unilever (NYSE:UN) to supply $200+ million in oils over the term of the agreement. While the Unilever deal will not be highly profitable, since it is based on cost-plus variable pricing, the deal adds momentum to progress attained by the company and also will positively impact coverage of fixed plant costs over the next five years. Unilever has been a long-time partner with Solazyme in developing Algae-based products. Even more significant on the recent Q4 earnings conference call was management comments concerning the potential for future agreements. While management gave relatively mundane guidance for fiscal year 2016, long-term guidance was extremely bullish, as stated by CFO-COO Tyler Painter: "Finally, and very importantly we also have deep engagement with partners and customers on the path to broadly commercialize in each of our focus areas. As Jonathan (Wolfson) mentioned earlier, for the first time we're truly in a position to make a meaningful impact on a market at the exact movement that market trends are all aligned".
For a company that reported only $46 million in 2015 revenue, the upside for Solazyme/Terra via appears limitless with the prospect of billions in future revenue just in the food ingredients business. Additionally, the company maintains an industrial division which has begun to supply oils for diverse industrial applications including oil drillers, oil service companies, and other industrial applications. Demand for oil field products supplied by SZYM began to gain traction just as the oil market imploded, but its Encapso product and others were endorsed by several key players (see link here for previous article on Encapso). The new industrial division, which has been renamed Solazyme Industrial, has been appropriately separated from the food business. While it appears likely that the industrial segment could be spun off, it has significant unrealized value in any event.
Risks:
While bullish sentiment on Solazyme/TerraVia is increasing, the speculative nature of the company should continue to be considered by investors, as it has now continued for many years. While the company came public in 2011 at an IPO price of $18, it was founded in 2003. So the story has been going on a long time, originally supplying Algae-based alternative fuel. Accordingly, it remains an unproven story embraced by investors who continue to believe in the story, albeit with a high level of risk. As such, news concerning the company will likely have highly volatile effects on the share price--both positive and negative--until revenue and earnings begin to ramp significantly.
As of the Q4 reporting, the company has $98 million in cash but also $202 million in convertible debt and negative shareholder equity of $46 million. Management has guided full-year 2016 cash burn at under $70 million. Additionally, the company has maintained a joint venture relationship with Bunge for the Moema Brazil facility, which continues to require significant investments and losses that have not been consolidated into SZYM results. According to management, the joint venture relationship with Bunge has been excellent and it appears the JV will be significantly profitable to both parties. However, there remains an uncertainly of how the current JV will be consolidated with company results once revenue and earnings justify consolidation.
Further thoughts:
Even with the long history of investments and losses, Solazyme, now known as TerraVia, maintains a relatively low number of shares outstanding at 82 million, with a current market cap of $224 million (3/21/16). Shares will likely be diluted further with the convertible debt and the possibility remains that another secondary issue could be consummated, but the fact remains that, compared to the opportunity, SZYM trades at a low valuation relative to the opportunity and could offer outsized returns from its current price near $2.70 per share.
Conclusion:
For now, the news and momentum in Solazyme/TerraVia is with the bulls. The momentum appears to be powerful enough to cause a sell side participant (not willing to hold on for decades) to not be on the short side in the next several days or weeks. While the shares of SZYM remain extremely risky, patient long-term investors are likely to profit in the coming years and decades.
Disclosure: I am/we are long SZYM.
I wrote this article myself, and it expresses my own opinions. I am not receiving compensation for it (other than from Seeking Alpha). I have no business relationship with any company whose stock is mentioned in this article.