Introduction
Although death and taxes are usually considered the only two truths in life, I think perhaps it's time to add a third: the predictable unpredictability of SunEdison (NYSE:SUNE).
Yesterday, a debtwire report surfaced alleging SunEdison is engaged in debtor-in-possession (DIP) talks with its creditors about its second lien loans. This latest piece of bad news sent its stock price plummeting 26% after several trading sessions where SunEdison had found support in the $2/share range.
A spirited discussion about this latest revelation is leading shareholders to question if SunEdison is actually going to file for bankruptcy. In spite of this rumor and the deep pessimism that persists with this company, I believe that these allegations indicate SunEdison is seriously looking at restructuring, not bankruptcy. The distinction between the two is important, and taking a closer look at this distinction should help better inform wary investors.
Bankruptcy, Restructuring, Or Something Else?
Henrik Alex argues that SunEdison will be filing for Chapter 11 bankruptcy protection in the near future and recommends that investors should short the company. However, Alex is putting way too much weight on the rumors and is not objectively looking at the situation SunEdison is actually in.
The issue SunEdison is actually in is one of excessive hysteria over near-term liquidity issues. This is an issue that has been discussed ad nauseam with SunEdison and one that I've previously argued has largely already been dealt with. Plus with the termination of the Vivint Solar (NYSE:VSLR) deal, its near-term liquidity issues should be easing.
One thing a lot of investors are missing is a sum of its parts analysis when thinking about SunEdison. The single best analysis on Seeking Alpha that I've seen of this sort is from Random Analyst who did a write-up on this back in January in which she or he argued that:
We believe that SUNE as a whole is worth approximately $18.78 based on the sum of the part valuation as opposed to the current trading value of $5.00 per share. The graph below shows our calculations, we believe SunEdison DevCo is worth $11.70 per share, TerraForm Power is worth $3.47 per share, TerraForm Global is worth $1.03 per share, Samsung SunEdison JV is worth $2.30 per share, and SunEdison Semiconductor is worth $0.27 per share. We derived our calculations for SunEdison DevCo, TerraForm Power and TerraForm Global above; however, as SUNE already divested most of its semi-conductor business (SunEdison Semiconductor) and the polysilicon business makes up a small portion of SUNE (SMP JV), we will assume that the current market prices for these assets are correct.

Click to enlarge
Granted, this was before SunEdison's dilutive exchange deal in January that also led to the second-lien loan of $725 million now in question. But the bottom line is that SUNE has equity interests in multiple publicly traded companies that is currently being ignored by the market and is not priced into its share price. Essentially the market is assigning no value to SunEdison as a business and is deeply discounting its current holdings.
Investors should keep in mind that this does happen on the market at times. As I explained last year in regards to Yahoo (NASDAQ:YHOO), the market continues to give no value to its underlying business, while deeply discounting its equity holdings in Yahoo Japan (OTCPK:YAHOY) and Alibaba (NYSE:BABA). While there are significant differences between the cases of Yahoo and SunEdison, it is important to recognize that the market does at times completely discount a business's underlying value.
Although I do believe Random Analyst is too generous in his or her overall assessment, I think that if one considers SunEdison from a sum of its parts perspective, this undermines the argument that it will be filing for Chapter 11 bankruptcy.
Another critical point retail investors are missing is that Chapter 11 bankruptcy is the very last option that any publicly traded company will pursue. It is the nuclear option, and filing for Chapter 11 bankruptcy protection will indeed lead to its publicly traded shares becoming worthless. Because of the gravity of this step, no company will pursue this option unless it is forced to do so by its creditors.
If there is any truth to the rumors, then it is likely that there are ongoing restructuring negotiations taking place. In fact, debtwire posted earlier this month that SunEdison had found an advisor to explore restructuring options. I believe that this is what these rumors were actually about. Looking at the recent case of Chesapeake Energy (NYSE:CHK) provides additional evidence to buttress this argument.
As energy investors will know, Chesapeake Energy has been going through a painful process of restructuring because of high debt. Back in February, debtwire reported that it had brought in restructuring attorneys with Kirkland & Ellis to "discuss balance sheet solutions." Now for SUNE watchers, this lawfirm should sound familiar. Why? Because this is the same firm that advised SunEdison in connection to its potential acquisition of Vivint Solar and also appeared in court on its behalf during Appaloosa Management's attempts to block this deal in February.
From a circumstantial perspective, it would appear that SunEdison is actively looking at restructuring given previous reports from debtwire and having retained the services of Kirkland & Ellis. From a sum of its parts analysis, it would appear that SunEdison will move forward without declaring bankruptcy. But nothing is certain until investors finally hear from SunEdison's management team.
My Investment Thesis
I recently provided an update to my investment thesis which can be found here. But I want to provide investors with a bit more about the logic behind why I continue to recommend long call options for high-risk tolerant investors.
Because of aggressive put buying yesterday and fears of bankruptcy, there is a strong asymmetry between call and put options. This happens at times and contrarians sometimes are handsomely rewarded. Looking at some long call options indicates how relatively inexpensive they currently are.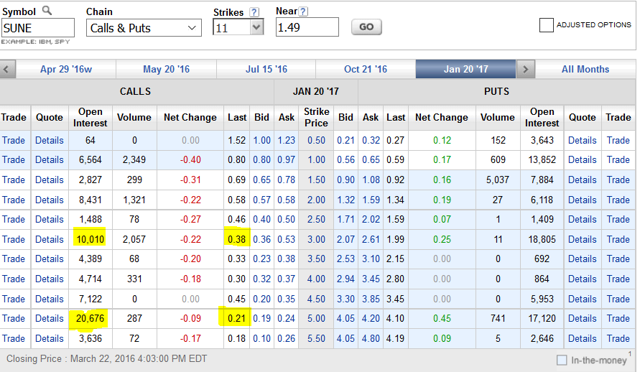 Click to enlarge
Source: Etrade
In the comments sections of various articles I've written on SUNE, investors have questioned my strategy. The main argument has been: Why buy options when SunEdison's share price is so low and is almost priced like an option? My consistent response has been because it is cheaper, provides more downside protection, and has the potential for a higher return based on invested capital.
When I recommended long call options, I did pick up a number of Jan. 20, 2017 $5-strike call options. Although my average price is $0.40 per contract and I'm currently down nearly 50%, the fact of the matter is that this downward movement doesn't really affect my investment portfolio that much and is a risk I'm comfortable taking. However, each investor should consider their own risk tolerance and complete their own due diligence before making an investment, and options trading presents its own set of additional risks. But if I'm right that SunEdison does not end up filing for Chapter 11, then a potential short squeeze could easily put me back in the black and then some.
So why am I still maintaining this recommendation? Two reasons. First, I don't think bankruptcy will happen. Second, the asymmetric pricing of call and put options provides for an attractive opportunity for those who think SunEdison will rebound.
As I've highlighted above, the $5-strike and $3-strike call options are very inexpensive. Even a miniscule buy of 10 contracts for the $3-strike option would only cost $380 plus commission at its current price. This is a pretty minimal investment and provides downside protection by limiting capital invested, stretches the investment horizon over an extended period of time, and has the potential for a higher return based on invested capital. The latter point is especially worth considering since $380 would still only buy you a little over 200 shares at SunEdison's current market price.
Conclusion
Fear, uncertainty, and doubt continue to win the day. Investors should expect more tumult until SunEdison finally reveals its next step forward.
But fears of bankruptcy are considerably overblown. Looking at a brief sum of its parts analysis and circumstantial evidence indicates that it is likely SunEdison is only pursuing restructuring. However, investing in SunEdison right now remains a precarious proposition at best. With that being said, I think high-risk tolerant investors will do well with long call options if SunEdison survives.
Although SunEdison's predictable unpredictability will continue to vex bullish investors and feed the ongoing short frenzy, more surprises remain in store until SunEdison finally reveals its next move.
Disclosure: I am/we are long SUNE, GLBL, TERP.
I wrote this article myself, and it expresses my own opinions. I am not receiving compensation for it (other than from Seeking Alpha). I have no business relationship with any company whose stock is mentioned in this article.
Additional disclosure: I am long SUNE through call options. Positions may change at any time and investors are reminded to complete their own DD before investing.