The rally in gold and silver prices has helped Silver Wheaton (NYSE:SLW) to gains of almost 45% this year, and the company's latest results that were released a week ago clearly indicate that the rally is set to continue.
Despite a drop of 10% in the average realized price of gold and silver in the last reported quarter, along with a 17% in prices throughout 2015, Silver Wheaton managed to increase its revenue almost 43% year over year. This impressive growth in revenue was a result of an increase in production. But, what's even more impressive is the fact that Silver Wheaton managed to boost its operating cash flow by 42% on a year-over-year basis last quarter.
This improvement in the operating cash flow can be attributed to the fact that Wheaton managed to lower its average cash costs on a year-over-year basis on the back of new streaming agreements that lowered its cash costs. Now, looking ahead, it is highly likely that Silver Wheaton's financials will continue to get better due to improvements in the end market and the company's own operational improvements. Let's take a look.
Improving prices will augment the cash flow
As mentioned above, Wheaton managed to increase its operating cash flow in the previous quarter despite a drop in the average selling price of per silver equivalent ounce. Take a look at the following chart for better understanding:
SLW Cash from Operations (TTM) data by YCharts
As can be seen above, Silver Wheaton's operating cash flow picked up impressive pace in the final quarter of 2015. However, during this time, the price of gold and silver was on the decline. But, in 2016, gold and silver prices have picked up impressive pace and this will have a positive impact on the company's cash flow performance going forward as revenue will increase.
Going forward, the rally in silver and gold prices will continue to get better as demand is robust on the back of economic uncertainties. For instance, due to a volatile oil market, a slowdown in China, and weaker data from the U.S., the Federal Reserve has decided to go slow as far as interest rate hikes are concerned.
In fact, as compared to its original forecast of four quarterly rate hikes this year, the Fed will now be raising rates only twice. Moreover, the degree of the rate hike has also been dialed back by the Fed. As reported by the Wall Street Journal:
"Fed officials see their benchmark federal-funds rate at 1.875% by the end of 2017 and 3% at the end of 2018-lower than they forecast in December. They expect the rate to reach 3.25% in the long run, below the 3.5% rate they had expected.

After the Fed's Wednesday announcement, futures market participants put a 42% probability on just one quarter-point Fed rate increase this year and a 22% probability on two."
The Fed is wary of the risks being posed by the volatility in the financial markets globally, while it has also reduced its projections as far as the growth in different key metrics is concerned. This is shown in the chart given below: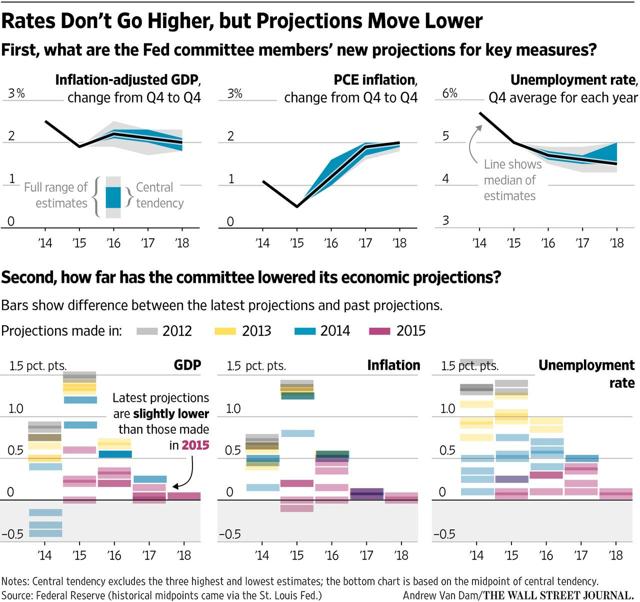 Click to enlarge
Source: Wall Street Journal
As a result of the Fed's decision to dial back its interest rate hikes, the demand for gold and silver has started increasing across the globe since the yellow metal will remain attractive as interest rates remain low. This is because of the fact that these metals are considered to be safe haven investments, which is why investors in countries such as China are pulling money out of stocks to buy more gold. In fact, as shown below, the net long position in gold has increased this year at an impressive pace: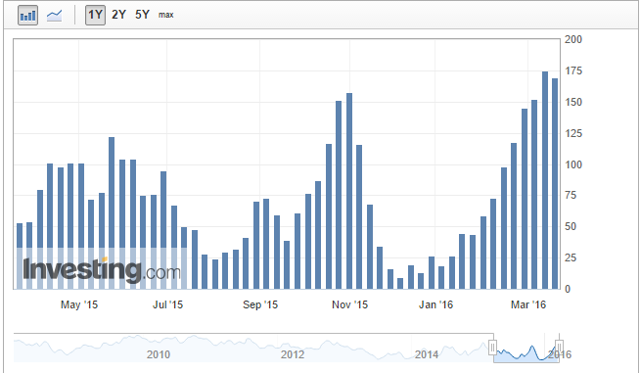 Click to enlarge
Moreover, the People's Bank of China has also increased its gold holdings by 0.6% in the month of February. At the same time, gold supply is under pressure as the same dropped 4% last year to 4,258 tons, which was the lowest supply of gold in six years.
On the other hand, the rally in gold prices will also pull up silver prices as well. This is because the gold-to-silver ratio has widened considerably of late. In fact, the gold-to-silver ratio, which indicates how much quantity of silver is actually needed to buy a gold ounce, has gone up to more than 80, according to Profit Confidential. In comparison, over the past five decades, the ratio has ideally remained at 56.
Now, in order for the gold-silver ratio to attain historical levels, silver prices will need to increase by 40%, assuming gold prices remain constant. However, as mentioned earlier, gold prices are expected to continue getting better on the back of higher demand and lower supply. Therefore, an improvement in gold and silver prices in the long run will have a positive impact on Silver Wheaton's top line and cash flow.
Silver Wheaton's operational improvements will be a tailwind
This year, Silver Wheaton's production profile is anticipated to strengthen further. The company believes that its production will go up 13% in 2016, which will lead to strong growth in its revenue, earnings, and cash flow along with an improvement in gold prices. The growth in Wheaton's production will be a result of the streaming agreements that it has penned recently, such as with Panoro Minerals.
This week, Wheaton has entered into a definitive precious metals purchase agreement with Panoro from the Cotabambas project in Peru. As a part of the deal, Wheaton is entitled to purchasing all of the silver production and a quarter of the gold production until it takes delivery of 90 million silver equivalent ounces. Apart from an upfront payment of $140 million, Wheaton will pay $5.90 for each ounce of silver and $450 per gold ounce, thereby keeping its costs low.
This move will allow the company to improve its production and keep costs low at the same time, thereby having a positive impact on its margins and cash flow. Now, as already mentioned Wheaton has managed to improve its operating cash flow of late due to robust production, but the company's gross margin has been on the decline in the past year due to low pricing, as shown below: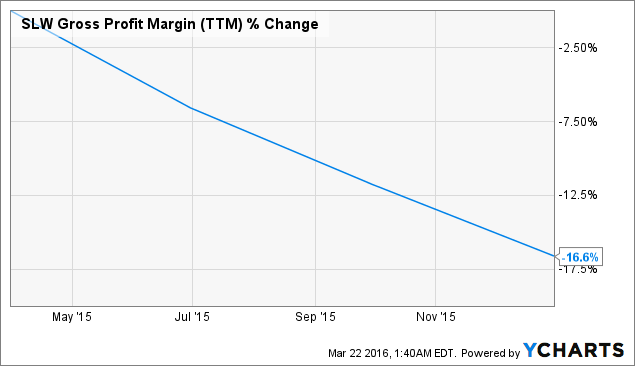 SLW Gross Profit Margin (TTM) data by YCharts
Therefore, Wheaton needs to continue reducing costs so that it can achieve strong growth in its margins as prices get better.
Conclusion
Silver Wheaton has prepared itself well for the rally in gold and silver prices by lowering costs and increasing production simultaneously. With the prices of gold and silver anticipated to get better in the long run, it won't be surprising if Wheaton's financials get better, which will ultimately lead to further gains on the stock market. So, I think that it will be a good idea for investors to remain invested in shares of Silver Wheaton as it is capable of achieving more gains.
Disclosure: I/we have no positions in any stocks mentioned, and no plans to initiate any positions within the next 72 hours.
I wrote this article myself, and it expresses my own opinions. I am not receiving compensation for it (other than from Seeking Alpha). I have no business relationship with any company whose stock is mentioned in this article.