In spite of the latest Silver Wheaton rally, mostly attributed to the recovery of gold and silver, I am concerned about the future profitability of the streamer in 2016 and I succinctly explain why.
Silver Wheaton Corporation (NYSE:SLW) is the world's largest silver streaming company and Barrick Gold (NYSE:ABX), and Goldcorp (NYSE:GG) are the 2 mining companies that do business with silver streamers.
Silver is a by-product at Barrick and Goldcorp and if you look at these two gold mining companies' operations you will notice that:
In pursuing a strategy of reducing the overall production and debt, Barrick managed to neutralize falling prices of gold by increasing operations at higher grade mines (less gold production) and reducing operations at lower grade mines, in which costs of extractions are of course higher than those of higher grade mines. As a consequence I also forecast a decrease in the production of silver. Barrick started to move towards the right direction than Goldcorp well in advance.
Because of a change in the company's philosophy, Goldcorp now expects to produce between 2.8 and 3.1 million ounces of gold a year in each of the next three years. Previously, the company forecasted up to 3.6 million ounces in 2016, up to 3.7 million in 2017 and up to 3.4 million in 2018. This means to me a reduction in the production of silver at Goldcorp as well.
As a silver streamer Silver Wheaton Corporation doesn't have any cost and production control on the mines that produce silver, so its earnings for 2016 depend on the future market price of silver and on the change of business' strategy at Barrick and philosophy at Goldcorp.
The price of silver depends on the demand side of silver and moves in the interest rates.
But due to the slowdown in the Chinese economy (the world's second-largest economy) and difficulties in forecasting future moves in the interest rates, I would keep an eye on what is happening at the operations of Barrick and Goldcorp, two of the largest Canadian gold mining companies that do business with silver streamers.
If operating at lower grade mines to reduce overall production costs, can be seen as an insight of a negative gold price scenario and if gold and silver prices are correlated, this could mean that the price of silver won't increase as expected to boost NYSE:SLW profits.
Silver Wheaton Corp. (Silver Wheaton) is a Canada-based mining company. The Company is engaged in pure precious metals streaming and generates its revenues from the sale of silver and gold. As of December 31, 2014, Silver Wheaton had entered into 18 long-term purchase agreements and one early deposit long-term purchase agreement associated with silver and gold (precious metal purchase agreements), relating to 27 different mining assets, whereby Silver Wheaton acquired silver and gold production from the counterparties for a per ounce cash payment which was fixed by contract, generally at or below the prevailing market price. As of December 31, 2014, gold and silver interests owned by Silver Wheaton included San Dimas and Penasquito in Mexico; Yauliyacu, Lagunas Norte and Pierina in Peru; 777, Canada; Salobo, Brazil; Sudbury and Minto in Canada; Veladero, Argentina; Zinkgruvan, Sweden, and Neves-Corvo and Aljustrel in Portugal.
On March 21, 2016, the stock closed at $17.81 per share, up $0.03 (+0.17%) from the previous close.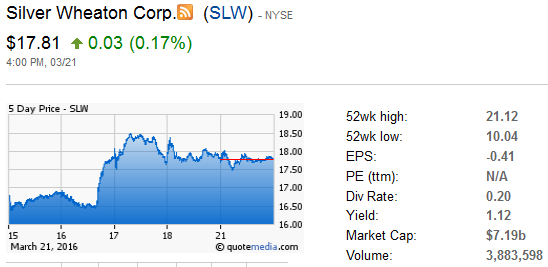 A volume of 3,883,598 shares were traded on the New York Stock Exchange.
Disclosure: I/we have no positions in any stocks mentioned, and no plans to initiate any positions within the next 72 hours.
I wrote this article myself, and it expresses my own opinions. I am not receiving compensation for it (other than from Seeking Alpha). I have no business relationship with any company whose stock is mentioned in this article.