Timmins Gold (NYSEMKT:TGD) recently issued its year-end financial statements and we think there are a few takeaways for investors.
Sprott Loan Still a Concern
One of the biggest events so far this year has been its ability to refinance its loan with Sprott Resource Lending Partnership. At the end of January it was announced that Goldcorp (NYSE:GG) and Sprott had extended the loan for another six months, which took quite a bit of pressure off the stock price.
While extending credit was necessary for the company, we still had significant reservations as the loan was only extended by six months and carried a 12% interest rate - or around $100,000 thousand dollars a month in interest on the $10.2 million dollar principal balance. That is a significant monthly cost simply to finance debt and a significant amount to pay back for a company that had a little over $9 million dollars in the bank as of December 31st 2015.
We didn't like it as we didn't see much reward for investors with the high debt levels and the expected closure of operations at the company's only producing mine. The company was going to have to get rid of this loan by selling assets, using its cash balance and a significant portion of its 2016 expected cash flow, or issuing shares at extremely depressed share price levels.
Despite not liking the financial situation of Timmins, we were still interested in the company's assets as we like the low-cost and high-grade open-pit Ana Paula project as we expect other miners o scramble to purchase assets. But we didn't want to own shares until this loan situation was resolved as it was sucking value out of the company - we eagerly awaited the company's 2015 annual report and management's thoughts looking forward.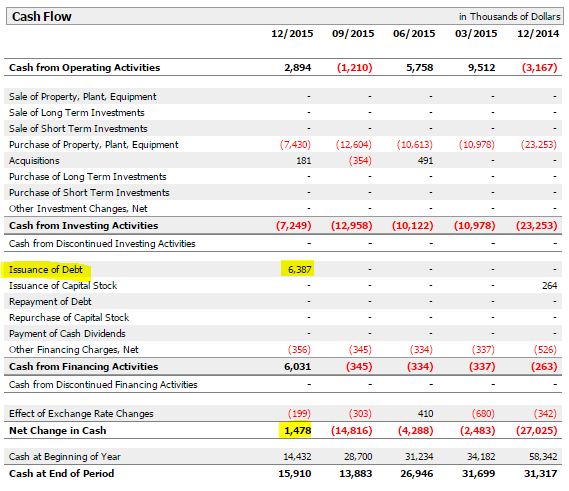 Source: Stockhouse
The numbers above are the cash flow of the company over the past five quarters in Canadian Dollars. As investors can see, the company was only able to generate cash flow from operations of CAD$2.9 million, while investment expenditures totaled CAD$7.2 million - a significant amount for a company that should be simply harvesting operations at its San Francisco mine. The only reason cash flow was positive is because of debt financing, which is not what we want to see.
What we wanted to see was a lot more cash coming in from operating activities and much less going out through investing operations - especially considering that the plan is to shutdown all operations at San Francisco over the next year. Of course, we could give the company a pass as this is a "transition" quarter, but Timmins has had so many passes before that we're hesitant to give them the benefit of the doubt.
So in terms of cash flow, fourth quarter numbers don't look so great and we'll have to see a much better first quarter in terms of cash flow to show that the company is generating enough cash to pay-off its loan and have left over funds to develop Ana Paula.
VAT Payment Received
On a more positive note, we did like the fact that the company has converted a large portion of its outstanding VAT (Value Added Taxes) receivable into cash, as subsequent to quarter-end the company received $5.7 million of the $9.1 million VAT receivable. This is good news for Timmins, which needs as much cash as it can get to pay off its Sprott loan and other payables.
Increased Production from San Francisco
Earlier in the quarter the company did announce that it was expecting to increase production in FY2016 from open-pit operations at San Francisco with the ounces produced increasing to 75,000 to 85,000 gold ounces from the original 65,000 to 70,000 gold ounces. With margins in the $200 range (no we don't like to use mining cash costs as they are significantly lower than true costs), that addition of 10,000-15,000 ounces could add another $2-3 million dollars to the previously announced FY2016 expected operating cash flow of a little over $21 million.
That cash flow will be key because outside of issuing more shares, it's the company's only source of cash to cover debt and outstanding liabilities.
Conclusion For Investors
Based on the recent earnings report we still feel that Timmins has significant challenges to overcome to make the stock attractive at its current valuation of over $75 million US Dollars.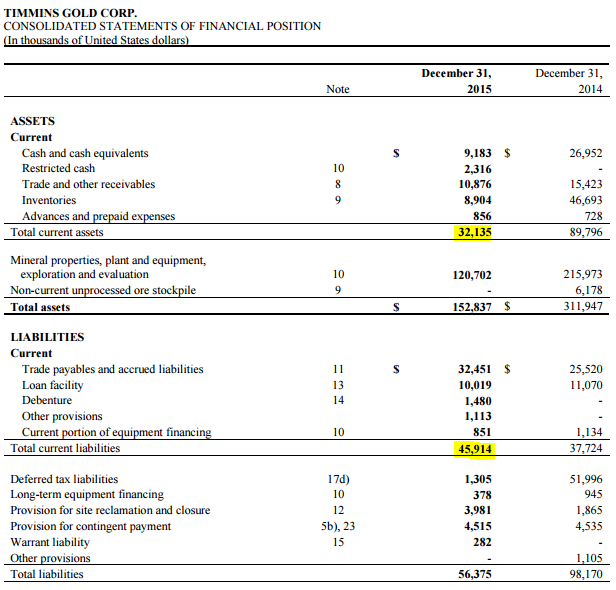 Source: Timmins Gold FY2016 Financials
When we take a look at the balance sheet, we see that the company has a working capital deficit (current assets minus current liabilities) and that is not very good for a company that is harvesting its lone operating mine. It certainly will not make the development of Ana Paula, the company's cornerstone asset and pretty much why any investor would be interested in Timmins at the current time, any easier as there simply isn't the cash to do it as the company is sucked dry by its liabilities.
What we really need to see is some significant cash flow from San Francisco in FY2016 that accrues to the bottom-line of the company and helps balance this working capital situation. As we stated in an earlier piece, we want to see management show confidence in the company by seeing the new CEO buy significant amounts of shares for himself as we may give him a pass for not owning shares initially - but we will not give him that same pass if he doesn't buy shares in 2016 with an up-trending gold price.
Or we need to see some reason to believe that Timmins can do more than just stave off bankruptcy and fix its balance sheet - we need to see solid evidence that the company can fund development at Ana Paula and get this project at least shovel ready. We prefer to see it through a joint-venture with a well-financed partner, but there are other ways to do this.
At this point though, there are still significant issues with the company that make it unattractive to invest in at the current share price.
Disclosure: I/we have no positions in any stocks mentioned, and no plans to initiate any positions within the next 72 hours.
I wrote this article myself, and it expresses my own opinions. I am not receiving compensation for it (other than from Seeking Alpha). I have no business relationship with any company whose stock is mentioned in this article.
Editor's Note: This article covers one or more stocks trading at less than $1 per share and/or with less than a $100 million market cap. Please be aware of the risks associated with these stocks.