A lot of investors are wondering whether we have seen the bottom in commodities. I believe we have. Here's why.
Commodities are Cheap
Here is a graph that I used in the first post of this blog. It graphs a commodity index over time in both nominal terms and adjusted by the US consumer price index and the value of the US dollar. If you were reading the blog at that time you may remember that I use the IMF commodity index as a base and splice it back to 1947 with the US PPI for crude materials.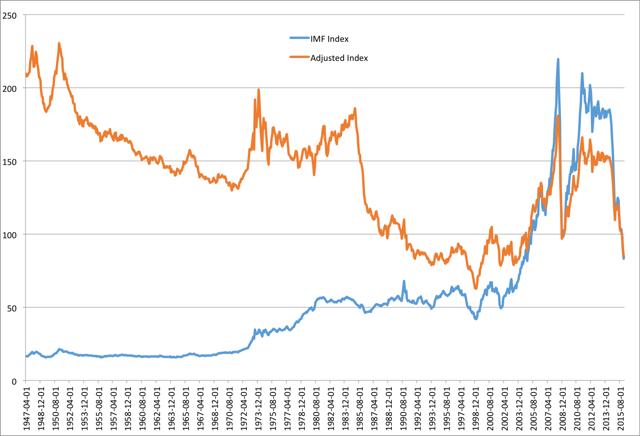 Click to enlarge
The commodity index on a deflated basis is actually getting close to the lows of the late '90s. Now it is well known that over time commodity prices tend to fall relative to other prices. (I know the "sustainability" guys don't want to believe this, but just look at the graph!) Nonetheless, the situation in the late 90s was truly extreme. We had a major crisis in emerging markets, the major commodity demand growth area. We also had a huge flow of funds from what was then called the old economy into the dotcom stuff. I thought that commodities were undervalued then, and we are very close to that now.
Oil Prices
Energy is the most important commodity group on the board. Not only is it the largest by dollar value, but it serves as an input to everything else. If you want to get physics class philosophical, you can say that energy is even more basic than food. And energy prices are dominated by oil. Readers of this blog know that I think that oil prices will slowly rise over the next few years (And I am painfully aware that I am still somewhat behind on a long Dec 2018 crude trade). This will boost the cost of production for everything else. BTW it is not true that declining natural gas prices will compensate for this. Worldwide, oil is much bigger than gas. In fact the increased use of gas is mostly displacing coal, so overall energy prices are not falling.
The Lags are Long but not that Long
The reason that the commodity "cobweb" price/volume pattern repeats itself is that there are long lags in both the production and consumption of commodities. Over the short run elasticity is very low; over the long run it's much higher. It takes only a year to turn around production of row crops and poultry. It takes two years for pork. Maybe three to five for cattle. Maybe five to ten for mined metals. We are now about four and a half years into the down cycle. Most of the decline has been in the past two years. My feeling is that we should start seeing the both supply and demand responses very soon. These are clearly happening in energy, and somewhat happening in metals.
The Last few Years have been Lucky
This blog has derided the climate change and sustainability scaremongers many times. Simply put, humans will find a way to cope and thrive. We are not going to run out of anything important to improving the quality of life on earth. Nonetheless, the agricultural situation of the last three years has been exceptional. Here's a graph of total world grain yield. Note how exceptional the last three years have been.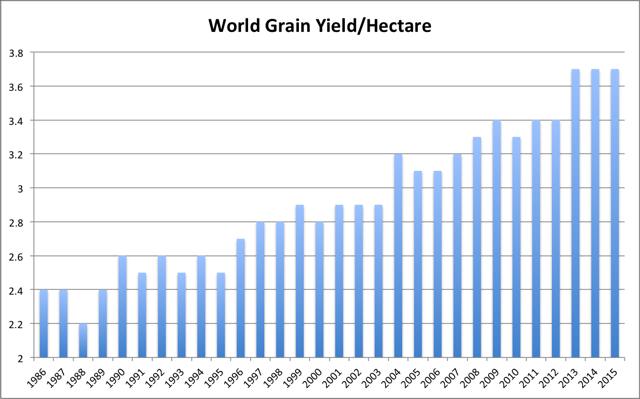 Click to enlarge
The long-term trend is up, true. But the markets have gotten used to bumper crops. Consumers are complacent, and the fast money is short. I believe the domestic agricultural markets in particular are ripe for a major rip.
This rip may start quite soon. We are currently coming off an extremely high ENSO period. The US NOAA is forecasting that these el Nino conditions will dissipate this summer and may well bring on a la Nina event in the fall. Here is a list of years since 1950 in which the ENSO has fallen by at least 1.0 from FEBMAR to AUGSEP, along with corn yields relative to trend:
| | | |
| --- | --- | --- |
| | ENSO Change | Corn Yield |
| 1954 | -1.346 | -10.6% |
| 1958 | -1.152 | -0.9% |
| 1964 | -1.012 | -10.8% |
| 1970 | -1.473 | -12.3% |
| 1973 | -2.558 | 4.6% |
| 1978 | -1.35 | 7.2% |
| 1983 | -2.543 | -22.9% |
| 1988 | -1.949 | -24.7% |
| 1995 | -1.296 | -9.3% |
| 1998 | -3.315 | 1.8% |
| 2010 | -3.339 | -0.7% |
So the average of the 11 years is (7)%. The average for soybeans since 1960 is (4)%. Probably more important for this trade, the crop was bad over half the time.
Emerging Market Economies will not Stay Down Forever
Last year I wrote a sour post on the disaster in EM. In retrospect I was probably too cynical. It's true that most EMs wasted a great chance to diversify and reform their economies. But that's a cyclical problem. Longer term, most of them are still growing, and will likely resume higher growth when the financial flows revert. Hopefully some of them have learned their lesson, and will use future inflows for infrastructure rather than current consumption or corruption. Infrastructure is heavily commodity intensive.
So that's why I'm bullish. Of course being bullish doesn't make for a trade. You have to have a risk/reward setup that meets your objectives. Nonetheless, I plan to use this as a guide, and will be trading most commodities from the long side. Right now I'm long Norlisk Nickel (OTCPK:NILSY), November Soybean Calls, and Southern Peru Copper (NYSE:SCCO).
Disclosure: I am/we are long NILSY, SCCO, NOV SOYBEAN CALLS.
I wrote this article myself, and it expresses my own opinions. I am not receiving compensation for it. I have no business relationship with any company whose stock is mentioned in this article.
Editor's Note: This article discusses one or more securities that do not trade on a major U.S. exchange. Please be aware of the risks associated with these stocks.