It appears this whole holiday-shortened week is going to be a quiet one as far as markets go. Despite a drop in oil and a new terror attack, the markets remained subdued.
The Dow (NYSEARCA:DIA) dropped moderately, the S&P (NYSEARCA:SPY) took a small loss, and the Nasdaq (NASDAQ:QQQ) bucked the trend with a modest gain. Volatility (NYSEARCA:UVXY) continues to dive, showing that even in the wake of a new negative event, market participants aren't seeing much to worry about.
I keep expecting a 50-point S&P dip to test the market optimists' conviction. But instead, we get rallies and then sideways moves, where the market simply takes a couple of days easy, before moving higher again.
Given the strong upside bias associated with the trading period immediately surrounding a holiday, it wouldn't be surprising if the market keeps inching upward into next week. That said, as of this writing (1 am ET), futures are ticking lower a bit, and oil (NYSEARCA:USO) is again moving modestly to the downside.
Belgium Attacks: The Bigger Picture
Tuesday brought news of yet another jarring terrorist incident. This one hit Brussels' airport and metro system, killing more than 30 people. As these tragedies continue, it will force people - and investors - to reconsider some things.
Yes, there is an immediate trade. Short airlines and other such heavily tourist-dependent companies. That's fine and well, but not what I'm focused on for today. The fact that gold (NYSEARCA:GLD) gave back all of its immediate gave following the attack makes me think the short-term moves here will be limited.
The broader impact is that the anti-unified Europe forces are gaining strength. For better or worse, euro skeptics such as Hungary's Viktor Orban gain a great deal of credibility as liberal refugee policies keep getting associated with terrorist events. The Trump populist wave in the US is not an isolated event; just as Trump's poll numbers go up following terrorist attacks, the nationalist European parties also benefit.
With that in mind, it's increasingly possible that a greater European schism is coming. It's hard for many people to put ideology above raw emotion. More attacks against civilians will likely scare voters and tear greater holes in the European fabric.
Already, you can see one big effect. The British pound (NYSEARCA:FXB) got clocked on Tuesday, down strongly. The pound, in fact, dropped much more than the euro (NYSEARCA:FXE) following the terror attack.
What does that say? It says that the biggest impact of the attack is to increase the odds that Britain will exit the EU in the upcoming vote. If the FX market is any guide, traders concluded the attack will actually have a stronger impact in weakening Britain's currency than Europe's, despite the incident being on the continent.
I've still got British stocks on my radar for near-term buys, particularly since little else interests me with the recent run-up in global equity markets. It's too early to make a strong prediction, but one broader trend I'd watch is for a much wider unraveling of the common European economic/trade integration.
If you have an active European component in your investment portfolio, I'd monitor political developments in the coming months closely. I've been a globalization/multinationals skeptic for a while now; I think the McCompany devouring global markets theme may start to fade. A rise in tariffs and weakening free trade would cause untold business model disruptions for many large S&P 500 firms.
An unraveling of much of the eurozone would signify a major step away from the one world market that seemed so inevitable a decade ago.
Biotechs: Is This The Corner?
I've long been a biotech skeptic. But credit must be given where it is due. The biotech sector (NYSEARCA:XBI) has finally put in a sharp rebound, leading the market on Tuesday and dragging the whole Nasdaq into the green on an otherwise slightly negative day: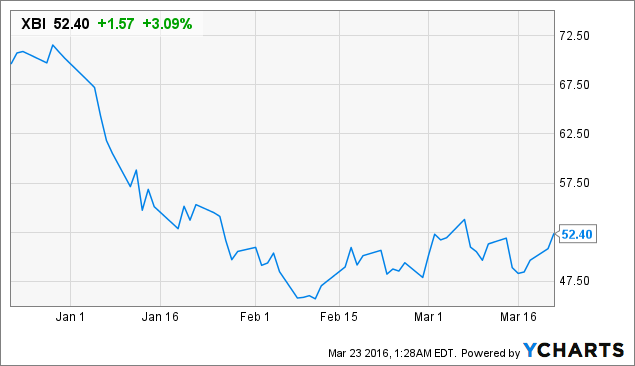 XBI data by YCharts
The chart still isn't great by any means, but it appears the February low is going to hold for the time being. The sector is marking higher lows, and with one more solid push this week, will be back to the highest levels seen since January. This is no great victory yet, but it is certainly a development worth watching.
Biotech was a key player in driving the market higher in recent years. On the other hand, its plunge since last summer has played a substantial role in reducing the overall risk appetite. A move from money out of suddenly vigorous energy and commodity stocks back into risk-happy biotech would be a sign that the market as a whole might be recharging for another push higher.
As for the move itself, it certainly helped that Valeant (NYSE:VRX) was 10% higher on the day, finally giving suffering shareholders a bit of respite. Biotech as a sector has been uncomfortably correlated to Valeant's fortunes.
Large-cap biotech stocks such as Regeneron (NASDAQ:REGN) and Celgene (NASDAQ:CELG) were up on Tuesday with moderate gains, though they haven't really been leading the recent recovery.
From a technical and sentiment-based perspective, there's reason to think biotech could tack on a 10% rally or so from current levels. If you're biased on the long side, this is a nice place to take a look for a quick trade.
That said, the sector remains in a severe downtrend on the longer term, and if the broader market corrects, the recent rally would struggle to hold. And on a political risk basis, Trump's relatively strong Tuesday primary showing further increases the odds of a bad-for-biotech Trump versus Hillary general election showdown.
Disclosure: I am/we are short UVXY.
I wrote this article myself, and it expresses my own opinions. I am not receiving compensation for it (other than from Seeking Alpha). I have no business relationship with any company whose stock is mentioned in this article.